Pastitsia, are the Cypriot Almond coookies, also called amygdalota. They are made with almonds and meringue, similar to macaron but they are crunchy outside, soft inside and chewy.
These cookies used to be the traditional confection offered at engagements in Cyprus and weddings in many parts of Greece.
A couple of my readers have been asking me if I had a recipe for them. I have searched the internet but unfortunately I have not found anything regarding this recipe.
When I need a Cypriot recipe I always ask my sisters for help but this time it was impossible because this recipe has been kept a secret by the confectioners and no one makes them at home.
My sister asked a few of them if they would just tell her how to make them but they refused to reveal the ingredients.
I am working on the recipe and this is my first attempt to try and figure out how to make them. Unfortunately what you see in the picture is still by far not similar to pastitsia but it can be called an almond cookie.
These may not be traditional pastitsia but they are delicious almond cookies. The taste is similar but instead of being chewy this is a rather crunchy cookie both inside and outside.
In the recipe you will see 180 grams icing sugar and later on 1/2 cup icing sugar. When I made the cookies I was already baking kourabiedes as well and by the time the kourabiedes were baked the meringue in the cookies became watery so I had to pick it up again and add that extra 1/2 a cup of icing sugar and the flour which was not part of the recipe. The dough was quite sticky but I did not want to add more flour to it as there was no baking soda, no egg yolks or baking powder in the mixture.
I made 16 cookies but you will probably make around 20 as some of the mixture was waisted the first time when I transferred them back in the bowl to add the remaining sugar and flour.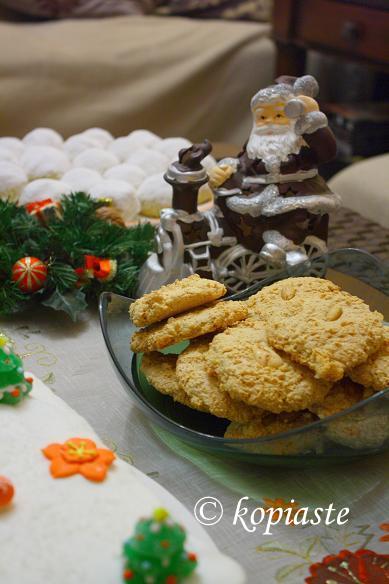 This recipe goes to Cinzia of Cindystar, for her event Baking under the Christmas Tree.
I made them again, and again… and I think I am getting closer.
And again….
And again! Now after my fourth attempt making them, I finally made it.
The following picture is store bought pastitsia and how they should look. However, as you may see these probably need a special nozzle to make them.
After many attemps making them, the last batch I made may lack in appearance but this time they tasted just right.
The recipe is included in My Cookbook Mint, Cinnamon & Blossom Water, Flavours of Cyprus, Kopiaste as well as in Volume 2 of my e-cookbook!.
Pastitsia or Amygdalota (Almond Cookies)
Pastitsia, are the Cypriot Almond coookies, also called amygdalota. They are made with almonds and meringue, similar to macaron but they are crunchy outside, soft inside and chewy.
Ingredients
400 grams (14 oz) ground blanched almonds
200 grams (7 oz) icing sugar
3 tbsp fine semolina
3 egg whites
1 tbsp lemon juice
¼ tsp salt
1 tbsp grated lemon zest (optional)
4 - 5 mastic resins or substitute with ½ tsp vanilla essence
20 whole almonds
Instructions
Blanch almonds, peel and leave them on kitchen paper for a few days to
dry. Set aside 20 almonds and using a food processor or spice grinder add some icing sugar and mastic and powder them. Place them in a bowl and mix in the semolina, remaining icing sugar and lemon zest.
Beat the egg whites with lemon juice and salt until they hold stiff peaks. Remove the bowl from the mixer stand and gently fold in the almond-sugar mixture, using a spatula.
Set the oven at 180o C / 350o F. Line a large baking tin 33 x 40 cm (13 x 15.75 inches) with parchment paper.
With a pastry bag and star shaped tip, pipe the mixture onto the baking sheet forming them into round cookies, leaving enough space between them (3 cm - about an inch) as they will expand.
Add an almond in the centre.
Bake the cookies for 20- 25 minutes depending on your oven or until they
lightly golden.
Nutrition Information
Yield

20
Serving Size

1
Amount Per Serving
Calories

333
Total Fat

14g
Saturated Fat

1g
Trans Fat

0g
Unsaturated Fat

12g
Cholesterol

0mg
Sodium

173mg
Carbohydrates

49g
Fiber

3g
Sugar

43g
Protein

6g
"These values are automatically calculated and offered for guidance only. Their accuracy is not guaranteed."
Like this post?
You can hover over the image to pin the image to your favourite board on Pinterest and we will be happy if you share to other Social Media with the buttons you will find on the blog.
PIN FOR LATER
Other relevant recipes:
Kopiaste and Kali Orexi,