These baked peaches with butter, honey and cinnamon are so easy to make as it only takes five minutes to prepare them and fifteen minutes to bake them. The addition of butter, honey and cinnamon makes a caramelized syrup to serve them with.
Peach season is almost over, so next time you buy some, try these baked peaches while you still can.  You will have a dessert ready in less than half an hour from the time you preheat your oven until you are ready to eat them!
While you are preheating the oven, wash the peaches, cut them in the middle, remove the stone, cut a knob of butter which add in the cavity, drizzle some honey on top and sprinkle some cinnamon.  Put them in the oven for ten minutes, turn them over and cook for five more minutes.
If you want to make them vegan, you can follow my recipe for Baked Apples.  As I said in that recipe, you can serve them with  whipped cream (vegan or not),  or with scoops of ice cream, sour cream, or for a healthier dessert, just Greek yoghurt with honey.
I made a combination of Greek yoghurt with whipped cream, honey and vanilla, to serve them.  The recipe was adapted from my giaourtoglyko (yoghurt with whipped cream).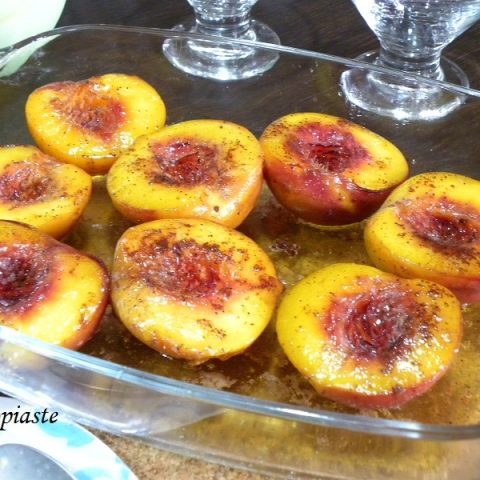 Easy Baked Peaches with Honey & Cinnamon
Ingredients
4 peaches halved
1 tsp butter on each half
1 tsp honey on each
A pinch of cinnamon on each
Yoghurt Cream:
200 ml (7 oz) heavy cream (35%)
400 grams (14 oz) Greek yoghurt 2%
1/4 cup icing (confectioners') sugar or 1/4 cup honey (or a combination of both)
1/2 tsp vanilla or citrus essence
Instructions
Wash the peaches, cut them in the middle and remove the stone.
Put the peaches in a Pyrex with the hollow part facing up. Add a knob of butter, drizzle some honey on top and sprinkle some cinnamon.
Bake in a preheated oven to 180o C / 350o F, for ten minutes. Turn them over once and cook for another five minutes.
Set aside to cool.
While the peaches are baking, prepare the Yoghurt Cream:
Whip the heavy cream with vanilla essence, until peaks form.
Mix in the yoghurt and honey and mix to combine.
Cover the bowl with a lid and refrigerate until ready to serve.
Put 1 or 2 peaches in a bowl and add some of the syrup.
Serve with the yoghurt cream.
Sprinkle some cinnamon on top and serve with a cookie and some chocolate chips.
Kopiaste and Kali Orexi!