Spanakopitakia (pr. spa-nah- koh -pee-TAA-kia) is the diminutive of Spanakopita which are small spinach triangles. They, are really so easy to make, they taste so good and are perfect to serve as finger food or appetizers.
They are very versatile in shape and ingredients and you can also enjoy them as a snack or even as a light lunch or dinner with a salad, as I did.

I am sure you have all heard of Spanakopita, so the word Spanakopitakia may ring a bell to you.
I usually make them with fresh spinach but it was a last minute decision so I had to use what I had in the deep freezer. If you use fresh spinach follow the directions given in the link for Spanakopita.
Instead of making them into triangles, you can also make them into turnovers. Just follow my instructions given in Kolokotes (Cypriot Squash Turnovers).
Potato Salad with Green "Tsakistes" Olives
This is a very easy potato salad but its taste depends mainly on the olives. I used the tsakistes olives I made last month, taking also some of the olive oil used together with garlic and coriander seeds.
If you use other type of olives, then you will get a totally different result and taste.
Regarding the potatoes I used, (I usually use Cypriot potatoes) I am not really sure what type of potatoes they are.
In Cyprus and Greece we don't have the varieties which are used abroad but as I have explained this in a previous post, I think they are called Mondial or Spunta.
Cooking time: About 30 minutes depending on the type of potato

Preparation time: 10 minutes
Ingredients:
3 potatoes

10 green tsakistes olives, together with a tablespoon of olive, with some garlic and coriander seeds

1 onion, cut into half rings

2 tbsp butter

1 teaspoon crashed rosemary

Salt and pepper to taste
Directions:
Boil potatoes with skin and peel. Chop into cubes and set aside.
Remove pips from the olives
Chop the onion and sauté it in butter.
Mix in the potatoes and add the rosemary.
Remove from the heat and mix in the tsakistes olives together with some coriander and garlic.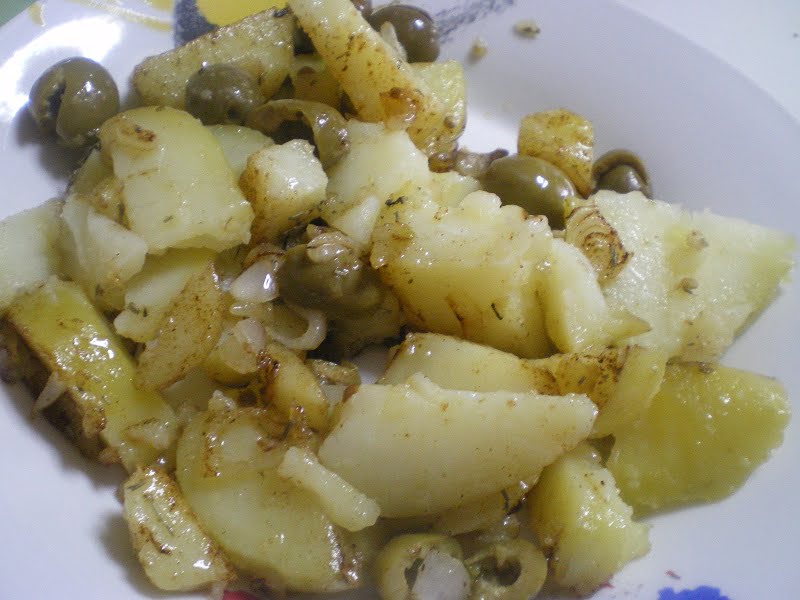 I know I promised yesterday to give you all the remaining recipes but unfortunately it's quite late, so I will have to post the remaining recipes tomorrow.
NEXT WEEK 1 – 7 December, I will be hosting Weekend Herb Blogging, so please keep your recipes containing vegetables, fruit, herb, plant, or flower until next week!!!
HAPPY THANKSGIVING
TO ALL MY FRIENDS WHO ARE CELEBRATING TODAY
Spanakopitakia (spinach triangles)
Yield: 12

Prep Time: 30 minutes

Cook Time: 30 minutes

Additional Time: 30 minutes

Total Time: 1 hour 30 minutes

Spanakopitakia are mini spinach pies which are served as appetizers and are a very healthy and nutritious treat.
Ingredients
Phyllo pastry
250 grams fresh or frozen spinach (or mixed with other greens such as endives, kale or chard)
1 leek, white part only, finely chopped
1 small red onion, finely chopped
1 green onion, finely chopped
2 tbsp olive oil
Salt and pepper
2 tbsp dill, finely chopped
2 tbsp parsley, finely chopped
1 egg
50 grams feta
50 grams anthotyros (similar to ricotta)
Olive oil or clarified butter for frying or brushing
Instructions
If using frozen spinach, thaw and squeeze out all liquid. If using fresh spinach, blanch it for 2 minutes with other greens just to wilt.
Allow to cool and squeeze out all the liquid. Cut the spinach and other greens into smaller pieces.

Heat the olive oil and sauté the red onion, the white part of green onion as well as the leek, until translucent.

Add the spinach as well as any other greens as well as the green part of the spring onions, finely chopped and sauté for a few minutes.
Remove from the heat and allow to cool. Add the dill, the parsley, the cheese (feta and anthotyros), the egg, salt and pepper and mix.

Cut the long side of the phyllo into 7 cm / 2 inches wide stripes and place a spoonful of filling.
Cover the spinach forming a triangle to the left.
Then continue folding going front, then right and then left, repeating until all the phyllo is folded. Just before the end, brush the phyllo with olive oil, to seal it.

Keep them covered with cling film and a napkin until ready to fry or bake them.
Heat the olive oil and fry until golden on both sides. Remove on kitchen paper to absorb excess oil.

Serve as an appetizer.

Notes
If you want to bake them, brush each stripe of phyllo with clarified butter (or olive oil) and then add the filling and fold as above. Line your baking tin with parchment paper and bake in a preheated oven to 180oC for about 35 - 40 minutes or until golden on top.
You can also make them in the form of turnovers. You can follow my recipe for Kolokotes.
Nutrition Information:
Yield: 12 Serving Size: 1
Amount Per Serving: Calories: 81Total Fat: 5gSaturated Fat: 2gTrans Fat: 0gUnsaturated Fat: 3gCholesterol: 24mgSodium: 119mgCarbohydrates: 6gFiber: 1gSugar: 2gProtein: 3g

Disclaimer: The information is not guaranteed to be accurate and is there for informational (and google) purposes only.
GREEK PITES (PIES)
Greek pies (pita plural pites) are a staple in Greek cuisine. They are very versatile and can be either savory or sweet. You can make a "pita" with vegetables, meat, fruit, etc.
Kopiaste and Kali Orexi,