Yiaourtoglyko is a very easy Greek dessert made with whipped cream, Greek yoghurt and fruit preserves or compote. Very refreshing for summer days!
Yiaourtoglyko, also written giaourtoglyko (pronounced yia-our-tho-glee-KHO) is a compound word from two words "yiaourti", which means yoghurt and "glyko" which means sweet (or dessert).
It is a light dessert made with fruit preserves or compote.
Above picture served with Peach Compote.
If you want to make it even much lighter and healthier, you can change the ratio of yoghurt to heavy cream 2:1 and add yoghurt with 2% fat.
You can also substitute the heavy cream with vegetable whipping cream. As vegetable cream is sweeter than heavy cream you can skip the icing sugar.
This is one of the easiest desserts you can make in less than fifteen minutes and it is very delicious.
All you need to do is whip the heavy cream and combine it with Greek yoghurt and mix in other ingredients, such as compote or "glyka tou koutaliou" which are called "spoon sweets" or Greek fruit preserves.
Above picture served with Caramelized Apricots.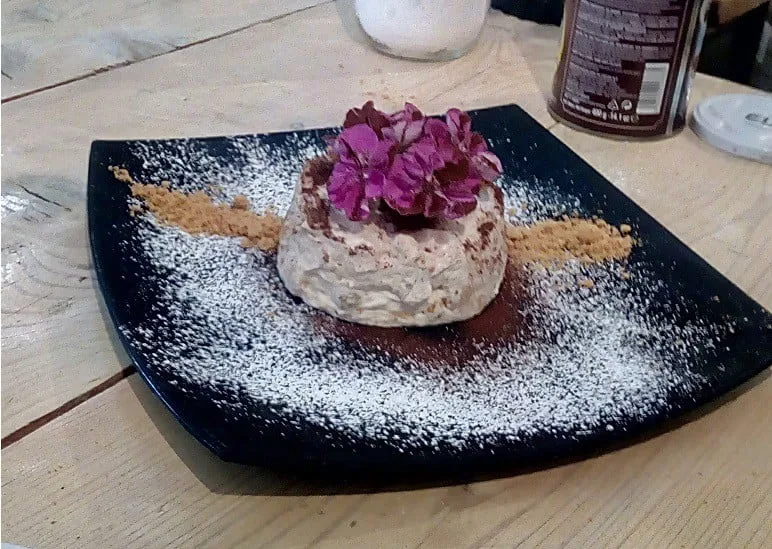 See also a different approach to this dessert, Yiaourtoglyko me Portokali (Greek Yoghourt with Orange Preserve) which I made with Greek fruit preserves (glyka tou koutaliou).
If you are on a diet, add less heavy cream and add more yoghurt with 2% fat and combine it with fresh fruit.
You can eat it for breakfast, as a snack or for a light dinner.
My favourite combination is with juicy pears and peaches which are juicy and make it sweet and delicious without the extra calories.
Diet Yiaourtoglyko with Fresh Fruit and Honey
Serves: 4 – 5
Ingredients:
500 ml of Greek strained yoghurt 2% fat
100 grams heavy cream
1 heaped tablespoon of Greek honey (taste and add more if you want it sweeter)
2 pears
2 peaches
2 apricots
1/2 tsp vanilla essence
A pinch of cinnamon
Directions:
Put the yoghurt in a bowl, add the fruit and remaining ingredients and mix.
Sprinkle with some cinnamon on top.
Yiaourtoglyko
Yiaourtoglyko is a very easy Greek dessert made with whipped cream, Greek yoghurt and fruit preserves or compote. Very refreshing for summer days!
Ingredients
750 ml of Greek full fat strained yoghurt
750 ml of heavy cream
75 grams (3/4 cup) of icing sugar (or adjust according to your taste)
85 grams (¼ cup) Greek honey
1/2 tsp vanilla essence
1 can (420 gr.) of drained tutti frutti (assortment of fruit in syrup or any other fruit compote you like) or homemade compote
10 digestive or other biscuits or cookies of your choice (I used digestive)
Cinnamon or cocoa powder, to sprinkle on top (optional)
Instructions
Drain the fruit.
Whip the heavy cream until soft peaks are formed.
Add vanilla and mix.
Add sugar or honey and mix.
Combine yoghurt with whipped cream.
Add the fruit and mix in with a spoon.
Cover with cling film and refrigerate for half an hour or until ready to serve.
Crumble some biscuit in a bowl or glass and alternate adding some yiaourtoglyko and biscuit.
Decorate with some fruit preserve or compote and a mint leaf or edible flowers.

Notes
You can make this dessert much lighter, by using a 2% Greek yoghurt,
less whipped cream (or none at all) and fresh fruit.
Recipe in post.
Nutrition Information
Yield

10
Serving Size

1
Amount Per Serving
Calories

590
Total Fat

39g
Saturated Fat

21g
Trans Fat

1g
Unsaturated Fat

16g
Cholesterol

92mg
Sodium

429mg
Carbohydrates

52g
Fiber

1g
Sugar

25g
Protein

10g
"These values are automatically calculated and offered for guidance only. Their accuracy is not guaranteed."
Kopiaste and Kali Orexi,