Melopita is a traditional Greek Honey Cheesecake coming from Sifnos Island, in the Cyclades.
This Cheesecake could easily satisfy the needs of any person for a simple, delicious dessert that requires only basic ingredients.
The cheese used is fresh, unsalted anthotyros or myzithra, which is similar to ricotta and it is sweetened with Greek citrus honey.
I prefer using myzithra (mee-ZEE-thrah) from Crete, which is made with sheep and goat milk and has a richer flavour from anthotyros made from cow's milk.
To flavour it I used some orange zest, orange flavoured vanillin, and citrus honey, which gives it an irresistible orange flavour.
Myzithra or anthotyros is a low fat cheese but rich in flavour and the orange zest adds a welcome zing.
This is a very versatile recipe, so if you want to make a more modern approach you can make it into a tart.
To make it into a tart, you can follow my recipe for Fig and Peach Anthotyro Cheese Tart.
Trust me, this is a dessert people won't forget about!
ORIGIN OF CHEESECAKE
When someone hears the name "Cheesecake" what comes to their mind is the New York style cheesecake.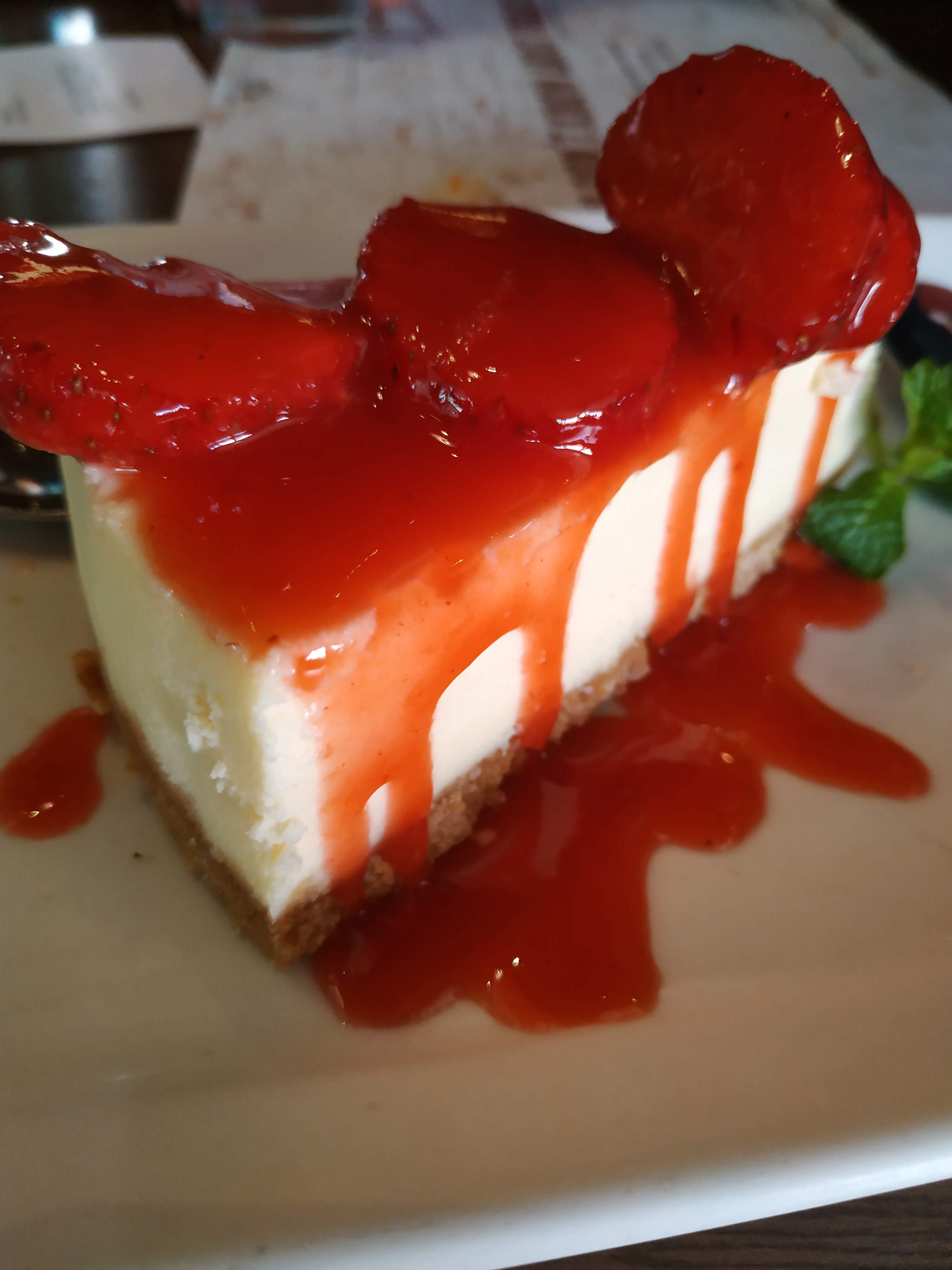 However, the first cheesecake was made by the Ancient Greeks. It was given to the athletes to provide them with energy.
It was also a type of wedding cake which was made by the bride.
Athenaeus (2nd century AD) mentions that Callimachus (3rd century BC) used to have a work by "Aegimius" that described the art of making cheesecakes (πλακουντοπουκόν σύγγραμμα) plakountoboukon syggramma.
The recipe itself was pretty simple: pound the cheese until it is smooth mix it in a brass pan with honey and spring wheat flour, heat the cheesecake "in one mass", allow to cool, then serve.
An easy Dessert fit for Breakfast or Brunch
I love that this dessert is easy to make and isn't overly sweet. In fact it would even make an ideal healthy, breakfast or brunch dessert.
In my video I used a hand mixer to whisk the ingredients and a food processor to make it creamier.
This is a very old recipe, so back then they didn't need an electric mixer or a food processor.
So, you can easily make it using just a fork to crush the cheese and then a spoon or a baloon whisk to mix in the remaining ingredients.
Anthotyro (Greek ricotta) recipes
Anthotyro is a whey cheese, similar to ricotta, so you can use it both in sweet and savory recipes.
TIPS FOR MAKING THIS DESSERT
This dessert has the tendency to stick to the pan, so make sure you grease the sides of your cake tin well with butter and sprinkle some semolina (or flour) on top.
This cheese cake is moist and dense. It is a flat cake, so don't add more mixture to make it higher. The name itself implies that it is flat as the Greek word "pita" means flat.
You can substitute orange zest with any other citrus zest you prefer.
Orange Flavoured Melopita
Total Time:
1 hour
5 minutes
Melopita is a traditional Greek Honey Cheese cake coming from Sifnos Island, in the Cyclades. It is a low calorie dessert made with anthotyros (the Greek equivalent to ricotta) and sweetened with honey.
Ingredients
650 grams anthotyro (similar to ricotta)
5 large eggs
200 – 250 grams Greek citrus honey
20 grams corn flour (starch)
1 tsp orange zest
1/2 tsp cinnamon
1 sachet orange flavoured vanillin or ½ tsp citrus essence
20 grams butter
20 grams fine semolina
Instructions
Grease a 24 cm diameter round baking tin with butter and sprinkle the semolina or flour to coat the baking tin and the sides.
Mix the cheese with a hand mixer or blender, until it breaks into smaller pieces.
Add the eggs gradually, mixing until it becomes smooth and creamy.
Add the honey and mix.
Add the zest, cinnamon, corn flour, salt and vanillin and mix until combined. (If you don't have hand blender, transfer the mixture into a food processor and process to break any lumps and make the mixture smooth and creamy).
Empty the mixture in the prepared baking tin. Fill the pan to about 2 - 3 cm
(1 inch) and use a rubber spatula to evenly spread the mixture.
Preheat the oven to 180o C / 350o F (or 160o C / 320o F, if using a convection oven) and bake for about 45 minutes or until golden on top.

Run a thin-bladed knife around the edge of the cake to make sure it's not sticking to the sides and remove to a platter.

Serve Melopita warm or at room temperature drizzled with honey and dusted with cinnamon.
Nutrition Information
Yield

8
Serving Size

1
Amount Per Serving
Calories

269
Total Fat

11g
Saturated Fat

6g
Trans Fat

0g
Unsaturated Fat

4g
Cholesterol

147mg
Sodium

142mg
Carbohydrates

29g
Fiber

0g
Sugar

21g
Protein

14g
PIN FOR LATER ON
Kopiaste and Kali Orexi!