Christos Anesti to all the Orthodox readers of my blog and Chronia Polla to George or Georgia celebrating their name day today.
Today is the name day of my eldest son, George and to celebrate, I made this American Cheesecake, which I have been making for many years.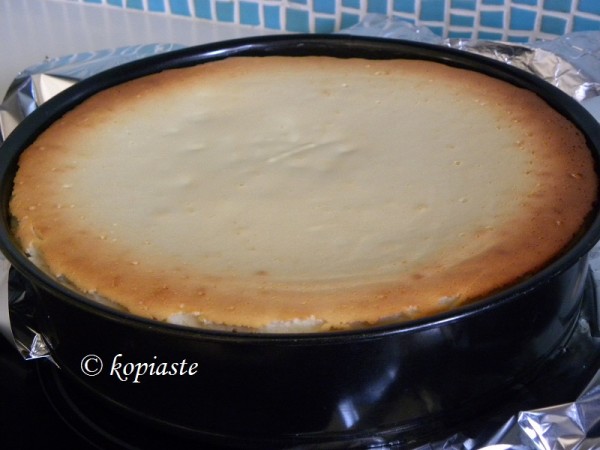 As I like making something different each time I make a few changes to the original recipe. This time I have addded Greek Yoghurt and heavy cream. I also decorated it with Mars Chocolate Whipped Cream and with this delicious Fig spoon sweet (preserve) which I made last week.
This time, I had some difficulties making it, as I can't get used to my fan-forced oven. I covered it with aluminium foil but I did not bake it in a water bath as all my bigger baking tins were used for something else.
It needs several hours until it is ready to be served, so it's better to make it early in the morning or from the previous day.
Despite all the difficulties it turned out to be very delicious!!
New York Cheesecake with Mars Chocolates and Fig Preserve, recipe by Ivy
Preparation time: 30 minutes
Baking time: about 1 hour
Serves: 12 or more
Baking tin: 26 cm
For the crust:
250 grams digestive biscuits , made into fine crumbs

130 grams butter

70 grams almonds, skin on
For the filling:
3 x 200 grams pack Philadelphia cream cheese , or other full-fat soft cheese

300 grams Greek yoghurt

250 ml heavy cream

145 grams brown sugar

75 grams citrus blossom flowers honey

50 grams all purpose flour

1½ tsp

vanilla extract

(or 2 vanillins)

4 eggs (60 grams each)
Decoration on top:
1 heavy cream 35%

3 Mars chocolate bars

6 fig spoon sweets
Directions:
Position an oven shelf in the middle of the oven.

Preheat the oven to fan 160

o

C.

Grind the almonds in a food processor. Put them in a bowl.

Put a few of the biscuits with some butter in a food processor and mix to powder. Continue until all biscuits and butter are used.

Mix with the almonds and spread the mixture on your baking tin. Press them with your fingers, to cover the base of the baking tin and bake the base for 10 minutes.

Beat the cream cheese with yogurt. Add the heavy cream, vanilla and flour and beat to combine. Finally add the eggs one at a time and beat well until fluffy.

Remove the crust from the oven and after five minutes pour the cream on top. Cover the pan with foil.

Bake for about 1 hour and then remove the foil. Contiue baking it uncovered, until golden on top and the cream has set.

Let it cool and refrigerate for 1-2 hours.

In a bain marie (double boiler), melt the chocolates. Pour a few tablespoons of heavy cream and stir until the chocolate is runny.

Whisk the remaining heavy cream until peaks form and refrigerate until the chocolate becomes lukewarm.

Pour a little chocolate in the whipped cream and mix with the hand mixer. Reserve some warm, melted chocolate keeping it warm in the water bath.

Spread the whipped cream on the cheesecake and then pour over the melted chocolate with a spoon, making some designs.

Decorate with halved fig spoon sweets and a whole one in the middle.

Unmold the cheesecake and when serving it, add some syrup from the fig preserve on top.
Other similar recipes:
Orange Chocolate New York Cheesecake
Kopiaste and Kali Orexi,