Sharing is caring!
Who doesn't love chocolate? I kind of love dark chocolate and adore that bitter dark flavor! However, it is an acquired taste though.

The old saying goes……."We are what we eat".
This means that to remain healthy and fit and active we must eat Healthy!
All of us could use a brain boost from time to time. Whether we are in a job that requires us to use our minds for hours on end or we just want to remember important dates and appointments, most of us wish there were things we could do to improve mental function.
Fortunately, there are some foods out there that help to improve our overall mental functions.
Let's take a quick look at some of these brain food.
But do they really work? There's no denying that as we age chronologically, our body ages right along with us. The good news is that you can increase your chances of maintaining a healthy brain — if you add "smart" foods and beverages to your diet.
Need a Mental Boost – Try these Brain Foods
Chocolate
Chocolate, and specifically dark chocolate, has numerous health benefits if consumed in moderation. The cacoa beans are enriched with flavanoids and antioxidants and 50 grams of dark chocolate can be as good for the heart as a glass of red wine.
In addition, chocolate is known to improve mental health. Eating dark chocolate can release neurotransmitters to the brain and that can help with the production of endorphins and serotonin.
Bitter Chocolate Ginger Cookies
Carob Syrup and Spiced Ginger Chocolate Cake
Blueberries and Acai Berries
Acai berries come from South America and are a unique fruit that has protein and Omega-3 Fatty Acids. Also, it is known that purple berries have high levels of vitamins and antioxidants.
One of the healthiest foods in the world to eat are blueberries. Not only do they have more antioxidants than any other fruit, but they have been linked to improved coordination, vision, and cognitive function.
Acai Berries Smoothie and Popsicles
Matcha (Gyokuru Green Tea Powder)
Matcha is among the rarest and purest teas in the world. The tea is grown in shady conditions and is rich in both nutrients and chlorophyll.
The tea also is said to have a calming effect due to high concentrations of the amino acid L-Theanine. In addition, it has greater amounts of catechins, vitamins C and A, antioxidants, and even Flouride than normal tea.
Green Tea Jelly and Green Tea with Fragrant Geraniums
Wild Salmon
A food low in saturated fats and a great source of Essential Fatty Acids is wild salmon. It also has the lowest contaminant levels of any seafood.
Consumption of Salmon has been linked to improved mood, brain function, and synaptic connections. In addition, it can reduce your risk for stroke, Dementia, and even Alzheimer's.
Glykoxinos Solomos (Sweet & Sour Salmon)
Sesame Crusted Salmon with Lemon & Petimezi
Solomos (salmon) stiffado
By eating these and other brain foods, you are taking a positive step towards improved mental function. As always, talk to your doctor about any change in diet plans, especially if you are on any medications.
From the above ingredients I have incorporated dark chocolate in some desserts, together with another favourite ingredient": Petimezi or Epsima, as it is called in the Cypriot dialect, which is a concentratedgrape syrup. Instead of Petimezi, you can also use Haroupomelo "carob syrup", which is even better, as in the old days it was used as a substitute to chocolate.
I made this recipe early this month based on a previous recipe I had made. I don't like making the same recipe over and over again but I try to incorporate ingredients I have at home.
I made this cake on the same day, using almost the same ingredients. I used unsweetened dark cocoa powder, orange juice and milk.
The cake was super moist and delicious!
Like this post?
You can hover over this image to pin it to your Pinterest board. Please feel free to share it with your friends and fellow bloggers, using the share tools below.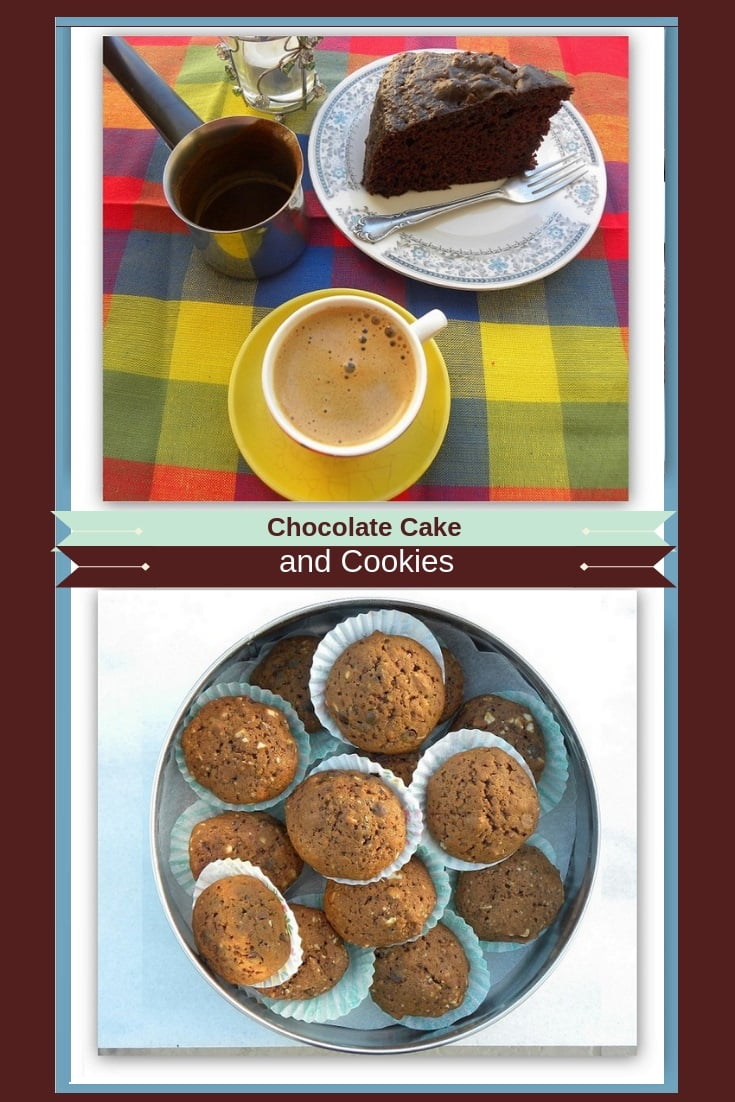 Kopiaste and Kali Orexi,

Sharing is caring!