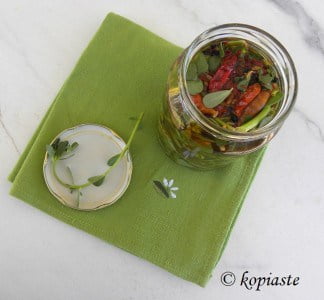 I've written about purslane (portulaca oleracea) in many other posts.
Purslane contains more Omega-3 fatty acids than any other leafy vegetable plant. The stems, the leaves and the flowers are all edible. Ms. Simopoulos states that Purslane has .01 mg/g of EPA. This is an extraordinary amount of EPA for land based vegetable sources. EPA is an Omega-3 fatty acid normally found mostly in fish and some algae. It also contains vitamins (mainly vitamin C, and some vitamin B and carotenoids), as well as dietary minerals, such as magnesium, calcium, potassium and iron. Also present are two types of betalain alkaloid pigments, the reddish betacyanins (visible in the coloration of the stems) and the yellow betaxanthins (noticeable in the flowers and in the slight yellowish cast of the leaves).
Both of these pigment types are potent antioxidants and have been found to have antimutagenic properties in laboratory studies.
We did not plant any purslane but it suddenly appeared in our garden this year. I guess that the birds may have dropped some in the garden . All purslane needs to grow is part to full sun and clear ground. They are not picky about soil type or nutrition. But, purslane does tend to grow better in drier soil.
It grew in abundance and we have been eating a lot but it's impossible to eat it all. So, what better way to keep the bounty of the season's harvest for the winter, than pickling it.
This year I made this pickle twice. The first time I added more water (ratio: 2 vinegar – 1 water) which made the vinegar less strong. I wanted more acidity so this year I reduced the amount of water. I also added some elixir of vinegar's nectar, which is an aged vinegar (5 years) mixed with fruit and herbal extracts of peppers, cardamom, ginger etc. which adds extra taste and aroma to the pickles.
I have already made some new recipes, which I will be posting in the future. Until then you can use the picled purslane in your salads or serve as it is to accompany fish or meat dishes.
Pickled Purslane
Preparation time: 15 minutes
Cooking time: 30 minutes
Makes: 3 kilo jars
Ingredients:
650 grams tender purslane with stems
1000 ml red wine vinegar, 6% acidity
1 cup water
1/4 cup (4 tbsp) honey
20 hot chilli peppers
1 tsp fennel seeds
1 tsp crashed coriander seeds
1 tsp black peppercorns
1 tsp sweet chilli flakes
2 tbsp Himalayan pink salt
1 tsp coarse sea salt
1 tsp mustard seeds
1/4 cup elixir of vinegar's nectar (optional)
Extra virgin olive oil
Directions:
Wash and dry purslane and set aside to dry. Cut only the tender stems.
Fill the sterilized jars with purslane.
Put the remaining ingredients in a pot and bring to a boil. Simmer for five minutes.
Set aside until lukewarm and mix in the elixir of vinegar's nectar.
Divide the vinegar mixture in the sterilized jars, adding the spices as well.
If the pickles are not sufficiently covered with the vinegar, add enough olive oil, until covered.
Store in a closet.
Note: It can be stored for a long time (six or more months), if it is always covered with some olive oil on top.
You can find many more Greek recipes in my cookbook "More Than A Greek Salad", and "Mint, Cinnamon & Blossom Water, Flavours of Cyprus, Kopiaste!" both available on all Amazon stores.
Other relevant recipes:
Minty, Avocado and Purslane Tzatziki
Purslane Salad, Purslane Tzatziki and Carrot Tzatziki (in one post)
Kopiaste and Kali Orexi,