Portulaca oleracea (purslane) in Greek (γλιστρίδα) is the type genus of the purslane family Portulacaceae, comprising about 40-100 species (probably much fewer and potentially far far more) found in the tropics and warm temperate regions. It is also sometimes known as Rose Moss or more commonly Moss Roses.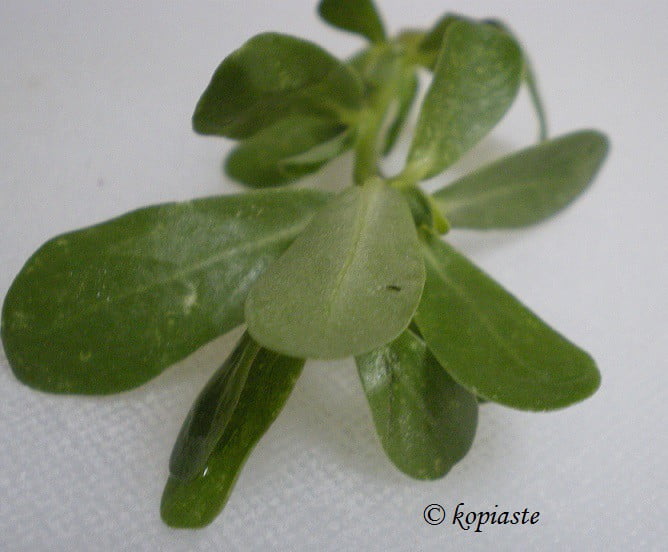 Purslane contains more Omega-3 fatty acids than any other leafy vegetable plant. Simopoulos states that Purslane has .01 mg/g of EPA. This is an extraordinary amount of EPA for land based vegetable sources. EPA is an Omega-3 fatty acid normally found mostly in fish and some algae. It also contains vitamins (mainly vitamin C, and some vitamin B and carotenoids), as well as dietary minerals, such as magnesium, calcium, potassium and iron. Also present are two types of betalain alkaloid pigments, the reddish betacyanins (visible in the coloration of the stems) and the yellow betaxanthins (noticeable in the flowers and in the slight yellowish cast of the leaves). Both of these pigment types are potent antioxidants and have been found to have antimutagenic properties in laboratory studies.
Widely used in Greece, archaeobotanical finds are common at many prehistoric sites. In historic contexts, seeds have been retrieved from a protogeometric layer in Kastanas, as well as from the Samian Heraion, dating to 7th century BC. Theophrastus in the 4th century BC names purslane, andrákhne, as one of the several summer pot herbs that must be sown in April.
In Greek popular medicine, purslane is used as a remedy for constipation and inflammation of the urinary system.
Known as "Sanhti or Punarva" in North India it is known to act as a liver tonic and is used in diseases of the liver.
Source: Wikipedia
Although glystrida or antrakla (purslane) is a vegetable I tried when I was younger, I was rather indifferent about it and since leaving home I never bothered to buy it again. I decided that it was time to give it a second chance and I must say that I regret that I hadn't tried it again all these years. I will definitely buy it over and over again not only because it is healthy but also because it is very tasty.
In my previous post, I was asked to say what it tastes like.
"Purslane is a succulent herb and the leaves are juicy. I can't give you exactly the taste as it is difficult for me to describe. Although I have read that it is spicy and tangy, I would not agree on the first description that it is spicy but I would say it has a lemony taste."
Our dinner was grilled chicken (with salt, pepper and oregano) and I tried some pesto on the chicken and it was perfect.
When I prepared the salad I wanted to experiment more with it and reserved a small amount, which I did not add the salad dressing but instead I added some of the leftover purslane pesto.
The pesto gave it a totally different taste but both salads were worth trying. I even tried mixing both salads together in the end and again all combinations gave it a great taste.
I am submitting this salad to Lisa and Holler, who are hosting this month's No Croutons Required, where we are called to make a vegetarian soup or a salad, showcasing our favourite herb or experiment with a herb that is new to us.
Purslane Salad
Servings: 4
Ingredients
3 medium potatoes, boiled with the skin and peeled

1 large tomato, chopped

1 cup of purslane, torn

2 small cucumbers— with skin, chopped

1 medium red onion, thinly sliced

1 spoonful of capers

½ boiled beetroot, chopped

A few sprigs of parsley, finely copped

3 gherkins, chopped

Salt
Salad dressing
1/2 cup extra-virgin olive oil

3 tablespoons red wine vinegar

1 teaspoon thyme honey

Salt and pepper to taste

½ teaspoon of oregano
Directions
Wash the purslane thoroughly. I had the purslane washed when I prepared the purslane pesto and reserved the top parts for the salad.

Boil the potatoes with the skin and peel while hot and cut into small pieces.

Chop the parsley, tomato, cucumber and onion. (I peeled the tomato as my husband has problem digesting the skin).

Add remaining ingredients (capers, gherkins and beetroot). A few weeks ago, I had some beetroots, which I boiled with the skin, I peeled them, cut them into slices and preserved them in a jar with vinegar.

Prepare the dressing, toss all the ingredients together in a salad bowl and serve with the amount of dressing you like.
The next day I still had some purslane left so I just made the most simple purslane salad I used to eat in Cyprus: Tomato, cucumber, purslane, salt, olive oil and wine vinegar. Nothing else, no onion, no oregano, no olives, no capers just these few ingredients and it was still very good.
Now that we are going to the Lake nearly every day, I have to think of easy solutions for lunch. When I prepare meat balls, sheftalia or burgers, I usually make larger quantities and have them in the deep freezer for similar cases, so this morning I thawed some sheftalia.
By the time I grilled the sheftalia, I prepared the salad and started preparing a tzatziki which goes well with sheftalia and grilled meat in general. When I began preparing it, I remembered a "different tzatziki" I had prepared about a month ago and checked in my refrigerator to see if I had the carrots.
Yes, hurray, I did!!
Carrot Tzatziki
Ingredients
1 strained Greek yoghurt (250 grams)

1 tablespoon of extra virgin olive oil

1 (or more) pounded clove of garlic

1 pinch of salt

1/2 (big) cucumber, peeled and grated

2 small carrots, grated
Directions
Peel the cucumber and grate it and squeeze to drain excess fluid.

Peel and grate the carrots.

Peel and pound the garlic in a pestle and mortar together with the salt.

Combine all the ingredients and add oil and mix well.

Refrigerate at least 30 minutes before serving, always keeping it covered to avoid smell in fridge.
Did I stick to that recipe? No.
Purslane Tzatziki
The carrot tzatziki was great but I remembered that I saw purslane and yoghurt together so I got the idea of trying it with new ingredients so I finely chopped the purslane and mixed a small quantity of carrot tzatziki with the purslane and tried it. I wanted this sauce not to remind tzatziki and as our dinner was sheftalia and pork chops in Pita bread, I decided to make the sauce hot, so I added the hot chilli and some paprika.
Additional Ingredients
The same as above, and

1 cup of finely chopped purslane

A pinch of hot chilli

A pinch of paprika
Directions
Peel the cucumber and grate it and squeeze to drain excess fluid.

Peel and grate the carrots.

Finely chop purslane,

Peel and pound the garlic in a pestle and mortar together with the salt.

Combine all the ingredients and add oil, chilli, paprika and yoghurt and mix well. Refrigerate at least 30 minutes before serving, always keeping it covered to avoid smell in fridge. In Cyprus we sprinkle dried mint on top.
Tip: If you do not have drained yogurt, place the yogurt in a large square of double cheesecloth. Tie the cheesecloth over the sink and let any excess liquid drain for about 4 hours.

Wow! Aren't you fed up of my bla, bla, bla, bla????
There is an explanation about this.
In Greece when somebody talks a lot they say: Γλιστιρίδα έφαγες; (glistrida efages?) translated : Did you eat purslane?
Don't ask me why.
Kopiaste and Kali Orexi,