Good morning and wishing you a happy weekend and a wonderful summer!
The farmers' market in Nafplion is twice a week, every Wednesday and Saturday. Now that we are just the two of us living here in Assini, we don't really need to visit the farmers' market twice a week but I enjoy visiting Nafplion and wandering in the old town, as often as I can.
Seeing all the fresh fruit and vegetables makes me want to buy everything. Some times I get carried away and end up buying more than we need but I can assure you that it never gets wasted.
Today's post has 5 new recipes featuring peaches and apricots. Although I cook a lot of new savory recipes and my intention was to post one today, I don't know how I end up posting mostly desserts. Since I posted a Peach and Apricot Jam in my other blog, I decided to post these recipes as well, as these fruit are in season and I don't have to make detailed posts as this is a rather an easy post adding mostly a description and some links and pictures.
Recipe 1:
To see my first recipe for Peach & Apricot, Ginger and Fragrant Geranium Jam and more about Nafplion farmers' market, read more in my other blog.
Recipe 2:
If you do not want to make a jam, a very easy way is to make a fruit sauce to use it in desserts, on top of ice cream, yoghurt, waffles, crepes etc. Instead of peaches, you may make it with apricots, plums, etc., or a combination of fruit.
Homemade Peach sauce
In a non stick frying pan add 4 peeled and stoned peaches. Add 1/2 cup sugar, any flavour you like, such as vanilla, cinnamon, cloves, nutmeg, cardamon, fragrant geraniums, 2 tbsp lemon juice, 2 tbsp rose or blossom water (or just plain water or brandy or liqueur of your preference). Put on the heat and mix with a spoon. Cook for about 10 minutes or until the fruit has the consistency of thick sauce.
Store in the refrigerator for 3 – 4 days.
Recipe 3:
How about a refreshing Iced Green Tea with Peach and Apricot flavour?
I have posted a similar recipe of Lemon and Mint Ice Tea. The procedure of this recipe is the same, the only difference is that I also added three lemon cubes (or about 1/4 cup fresh lemon juice). You can use whatever green tea you like and the amount of mint, cinnamon or cloves will depend on which aroma you prefer to prevail.
In order to flavour the iced tea I used about i cup of the Peach and Apricot jam I made. I avoided adding the chunks of fruit, which were used in another recipe you will find below, but just the thick syrup. I mixed it in the tea, tasted it until I got the desired sweetness. If you have any other homemade jam (or even store bought one, which you like) such as cherry, strawberry, quince etc. try it and tell me what you think about it. I am thinking next time to use my Mandarin Marmalade.
Strain and bottle the ice tea before refrigerating. It can be kept in the refrigerator for many days, at least I have kept it up to a week.
Recipe 4:
Apricot & Peach Kourabiedes Crumble Pudding
This recipe was intended to become a Peach and Apricot Crumble.
Since I have posted many similar recipes and did not plan to post one more, I did not bother to take any step by step photos of the crumble.
To make the crumble I used regular butter and leftover ewe's butter from Easter and it tasted just like kourabiedes. You can use any recipe from the links given below. I mixed the fruit with petimezi (grape molasses) and corn flour.
However, the filling turned out to be tart because of the peaches and my husband and I did not like it at all. We tried adding some icing sugar on top of the crumble but it still tasted tart. I tried it with some honey but again nothing changed. There was no way to serve this dessert to friends but it would also be a pity to throw it away. I tried thinking of ways to salvage it and here is what I did:
I removed most of the crumble and added (about half cup) honey. I mixed it with the cooked fruit, tasted it and added more until I liked the sweetness. Then I prepared a lemon scented pastry cream (1 dose) adding 2 more tbsp sugar.
I used a new pyrex and added a layer of cream, the fruit in the middle, the remaining cream on top and finally I crumbled the crumble again on top. So thanks to the tart fruit I created this delicious dessert.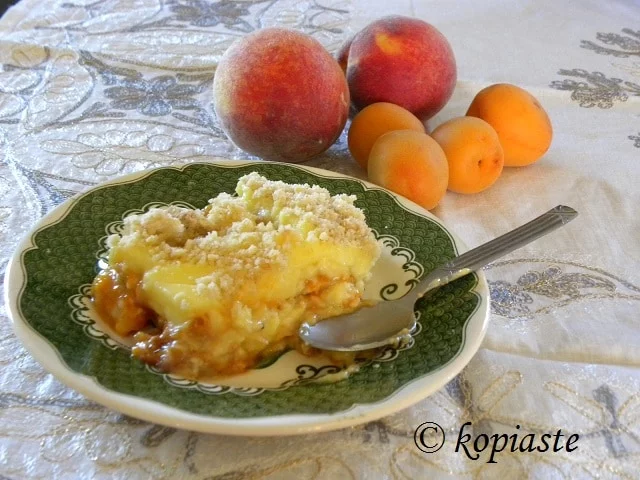 Recipe 5:
The last recipe is a combination of two previous recipes of mine, which you will find below: The cake with Caramelized Ppeppermint Apricots and the Marbled Arbaroriza Cake with an apricot glaze.
I made a Sponge Cake. I used free range eggs and that's why the sponge looks so yellow. I cut it in the middle and placed the ring around the cake. I emptied 200 grams of cream cheese in a bowl and added about 1/2 cup Peach and Apricot Jam. I mixed it with a hand mixer until combined, tasted it until it reached the taste I liked. You can add more or less jam depending how you prefer it.
I added the cream on the sponge and added some of the chunks of fruit I had previously removed from the jam and covered it with the other half of the sponge.
In the same bowl in which I made the cream I added 1/2 cup jam, 1 tbsp rose water and icing sugar to make the glaze. I started with about half cup sugar which I added gradually and mixed it. If needed, add it all or more till it reaches the consistency you like and glaze the cake. If you like you can add 1 tbsp butter as well but I skipped the butter.
Refrigerate for an hour before serving.
It's Saturday again and I am now off to the Farmers' Market again. Let's see what's in the cards to make this week!
Other Relevant Recipes:
Cobbler, Crisp, Crumble, Grunt, etc.
Fig, Honey and Fragrant Geranium Crumble
Cake with Caramelized Peppermint Apricots
Marbled Arbaroriza Cake with Fragrant Geranium and Apricot Glaze
Kopiaste and Kali Orexi,