New Year's Vassilopita Tsoureki is a brioche kind of Greek Sweet Bread made for New Year's Day.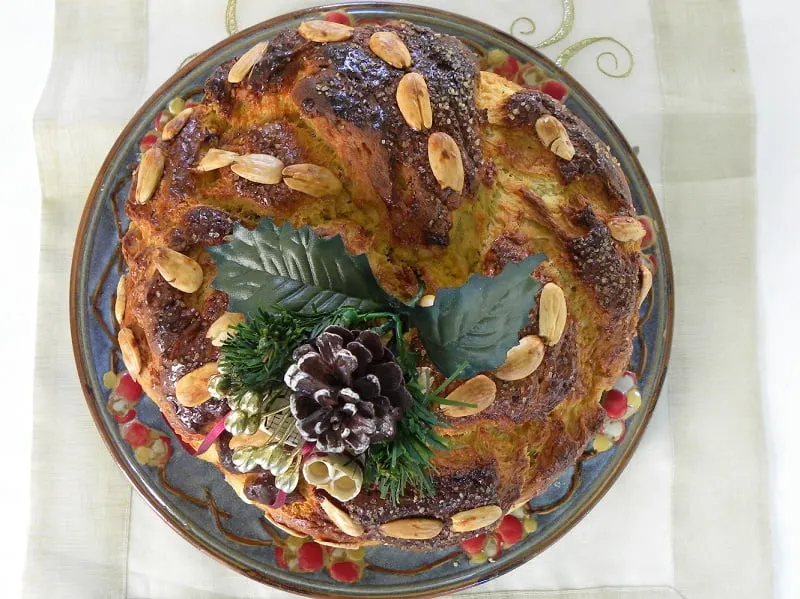 After midnight and the change of the Year, the head of the family cuts this bread (or cake). Whoever finds the coin is considered to be lucky during the next year. If you would like to learn more about the tradition, read an older post here.
Αlthough we love tsourekia and always make them during Easter, I've never made a Vassilopita Tsoureki as we prefer the Vassilopita Cake type.
As this bread has been mentioned many times in older Vassilopita posts, I decided that it was time to post this recipe as well. I made this bread today, in order to have time to post it ahead, for my readers.
The recipe is based on Tsourekia filled with Chestnuts which I made a couple of years ago.
For a start, I adjusted the recipe and made a smaller dose, as I just wanted one tsoureki. I also made some minor changes, like adding ordinary butter and not ewe's and goat milk butter, which we use during Easter and changed the flavour by not adding anise seeds and adding orange zest, instead of lemon zest. After adding all the ingredients I added the flour last, from a 1 kilo packet and weighed the leftover to see how much I used.
One tip I want to share with you is that whenever I bake during winter, using yeast, I always plan my day's meal to be something cooked before in the oven, so that the kitchen is warm so that the yeast will rise much easier.
New Year's Vassilopita Tsoureki
Total Time:
2 hours
45 minutes
Ingredients
For the yeast
21 grams (1 packet) fresh yeast or 8 grams dried yeast
1 tbsp sugar
1/3 cup lukewarm milk
2 tablespoons flour (out of the whole flour used)
For the dough
765 grams bread flour (including the 2 tbsp used above)
1/3 cup lukewarm milk
150 grams brown sugar
150 grams butter
4 egg whites and 3 yolks
¼ tsp mahleb seeds
1/8 tsp whole mastic resins (if impossible to find add 1/2 tsp vanilla extract)
¼ tsp salt
2 tbsp orange zest
Egg wash:
1 egg yolk mixed with a spoonful of milk for glazing
About 1 tbsp brown sugar for sprinkling on top
½ cup blanched and cut almonds
Instructions
In a small bowl dissolve the yeast with milk and add a couple spoonfuls of flour together with the sugar and mix. Cover with cling film and a napkin and leave it to rise (about fifteen minutes).
Until this is ready, heat the milk, grate the orange, pound the mastic resin and the mahlab together with 1 tbsp sugar and blanche and cut the almonds into two thin slices.
In the mixer beat the butter and sugar until white and fluffy. Add the yeast mixture and add the eggs, one at a time, until incorporated, the salt, the mastic and mahlab and orange zest, as well as the milk and mix.
Change the paddle and attach the hook on your mixer. Add the flour, until the dough does not stick on the bowl or your hands. If your eggs are smaller or bigger, you may need to add more or less flour, if necessary.
Cover the dough with a napkin and leave it to rise and double in volume.
Knead again a couple of times to deflate and divide the dough in three equal parts (about 500 grams each). Form each piece into a large cord about 1 inch diametre and braid them together.
Line a baking tin with parchment paper and place in a spring form ring. Place the braid inside, forming a circle.
Brush with the egg-milk mixture on top and sprinkle some sugar and some blanched almonds.
Preheat oven at 180 C / 350 F and bake for about 45 minutes until golden brown and a skewer or a knife, inserted in the middle comes out clean.
Wash a coin, dry and wrap it in a small piece of aluminum foil.
Remove to a wire rack to cool before adding the coin vertically in the cake, from the bottom side.
Nutrition Information
Yield

12
Serving Size

1
Amount Per Serving
Calories

506
Total Fat

20g
Saturated Fat

8g
Trans Fat

0g
Unsaturated Fat

10g
Cholesterol

90mg
Sodium

223mg
Carbohydrates

68g
Fiber

5g
Sugar

16g
Protein

16g
"These values are automatically calculated and offered for guidance only. Their accuracy is not guaranteed."
Vassilopita Recipes
There are two types of Vassilopita. One is a cake type and the other a brioche (Tsoureki type). You can use either one.
Here are some more Vassilopitas to choose from!
Wishing you all a Happy New Year,
Kopiaste and Kali Orexi,