The brownies, one of America's favorite baked treats, was born in the U.S.A. (The brownie is classified as a bar cookie rather than a cake.
Would you believe that I have never made Brownies before? Well actually there are a lot of things I have not yet made and I am learning every day lots of new things.
I now know the difference between cookies and biscotti but now that I've made the brownies, my son tells me that although they are perfect they remind him of mud cake, which he tried in Australia. Is he right? I have never made mud cake before so I wouldn't know the difference.
Anyway the taste was F A N T A S T I C !!!
I whipped up a cream and made a lovely framboise sauce to go with it.
I have now realized that when I like something a lot, I keep making it over and over again until I find something new to experiment with. This time I have been making a lot of recipes with pistachios and after google searching for brownies and pistachio I found Michelle's recipe which sounded great.
The only thing that I changed to this recipe was that I made a bigger amount. Although Michelle says it makes 15, according to the amount of ingredients I used, I should have made at least 37 but as you may see I only made 20 and believe me one piece was not enough.
As usual, I did not stick to the method but followed a different approach in making the brownies. Finally, I forgot to add the pistachios in the mixture, so I just sprinkled them on top.
Preparation time: 20 minutes
Baking time: 30 minutes
Makes: 20
Ingredients
250 grams dark chocolate
250 grams butter
560 grams granulated sugar
5 eggs
125 grams plain flour
2 tsp baking powder
½ tsp salt
200 grams of unsalted pistachios
Directions
Line a 38×32cm tin with baking parchment, allowing the paper to come 2cm/1 inch above the tin. Preheat the oven to 180°C/350°F/gas mark 4.
Roast the nuts in the preheated oven for 8 minutes.
Meanwhile melt the butter and chocolate in a bain Marie. When it has almost melted, remove from the heat and stir until it completely melts as we do not want the chocolate to be hot.
Beat eggs with sugar until white and frothy and gradually add the melted chocolate, a spoonful at a time, while mixer is still on. Turn off the mixer and gently fold in the other ingredients with a spatula, until thoroughly mixed.
Spread the mixture evenly into the prepared tin and sprinkle 2/3 of the nuts on the mixture and bake in the middle of the preheated oven for 30 minutes or until it is slightly springy in the middle.
Take the brownies out of the oven and allow them to cool for 10 minutes before cutting them into the shape and size you prefer.
Serve with whipping cream and raspberry sauce as well as with some of the nuts we reserved.
Framboise (raspberry) Sauce
When I was in France I really enjoyed raspberries on cakes and desserts, so I tried to recreate a sauce to serve with desserts. I bought a berry syrup from France which I used together with a raspberry fruit preserve and raspberry jam.
I made this sauce a couple of weeks ago and used half of it on a cheese cake and preserved the remaining in the refrigerator.
Ingredients
1 Bonne Maman Raspberry jam
1 raspberry fruit preserve with syrup
5 tablespoons of berry syrup
Directions
Add all ingredients in a small saucepan bring to a boil and then simmer until the sauce thickens.
When done there still will be chunks of raspberries in the sauce.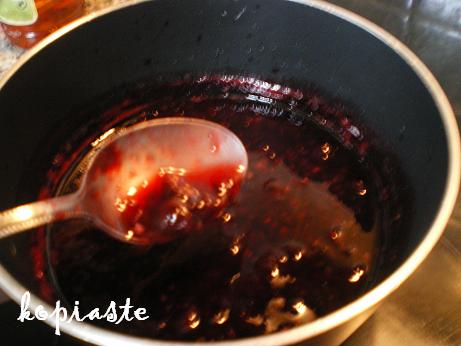 I am sending this recipe to Holler, of Tinned Tomatoes, who is hosting this month's No Croutons Required. This month's theme is a Taste of Christmas with either a picture of food, Christmas decorations, a wintery scene or maybe even your Christmas tree.
My cat and I wish all of you Merry Christmas!!!
Kopiaste and Kali Orexi!