Moscharaki Giouvetsi is a Greek dish that takes its name from a large earthenware dish called giouvetsi in which it is cooked.   Moscharaki is the Greek word for veal and kritharaki is the orzo pasta which looks like rice and comes in three sizes: small, medium or larger.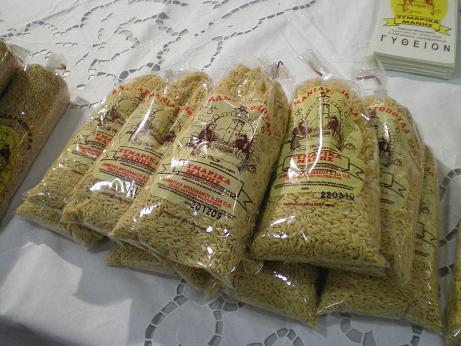 I am making a very short and easy post just to tell you that I had a nasty cold all this week that's why I haven't been around posting or visiting your blogs. I attempted a couple of times to read your posts and leave a message but after reading a couple of posts my eyes were running with tears so I couldn't continue. Today I am feeling much better and hopefully I shall start reading your posts again.
I haven't been cooking at all this week and thank God my husband knows how to cook a few meals, otherwise we would starve 🙂   However, I want to share with you a recipe I made last week and which represents Greece.
I made a twist to the classic recipe of Giouvetsi, I've been cooking all these years and a much lighter version as I hardly used any oil, I added garlic which I used to avoid before, fresh tomatoes and white wine.
You can see the previous recipe here.
I am submitting this recipe to Presto Pasta Nights, created by Ruth, of Once Upon a Feast.

Moscharaki Giouvetsi (Veal with Orzo)
Preparation time: 15 minutes
Cooking time: 45 minutes for veal and 15 minutes for pasta
Serves: 6
Ingredients
500 grams of veal
500 grams of kritharaki (orzo)
2 tablespoons of olive oil
1 onion, finely chopped
2 cloves of garlic, finely chopped
1/2 cup of white dry wine
5 ripe tomatoes, peeled and blended
Salt and pepper to taste
A pinch of nutmeg
1 cinnamon stick
3 allspice berries
1 bay leaf
4 cup of hot water (about 1 litre)
dried myzithra
Directions:
Wash and cut the veal into thin slices and drain.
Heat the olive oil in the sauteing pan and brown meat on both sides.
Saute onion and garlic until translucent and add salt, pepper, nutmeg, allspice berries, cinnamon stick and bay leaf.
Add wine and cook for a few minutes and finally add the tomatoes.
 Finally, add 1 cup of water, cover with lid and simmer for forty five minutes.
When the meat is tender add some more hot water and add pasta, mix place the lid again and simmer for 15 minutes, mixing regularly.
Serve with feta and some myzithra on top.
Kopiaste and Kali Orexi!