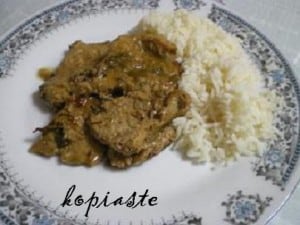 Sofrito is a veal steak slowly cooked in a white wine, garlic and herb sauce and is usually served with rice. It is a dish native to, and almost exclusively to be found on, the island of Corfu. So fritto in Italian means slow frying (sautéing) and this dish has its roots probably from the Venetian rule on the island from 1401 till 1797.
I saw this recipe posted by Maria, of Kali Orexi (meaning Bon Appetite), early in September. Maria is married and has two children. She is relatively new to blogging, this is her second month, and we met after she sent me an e-mail. After that we became friends and although she is very young, she is a great cook.
If you like Greek food, Maria is another person you should add to your google reader and blogroll. You will be surprised to see that she has already added some of you in her blogroll. I believe she reads your posts but maybe she is too shy to leave a comment, just as I was at the beginning and maybe a lot of you as well, so make the first step and say hello to Maria, whom I have informally adopted and want to help her find her way in the blogosphere.
When I visited Maria the first time, she only had two posts and her very first post was Sofrito. I told her then that I remembered I had made this dish before summer but never got to post it. I cooked mine the traditional way it is usually cooked and I am giving you that recipe, as well as how I cooked it again last week, in the sautéing pan, adding the mushrooms, just like Maria did and that made the dish even better.
Ingredients:

Preparation time: 30 minutes
Baking time: 2 hours (1 hour in the T sautéing pan)
Serves : 5
800 grams of stewing beef
Flour for dredging

Salt and Pepper to taste

½ cup of olive oil (2 spoonfuls for the Tupperware sautéing pan)

2 cloves of garlic, minced (this time I used 3)

½ bunch (about 1 cup) of parsley, finely chopped

250 ml dry white wine

1 1/2 cups of water ( second time 1/2 cup of water)
Directions:
Wash the meat and cut into thin slices about 1 cm thick and drain. Season with salt and pepper and dredge into flour. Heat the olive oil in a skillet and brown the meat on both sides. When I turned the meat on the other side I added the garlic, which I sautéed as well, the parsley, salt and pepper and then added the wine and finally the water, scraping the pan to remove any browned parts. I transferred the meat into a Pyrex, covered it with aluminum foil and baked it in a preheated oven for 2 hours at 160 degrees C.
The second time I used my new Tupperware sautéing pan which I brushed with only 2 spoonfuls of olive oil and did exactly the same thing only at the end, I added only ½ glass of water, covered the sautéing pan with the lid and simmered for 55 minutes. I then added the mushrooms, mixed and cooked for another 5 minutes.
In both cases I served it with rice.
I am submitting this recipe to The Constables' Larder, hosting the event Slow and Low.