Eliopsomo is a Greek Olive bread made with Kalamata olives. The salty olives add a depth of flavor to this rustic bread recipe!
Some days back I wrote about Kalamata Olives and how to brine them and I realized that I still have plenty of olives left from last year.
There was no way I would let these homegrown delicious olives in the cupboard any more.
I decided that they should be consumed soon so right after posting for olives I decided to make this eliopsomo (in Greek elies= olives and psomi = bread) aka olive bread.
I also want to tell you that apart from me, the rest of the family is not a real fan of olives.
The procedure is very easy and I didn't need the mixer to make the dough. However, if you prefer to use the mixer, you can also do this procedure in your stand mixer, using the dough hook.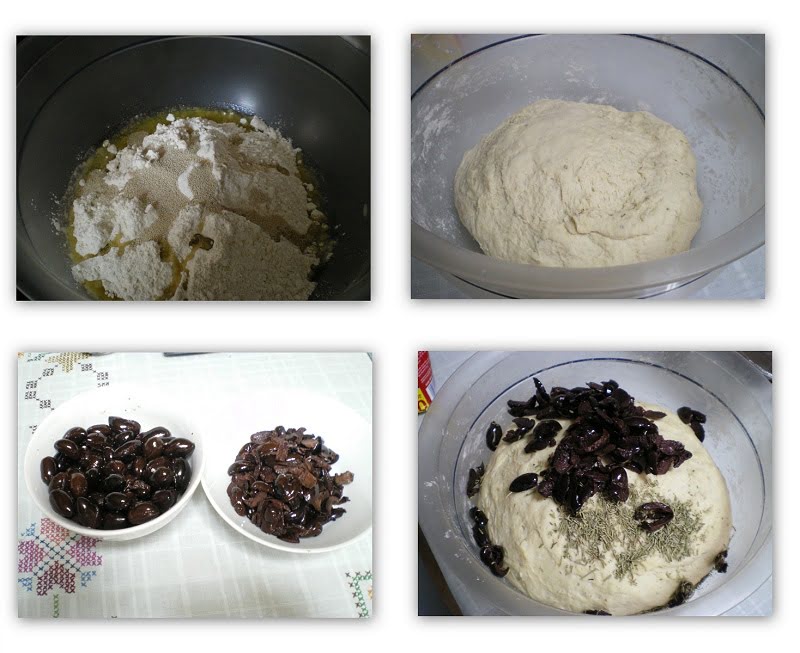 I kneaded it for about 10 minutes, until my hands were not sticky any more. I let it rise and baked the bread around noon.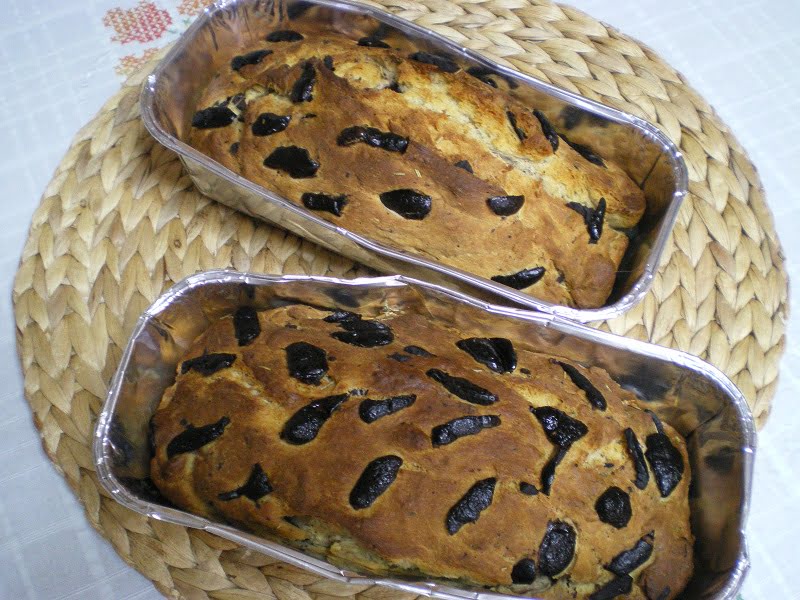 The house smelled wonderful and I was really anxious to taste it. It was just right, crunchy outside, soft inside and the flavour was fantastic if you can imagine the taste of olives mingled with oregano and rosemary.
The family was all at home and came to see what was smelling so nice. When they heard olive bread they were very disappointed.
My husband and elder son without much enthusiasm tried a small piece at first and came back for more.
I was begging my other son to try it and after insisting he tried a bit, taking out the olives and picking at me for putting olives in the bread and not baking a plain bread.
He also eventually came back for more and by lunch time the first loaf was gone.
In the afternoon we had some of the second bread with our coffee and by the evening the other loaf disappeared as well.
This is my entry for a Homegrown Gourmet: Quick bread event, hosted by Canela and Comino.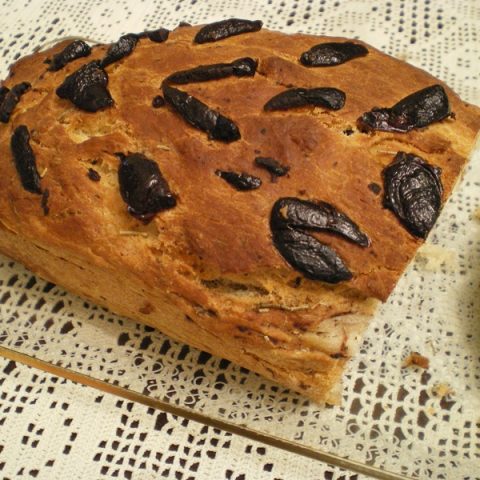 Eliopsomo (Olive bread)
Total Time:
1 hour
45 minutes
Eliopsomo is a Greek Olive bread made with Kalamata olives. The salty olives add a depth of flavor to this rustic bread recipe!
Ingredients
500 grams all-purpose flour
1 sachet dried yeast (8 gr)
1/3 cup extra virgin olive oil
1 tsp salt
1 tsp crushed dried rosemary
1 tsp oregano
1 cup pitted Kalamata olives
1 tsp sugar
1 ½ cups lukewarm water (may not need it all)
Instructions
In a bowl mix the flour with the dried yeast and the oregano, add the sugar, salt, olive oil and with your hands rub the flour with oil until absorbed.
Slowly pour in the water gradually and mix with your hands. Knead the dough without adding extra flour until it pulls away from the bowl and forms a smooth ball. Continue kneading until the dough is not sticky on your hands.
Once this is done add the crushed rosemary and the olives and mix.
Oil a loaf baking tin and place dough pressing and arranging it to spread and flatten. Brush with olive oil and put the olives on top.
Cover with cling film and a napkin and place in a warm place and let it rise.
Preheat the oven to 200o C.
Place the baking trays containing the olive breads on the middle rack of the preheated oven. Toss some water onto the hot baking sheet on the bottom rack and close the door.
Bake for about 30 minutes.
Let cool completely on a wire rack before slicing.

Notes
You can also make the bread in your stand mixer, using the dough hook.
Nutrition Information
Yield

2
Serving Size

1
Amount Per Serving
Calories

1383
Total Fat

53g
Saturated Fat

7g
Trans Fat

0g
Unsaturated Fat

43g
Cholesterol

0mg
Sodium

1593mg
Carbohydrates

198g
Fiber

10g
Sugar

3g
Protein

27g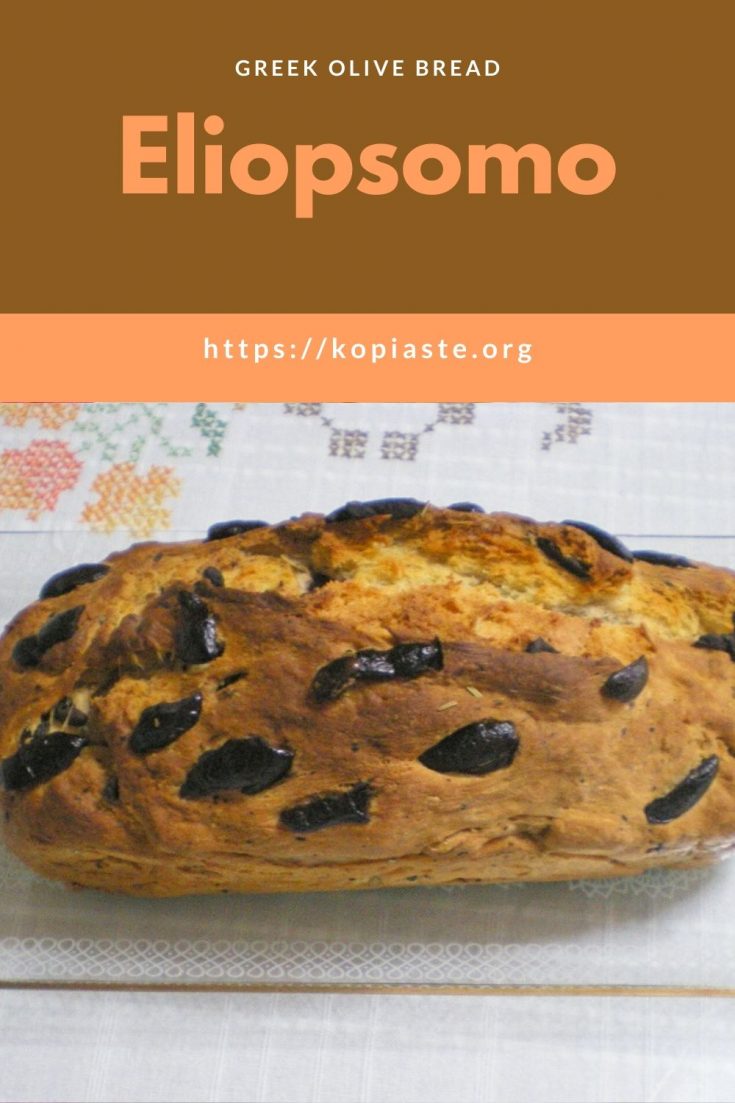 Kopiaste and Kali Orexi!