Laconia is a prefecture in Greece, with Sparta its administrative capital.
It is bounded by Mount Taygetus, to the west of Sparta, which is the highest mountain range of Peloponese (2.407 meters) and with the Parnon mountains to the northeast (1.961 meters), to the west with Messenia, and to the North with Arcadia. Among the two mountain ranges, the Evrotas is the longest river in the prefecture. The valley of the Evrotas is predominantly an agricultural region that contains many citrus groves, olive groves and pasture lands, therefore people in th rural area are mainly occupied with the cultivation of olives, animal rearing, bee-keeping and farming, as their main source of income or as a secondary job.
Part of its economy also relies on tourism. The famous cave of Diros is located south of Areopolis and is a major tourist attraction because of its beautiful stalactite and stalagmite cave and only a small part of this cave has been explored. The known part of the caves cover an area of around 33000 square meters, of which only 5000 meters have been explored.
Mystras
Mystras is situated in the southwest of the prefecture, about 10 minutes from Sparta and on the coastal areas Monvesia, Gytheio and Elafonissos are places worth visiting.
Dating back to the Byzantine era, Lakonia was widely known as an olive producing area and naturally the first Museum of the Olive and Olive oil, is situated in Sparta, Lakonia.
Early in March there was an Exhibition in Athens, in the Metro exhibition centre, with Laconian products which my husband and I visited.
I want to share with you some photos of the products exhibited.
One of the main products of Lakonia is olives and products produced from olives, such as its exceptional olive oil, with its high quality and smooth, rich taste, one of the finest worldwide. This is mainly due to the ideal climate of Lakonia, with mediocre rainfalls and lots of sunshine.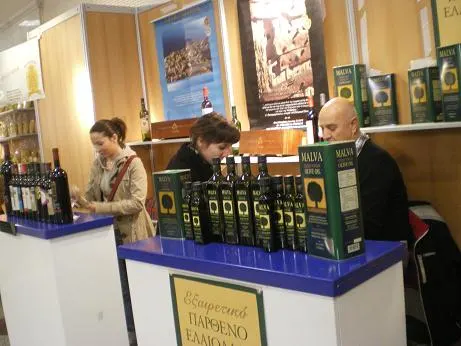 As you may see from the picture the oil has a rich deep-green colour and by just tasting bread and olive oil your can distinguish its fruity, smooth taste.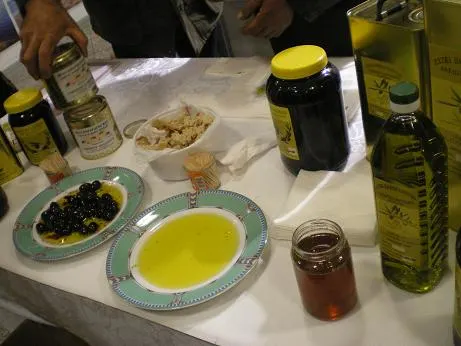 During this exhibition people had the opportunity to taste or buy products produced in Laconia and there was a big variety of all the products.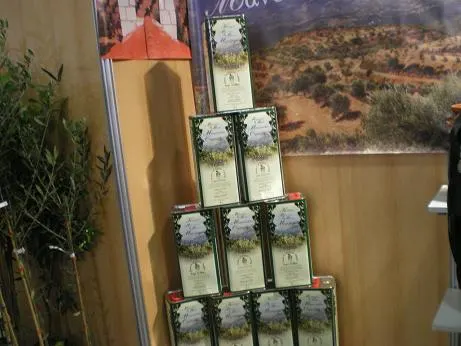 Olive oil has exceptional nutritional properties and is the best oil to use for cooking.
Several studies have shown that olive oil, which is rich in monounsaturated fats, has many cardiovascular benefits. In fact, olive oil is the protective agent of good cholesterol (HDL) and can even increase it. It also lowers bad cholesterol (LDL). Oleic acid, the main monounsaturated fat in olive oil, is also more resistant to oxygen and heat and therefore much more chemically stable than polyunsaturated fats. Furthermore, a diet rich in monounsaturated fats could prevent the risk of coronary disease as well as cancer, diabetes, obesity and hypertension.
Greek Extra Virgin Olive Oil is of the highest quality olive oils available and is unsurpassed in delicious flavor.
That little jar infront is olive paste. It's very easy to make it yourself and it's a lovely mezes but it can also be used as a condiment, a cracker spread, in salads, in pasta or in salad dressings.

The exhibition was not only about olives and olive oil, so stay tuned as part II will follow with the other products and a recipe I have created inspired by some of the other products.
The day following the exhibition I prepared some olive paste and used some of the picked pepperoncini I bought when I visited the market place and used some of my fresh herbs. I couldn't stop eating it.
Pasta Elias (Olive Paste) – Recipe by Ivy
Preparation time: 15 minutes
Serves: about 1 cup
Ingredients:

1

Cup

Kalamata Olives, pitted

2

Tbsp

Olive Oil

1

Tbsp

Balsamic Vinegar

4 -5

Pickled pepperoncini

1

Clove

Garlic

1

Tbsp

Parsley

1

Sprig

Fresh rosemary

1

Sprig

Fresh thyme

1

Sprig

Fresh Oregano

Freshly grated black pepper
Directions

1.

After pitting the olives and removing the seeds from pepperoncini, put all the ingredients in a food processor and process to a spreading consistency to make the paste. Adjust seasoning to your taste.


Note: No salt is added as olives are quite salty but if you like you may add some coarse sea salt for taste.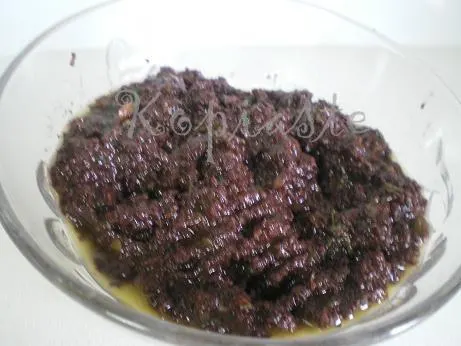 This is my entry for this week's Weekend Herb Blogging, I am hosting, created by Kalyn, of Kalyn's Kitchen and now conducted by Haalo, of Cook (almost) Anything at least once.
If you have any bookmarked recipes don't forget to send them here as well. I am sorry I am hosting two events the same week but there was a misunderstanding with Bookmarked Recipes.