Kluski z Kapusta is a traditional Polish dish with cabbage and pasta. I made a few tweaks of my own, adding Greek ingredients.
Traveling around the world costs a lot of money so we are taking this virtual trip and pretend we are there.
Would you like to become virtual tourists like us?
Come and join us and have A Culinary Tour Around the World.
I am meeting some virtual blogging friends in Warsaw. We shall be doing some sightseeing by visiting the Stare Miastro, in the Old Town and to the Lazienki Park, where there is a statue of Chopin, who is Polish and imagine that there we are listening to some of his lovely music.
Unfortunately it's not summer where we could enjoy a live concert in the Park. We can, however, listen to his music on You Tube!
Wec will take a horse-drawn carriage and enjoy a romantic tour of the narrow streets of the Old Town.
This is just one of 3 ways you can move around the Old Town on wheels- there is also a sight-seeing train- looking vehicle that takes a lot of people around at once for a nice tour or you can take what we call a ryksza here- a bike with seats for passengers….you just sit and enjoy the city while somebody else is doing the work for you.
When tired we shall sit and rest at nice and cozy cafes or hang out in the evenings and after diner enjoy Zubrowka with apple juice.
Until today I knew nothing about Polish cuisine but thanks to the organizer of the event, who chose to showcase Poland ass the featured country, I am expanding my knowledge to food I would probably have never cooked or tried.
Polish cuisine (Polish: kuchnia polska) is a mixture of Slavic culinary traditions. It is rich in meat, especially chicken and pork, and winter vegetables (cabbage in the dish bigos), and spices, as well as different kinds of noodles the most notable of which are the pierogi. It is related to other Slavic cuisines in usage of kasza and other cereals. Generally speaking, Polish cuisine is hearty. The traditional cuisine generally is demanding and Poles allow themselves a generous amount of time to prepare and enjoy their festive meals, with some meals (like Christmas eve or Easter Breakfast) taking a number of days to prepare in their entirety. (Courtesy Wikipedia).
Today I was planning to make an easy pasta dish as I had a lot of things to do at home and I didn't want to spend the morning in the kitchen.
While drinking my morning coffee and google searching for Polish Recipes I saw that Kluski z Kapusta was a pasta dish.
I then google searched it with its name and read this and this. I got an idea of what the dish was about and I had wide pasta and cabbage at home, as the last time I went to the supermarket I was looking for papardelle and only found Mafaldine No.2, which are quite similar, so as in one of the recipes it said wide noodles, I could try it, although I was sceptical of adding cabbage to a pasta dish, I decided to be courageous and try it.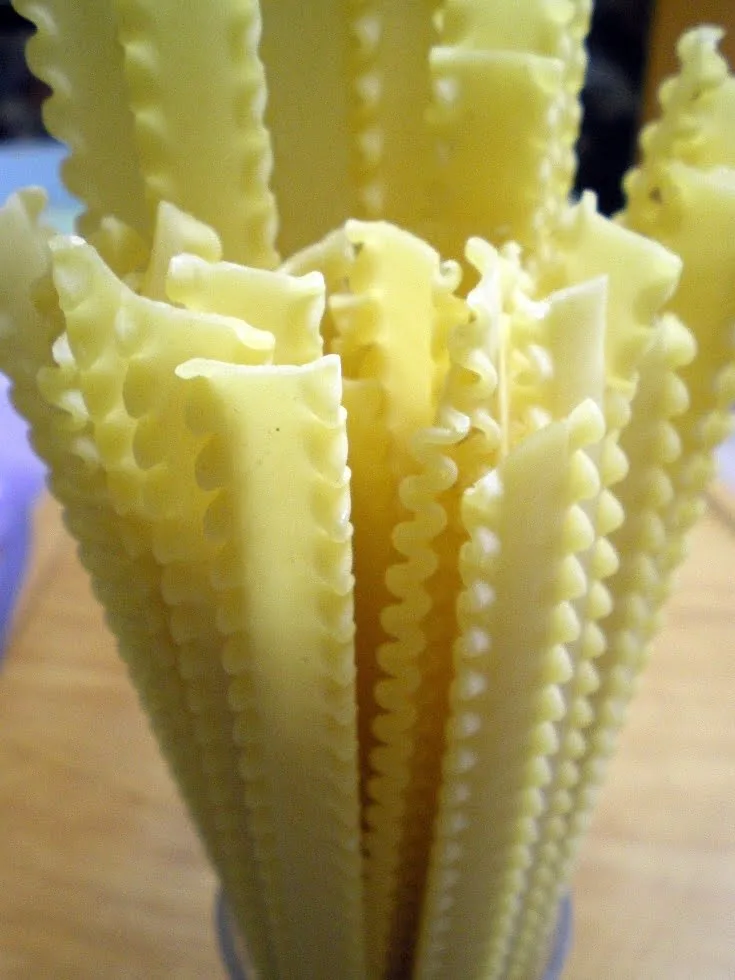 I left out the bacon grease or butter and used olive oil. I had some bacon at home but I preferred to make it light.
After sauteeing the onions, garlic and cabbage, I had to cover and simmer it for ten minutes as the recipe said but as I used only 3 tablespoons of olive oil, it was too dry. I was debating what to add between water or wine but eventually I added both wine and pasta water.
I did not have caraway seeds nor celery salt but instead I added oregano. I decided to add the paprika but as it did not say what kind of paprika I added more sweet paprika and less hot paprika.
Finally, in the same recipe I also read in a note that this is sometimes served with sour cream but as we do not have sour cream in Greece, I thought of adding Greek yoghurt and lemon juice, but I also had xynomyzithra which is a Greek soft cheese with a mild sour taste, which I preferred to use.
This lovely dish did not cost more than 4 – 5 Euros and will feed a family of four. Our family has now shrank to 3, as one of my sons is now working in Switzerland, where I shall meet him next week, and the other is a soldier in Cyprus.
The grated carrot and basil leaves which were merely for decoration matched perfectly with the whole dish which we enjoyed very much.
I am also submitting this recipe to Presto Pasta Nights, the brainchild of Ruth, of Once Upon a Feast, which I am hosting this week, and you may send in your recipes until Friday evening, Athens time.
I am also sending this over to Simona, of Briciole, who is hosting this month's event Verdura Fresca del mese: Cavolo (Fresh vegetable of the month: cabbage), originally created by Marta, of An Italian in the U.S.
Kluski z Kapusta
Kluski z Kapusta is a traditional Polish dish with cabbage and pasta. I made a few tweaks of my own, adding Greek ingredients.
Ingredients
250 grams of wide pasta Mafaldine No. 2
3 tablespoons of olive oil
2 cups of cabbage - finely chopped
2 small onions – finely copped
2 cloves of garlic, finely copped
1/4 teaspoon sweet paprika
1/8 teaspoon hot paprika
1 teaspoon salt
1/2 teaspoon freshly ground black pepper
½ cup of white dry wine
1 cup pasta water
100 grams xynomyzithra
1 small carrot grated
4 basil leaves
Instructions
Boil pasta according to package instructions (9 minutes). Reserve 1 cup of pasta water.
In a large skillet, heat the olive oil and sauté the onion until translucent. Add the garlic and sauté for a few seconds, until fragrant.
Add the cabbage and sauté for a few more minutes until soft and add salt, pepper, both paprika and wine and mix.
Cook for a few minutes for the alcohol to evaporate and add pasta water, cover pan with a lid and simmer for ten minutes, until the water is absorbed.
Add pasta, crumbled xynomyzithra and cook for a few more minutes.
Decorate with grated carrot and a basil leaf.
Nutrition Information
Yield

4
Serving Size

1
Amount Per Serving
Calories

325
Total Fat

11g
Saturated Fat

2g
Trans Fat

0g
Unsaturated Fat

9g
Cholesterol

0mg
Sodium

549mg
Carbohydrates

40g
Fiber

4g
Sugar

4g
Protein

7g
"These values are automatically calculated and offered for guidance only. Their accuracy is not guaranteed."
Kopiaste and Kali Orexi!