Sunday morning was cloudy and rainy but that did not discourage us at all. Our son called us in the morning to see if we still wanted to go out in the rain. We had planned to visit Les Jardains Botaniques (Botanical Gardens) and Le Chateau des Penthes and we did not intend to stay in the hotel even if it was raining.
We took the local bus and then at L'Hôpital de la Tour (the Hospital) took bus No. 28 which stops just outside the Gardens.
Entering the garden we went to the right and only then I realized that the Garden was so near the Lake.

The first thing we visited was this huge Green House, with plants from all the Continents.
The day or even the season was not the best to visit this Garden which during Spring is picturesque and a magical place, bursting with a myriad of colours and scents, as we were told by our son but the Fall colours were also very rewarding.
I feel a bit silly because the past month when reading different blogs I read how people felt about Fall and how they loved all the fall colours and I would go and say that I don't like Fall. Now I know why. It's because I never saw these colours before either in Greece or Cyprus.
The garden is very big and there is a section that I would characterize as The Garden of Foodies' Paradise. Further in the garden was a true microcosm of the world's flora containing a total of over 12,000 different plants. Most of the plants had not yet grown but you can see them labeled and next to the plant you can see what is produced from each plant.
I'll show you what I mean with just a very small specimen.
There were also some animals, such as deer and goats and a lot of birds: parrots, roosters, ducks flamingos, peacocks etc.
From the garden we walked to the Chateau. The scenery was fantastic as the road was full of leaves and there were trees with all the fall colours and green beautiful fields.
We arrived at the Chateaux at 11.59 and the lady in charge was just closing the doors. She informed us that she was going for lunch and would be back in an hour.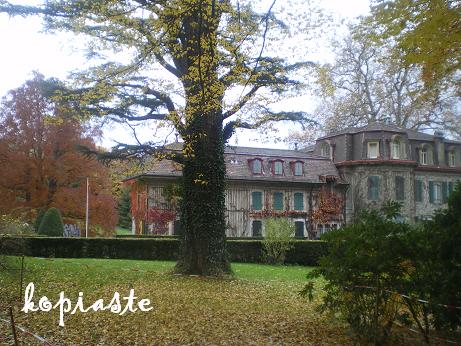 Thank God there was a restaurant just a few meters away so we did not have to wait outside. Although 12 o'clock is really too early for us Greeks to have lunch, as we usually eat between 2 and 3 p.m. we went to the Restaurant for launch.
The restaurant was nice and cozy and the waiters were very friendly, especially the Portuguese who helped us chose from the menu. I can understand and speak French but when I read the menu, although I understood the words I had no idea what to expect. We ordered Filet du lapin aven romarin et pruneaux (Rabbit fillet with rosemary and prunes), Escalope du Saumon au vin blanc (Salmon scallop in white wine) with rice, Filet de St. Pierre et creme des poireaux (A fish fillet (which I cannot translate) and a lovely Chardonnay. For dessert an almond cake with ice cream. Everything was delicious.
(Nathalie has given the name of the fish in the comments: it's John Dory and I just found out reading Hopie's post that poireaux are leeks 😀 )
When the Chateaux opened its doors again we visited the exhibition which comprised original documents (military patents and letters of dismissal, contracts, correspondence, journals, newspapers, maps, photographs, stamps, travelogues etc.), historical and recent books, engravings, portraits and views, scul­ptures, arms, uniforms and flags, medals and decorations, furniture, personal be­longings etc. – objects all which form part of the Swiss and international heritage, from the 15th century to the present.
There was a lovely surprise waiting for us as on the second floor. There was an exhibition of Toblerone Chocolate, as it was its 100th Anniversary and after the tour we were offered some chocolates to try.
Although I have taken a lot of photographs of the chocolate exhibition, when leaving they told us that we were not allowed to take pictures although when entering I was holding the photograph in my hands and there was no sign saying that it was not allowed. They asked me not to put them on the internet, so I will respect their wish.
Although the transportation in Geneva is great, the transportation towards St. Genis was problematic but only on Sundays. The last bus to the village leaves from Geneva at about 5 p.m. so we had to hurry back because finding a taxi is also impossible. As we were told later on, if you want a taxi you have to telephone the taxi company and they will send you a taxi but we did not know that at the time.
We went to the hotel and rested for a few hours and then went to my son's apartment where I prepared a pasta dish which has nothing to do with the recipe that follows.
Coq au Vin is a famous French recipe and since my last posts are about Switzerland and France I decided to share with you our Greek recipe.
Some days before leaving for Switzerland some friends sent me from their village 2 free range roosters. Each rooster was about 3 kilos so I had to cut them and put them in the deep freezer. I have already cooked rooster twice, so you will be seeing a lot of rooster recipes in the near future.
Kokoras Krassatos me Chilopites
(Coq au Vin with chilopites pasta)
Preparation time:30 minutes
Cooking time:1 hour and 30 minutes
Serves: 5
Ingredients:
1/2 rooster, about 1.300 grams
4 tablespoons of olive oil
2 medium onions, finely chopped
2 cloves of garlic, finely chopped
1/2 cup red dry wine
¼ wine glass of cherry brandy (my twist to the recipe)
1 can (500 grams) of whole tomatoes, blended
1 tablespoon tomato paste
500 ml water
2 bay leaves
1 teaspoon, coarse sea salt
½ teaspoon salt
½ teaspoon black pepper
1 small piece of cinnamon stick (my twist to the recipe)
½ kilo chilopites pasta (you can also make them yourselves if you like)

Grated myzithra (optional)
Directions:

Wash and cut rooster into pieces and drain.
Heat olive oil in sautéing pan and sauté rooster on both sides.Remove to a platter and add onions and garlic and sauté until translucent.Put rooster back in the sautéing pan and add wine and cherry brandy.
Wait for a few seconds until the alcohol evaporates and add all the spices, the tomato and finally the tomato paste dissolved in the water.
Meantime, preheat oven at 180 degrees Centigrade.
Cover pan with the lid (or transfer into a casserole) and bake for about one hour, or until rooster is cooked. (Free range roosters may take more time to cook), so add more water, if necessary.
Remove cinnamon stick and bay leaves from pan and add the pasta.Mix and cook uncovered, until the pasta has absorbed the sauce, mixing a couple of times.
Serve warm sprinkling some grated myzithra on top if you like and serve with feta.
I am submitting this recipe to my friend Ning, of Heart & Hearth, who is hosting Grow your own, created by Andrea, of Andrea's Recipes
Kopiaste and Kali Orexi!