Yesterday morning I was browsing at Group Recipes and saw this recipe. I had leftover egg whites (two) from the patisserie cream I made for my birthday cake and thought that it would be a good idea to use them. No problem about the third egg white required.I use an egg yolk together with vinegar to dilute the tempera powder I use for my paintings, so I used the yolk there.

I had all the other ingredients but not the Graham Crackers, so I thought I could give it a try with the Digestives I had at home.
I do not know what went wrong, may be it was the biscuits, but the cookies spread and became one mass.

I knew that this batch was ruined.They could not be presented as cookies although they had a terrific taste, so I intended to make good use of them and I knew I had One Perfect Ingredient to do the job: Whipping Cream.

I happened to have heavy cream at home as I use it in many foods, including ice creams, many sauces, soups, and some custard bases as well as for decorating my cakes.
When I saw the cookies in the oven becoming one mass, after the half hour passed I did not take them out of the oven but let them cool inside as I wanted to make them crunchy.
In the afternoon I took them out of the oven and cut them with a knife. I gave everybody a bit to taste and their reactions were more than what I expected. They were very enthusiastic. However, I wanted to see if I could make more use of them.
I whipped 2 heavy creams (500 ml) with 1 spoonful of icing sugar and instead of adding vanilla, I added bitter almond essence (1/2 teaspoon). I had some rhubarb sauce left and I had kiwi sauce which I made some days back as I had leftover kiwis when I made the Pavlova. I took a look in my pantry and I had some chocolate sprinkles as well.
I put a cookie as a base for the dessert and wet it with the rhubarb sauce. I wanted the biscuit to absorb some moist and (more) taste. I added whipped cream, another layer of biscuit, rhubarb sauce, whipped cream and a spoonful of kiwi sauce and some chocolate sprinkles on top.
This dessert can easily be classified as gourmet. The cookies were still crunchy inside and in each spoonful you could sense the taste of pecans in the cookies, bitter almond in the whipped cream, rhubarb sauce in the middle, kiwi sauce and chocolate on the top. The taste was divine.
These cookies can make the based of any kind of dessert, so put your imagination and improvise!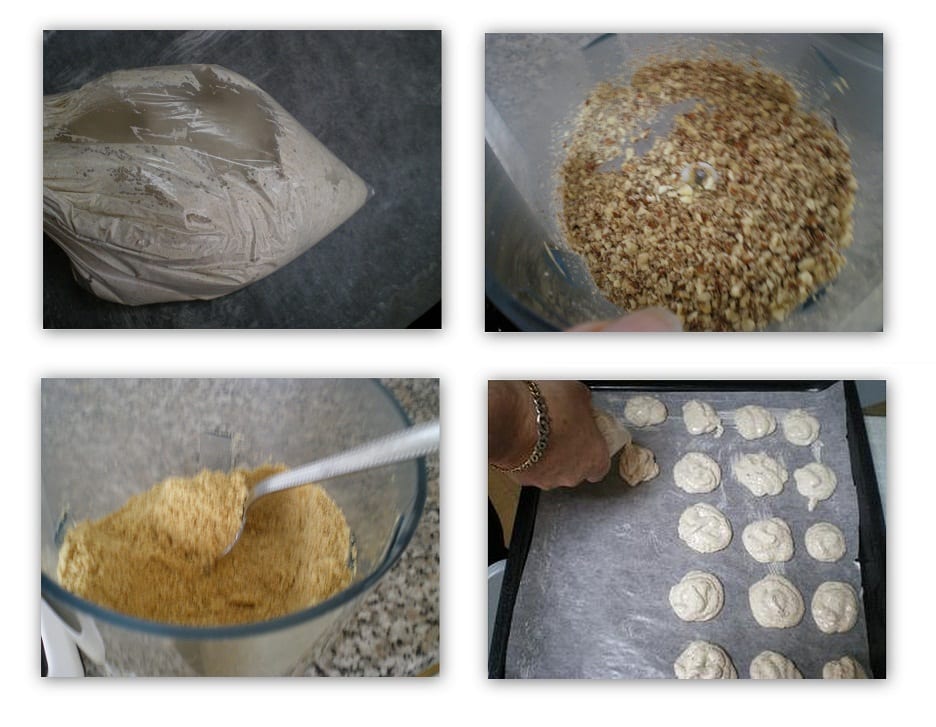 Pecan Cookies with Digestive Biscuits
Preparation time: 15 minutes
Baking time: 30 minutes
Makes: 25 cookies
3 egg whites, beaten
1 cup sugar
1 teaspoon baking powder
1 cup

digestive biscuits

crumbs
1 cup pecans, chopped
Directions:
Preheat oven on 350F or 180C.
Beat egg whites until stiff.
Beat in sugar and baking powder.
Stir in digestive crumbs and pecans.
Line a baking tin with parchment paper.
Put mixture into a piping bag (I used an ordinary plastic bag and made a small hole) and pipe them out.
Bake for 30 minutes.
Let them cool down in the oven.
Ivy's Pecan cookies dessert
Preparation time: 10 minutes
Servings: 6
Ingredients:
12 Pecan cookies
500 ml whipping cream
1 spoonful icing sugar
1/2 teaspoon almond essence
Rhubard sauce or Strawberry Sauce
Kiwi Sauce
Chocolate sprinkles
In the future, I intend to make them and store them in an air tight vessel and we can eat them as cookies as their taste was fabulous or if I have unexpected guests can make a dessert in no time such as this one or a Yoghurt Tutti Frutti dessert or with ice cream.
If you have other ideasplease let me know.
I am submitting this recipe of at Manina, of Manina's Food Matters, who is hosing the event One Perfect Ingredient.