Papoutsakia are stuffed eggplants with meat sauce, topped with a rich bechamel sauce and then baked.  The  word "papoutsakia" in Greek means little shoes and probably they are named after their shape. To me they resemble like the balarina shoes my daughter used to wear when she went to ballet when she was younger.
Most of the Papoutsakia recipes I have read want the eggplants to rest in salty water for an hour so that they are not bitter and then deep fried. I do neither of the above. The eggplants I always buy are called tsakonikes and are not bitter. I also skip the frying part in order to avoid too much oil. The flesh of the eggplant is removed and  some of the flesh is added to the filling. But wouldn't the flesh of five eggplants be too much and wouldn't that change the flavour? Yes, it would. So I don't add all the flesh and you'll probably say "What a waste".
Well you'll see that it won't be wasted but it will turn into a great salad, called "melitzanosalata".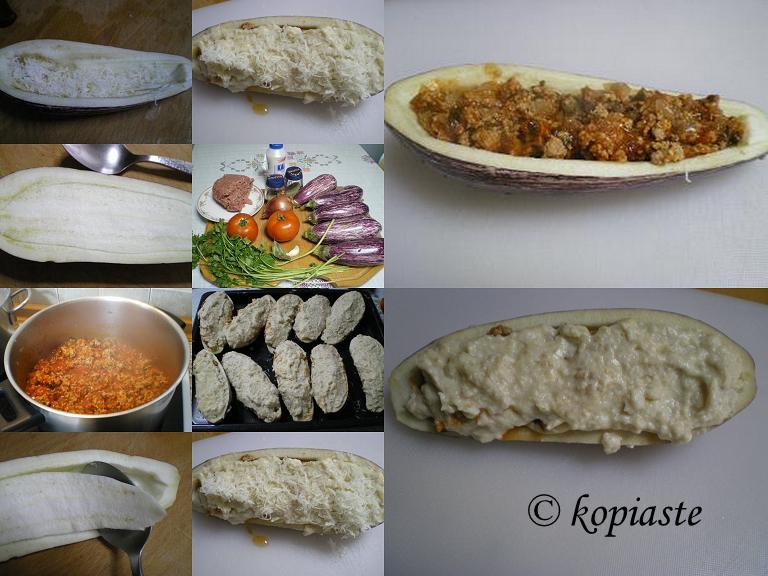 Melitzanes Papoutsakia (stuffed eggplants)

Preparation time: 30 minutes
Baking time: 1 hour
Serves: 5 – 6
Ingredients:
5 medium size eggplants, halved
300 grams ground meat (beef and pork)
1 large ref onion finely chopped
1 clove of garlic, finely chopped
1/2 cup of finely chopped parsley
2 ripe tomatoes or 1 can of whole tomatoes blended
Salt
Freshly ground black pepper
1/2 cup of extra virgin olive oil
A pinch of thyme
1 shot of dry white wine
We will also need:
1 dose of béchamel sauce (see recipe here)
1 cup of grated graviera or kefalotyri cheese
Directions:
Heat oil in a sauce pan and sauté the onion and garlic until they soften and turn translucent (without browning). Add the ground meat and sauté as well.
Add the tomato, parsley, salt, pepper and thyme. Cover with lid and simmer until the sauce melds and the liquid is absorbed.
Until filling is ready prepare the béchamel sauce.
When ready set the sauce aside as well.
Wash and half eggplants, lengthwise and with a knife carve the eggplant and then scoop the flesh with a spoon to create a cavity. Sprinkle with some cheese and add 2- 3 spoonfuls of filling. Cover with béchamel sauce and sprinkle some more cheese on top.
Preheat oven to 180 degrees centigrade and bake for about one hour, until the béchamel sauce has a nice golden colour.
Serve hot or cold.
Update February 2012
New Papoutsakia My Way
Based on the above recipe I made a few changes.  I cut the eggplants, brushed them with olive oil and baked them until they became soft.  I made a cavity with a spoon but did not remove the flesh and added some of my Spicy tomato Sauce  on top.   After sauteing an onion and garlic, I added the minced meat and after sauteing it, I added some of my Spicy tomato Sauce.   Finally, I also topped it with a different bechamel sauce with semolina.
Kopiaste and Kali Orexi,