In Greece we usually make a no bake, easy cheesecake and for those of you who have never tried this baked version, I strongly recommend it.
If you cannot find pecans, you can substitute them with walnuts.
A mistake which is usually made by novice bakers is that they add too much butter to the base in order to make the biscuits into a dough. This biscuits should still remain as crumbs.
I bought the orange flavoured chocolate during a recent visit to Thessaloniki.
O Foods for Ovarian Cancer Awareness Month

September is Ovarian Cancer Awareness Month. In honor of Gina DePalma, author of Dolce Italiano: Desserts from the Babbo Kitchen and Executive Pastry Chef of Babbo Ristorante in NYC, who was recently diagnosed with ovarian cancer, Sara of Ms Adventures in Italy, Jenn of The Leftover Queen, and Michelle of Bleeding Espresso are asking you to donate to the:

Ovarian Cancer Research Fund

and then, out of the goodness of your hearts and to be eligible for the OFoods for Ovarian Cancer Awareness Month Contest, please do the following:

Post a recipe to your blog using a food that starts or ends with the letter O (e.g., oatmeal, orange, okra, octopus, olive, onion, potato, tomato) and include this entire text box in the post;

OR

If you're not into the recipe thing, simply post this entire text box in a post on your blogto help spread the word about the event and Ovarian Cancer Awareness Month.

AND

Then send your post url [along with a photo (100 x 100) if you've made a recipe] to ofoods[at]gmail[dot]com by 11:59 pm (Italy time) on September 30, 2008.

We will post a roundup and announce prize winners on October 3.

Prizes:

1 Recipe Prize for best "O food" concoction: $50 gift certificate to Amazon;
1 Awareness Prize for only publicizing event: Copy of Dolce Italiano cookbook.

———

From the Ovarian Cancer Research Fund:

Ovarian cancer is the leading cause of death from gynecologic cancers in the United States and is the fifth leading cause of cancer death among U.S. women; a woman's lifetime risk of ovarian cancer is 1 in 67.
The American Cancer Society estimates that 21,650 women will be diagnosed with ovarian cancer in the U.S. in 2008 and about 15,520 women will die from the disease.
The symptoms of ovarian cancer are often vague and subtle, making it difficult to diagnose. There is no effective screening test for ovarian cancer but there are tests which can detect ovarian cancer when patients are at high risk or have early symptoms.
In spite of this patients are usually diagnosed in advanced stages and only 45% survive longer than five years. Only 19% of cases are caught before the cancer has spread beyond the ovary to the pelvic region.
When ovarian cancer is detected and treated early on, the five-year survival rate is greater than 92%.

Please donate to the Ovarian Cancer Research Fund
and help spread the word!
I am sending my participation to Jenn, The Leftover Queen, and hope that especially some other women will contribute to this event to raise ovarian cancer awareness. You never know what fate has in store for you. Personally, I was lucky enough to find out in time, that I had a morphoma between one of my ovaries and the appendicitis and had to undergo hysterectomy last year.
Orange chocolate cheesecake, recipe by Ivy
Ingredients:
1 packet Oreo chocholate biscuit crumbs(scrape cream with a knife and reserve)

65 grams butter, melted

¼ cup ground

, roasted

pecans

700 grams Philadelphia cream cheese

1 can sweet condensed milk

3 eggs
2 tsp orange vanilla extract

125 grams orange flavoured chocolate, melted

Directions:
Preheat oven to 180o C.

Line a 28 cm springform pan with baking paper. Combine crumbs, ground pecans and melted butter (in microwave) and press into the bottom of the pan. Set aside.

With mixer, beat cream cheese in large bowl until fluffy. Gradually beat sweetened condensed milk until smooth. Add eggs and vanilla extract as well as cream from biscuits and mix well. Pour the batter evenly over prepared crust.

Melt orange chocolate in bain marie and place in the centre of remaining batter. With a spatula, gently place in the centre and mix chocolate batter through vanilla batter.

Wrap the cake pan with foil paper and bake in a water bath 45 to 60 minutes or until set. Cool. Chill at least 1 hour. Store leftovers covered in refrigerator.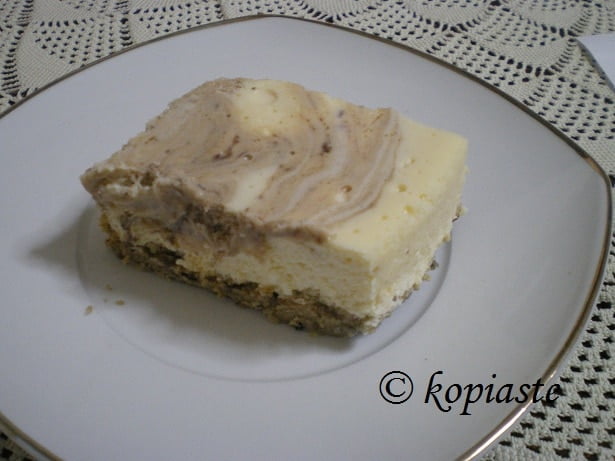 Kopiaste and Kali Orexi,