I know that I said last night that I would be posting all the recipes I make in a day but what was I thinking? It's impossible to follow this idea as If I were to post the pie I made yesterday, how could I explain how I made this new kind of phyllo, when I've been using this recipe at least two more times and I haven't yet posted those recipes yet? Then I forgot that I still had to post the cheesecake and if I posted the other recipes there would be no reason posting it as the strawberry season is almost over and then there are some events I want to participate so again this would have to change my plans.
About the cheesecake. Last week I made a tart with a chocolate base, raspberry jam and a cream with strained yoghurt and eggs.
Greek strained yoghurt is thick as a cream cheese
Although it tasted great I should have baked the tart shell first and then added the jam and the cream and bake it again. I did not and the tart base with the jam bubbled together when baking and the tart shell was somewhat soggy. This is a recipe I will have to do again before posting it but I incorporated the same yoghurt egg mixture in this cheesecake.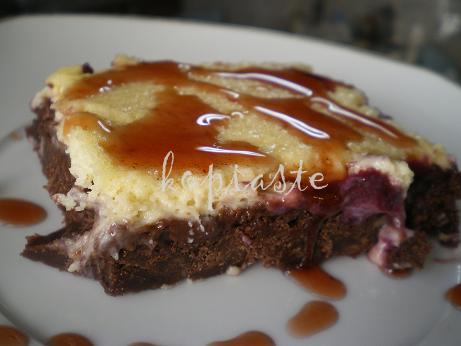 The strawberry sauce is a sauce I have been making for many years and is very easy to make. I have also made it with kiwis, cherries, apricots and last week I made a combination of cherries and apricots.
This recipe goes to Happy Cook, who is hosting the event Strawberry Fest.
Strawberry Cheesecake with Greek Yoghurt – Recipe by Ivy
Preparation time: 45 minutes
Cooking time:65 minutes covered plus 5 minutes uncovered
Serves: 10
In gredients:
For crust:
100 grams (3.50 oz) chocolate wafer biscuits
100 grams (3.50 oz) chocolate Chip cookies
50 grams (1.75 oz) butter or margarine at room temperature
Cream cheese-yoghurt filling:
4 eggs
1 cup sugar
600 grams Philadelphia cheese
500 grams Greek strained yoghurt
1 tsp vanilla essence
For strawberry sauce and decoration
10 strawberries
1 cup sugar
1 tbsp cherry brandy
1 dose whipped cream
500 grams strawberries
Directions:
Combine crumbs and melted butter, in a 28 cm spring form tin.
Beat eggs, sugar and vanilla essence and then add cheese and yoghurt and mix.
Empty cream cheese mixture on base and cover with aluminum foil.
Preheat oven at 180 degrees C and put the cheesecake in another tin with water. Put in the oven and bake for about one hour, or until just set. Allow to cool completely, then cover again with aluminium foil and place in the refrigerator and chill for at least an hour.
Meantime prepare the strawberry sauce. Half the strawberries and place all ingredients in a non stick frying pan over medium heat and while mixing, crush the strawberries to release its juices. Mix for about 10 minutes. Remove from the heat and allow to cool completely.
Carefully remove the cheesecake from the tin and place on a serving plate, using a knife to loosen the cake base from the bottom of the tin.
Spread the strawberry sauce and decorate with strawberries and whipping cream.
Kopiaste and Kali Orexi,