I thought making homemade tortillas would be very difficult and reading instructions on the net I was puzzled if I should attempt to make them or not, as a cast iron skillet was required which I do not have.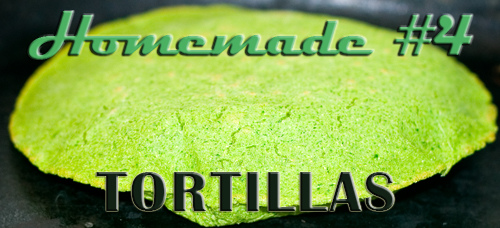 My friend Ben, of What's Cooking, is hosting an event Homemade #4 – Tortillas, so at least I wanted to give them a try even if I failed making them. To prepare the tortillas I was going to use my sautéing pan.
The procedure was very easy and the dough was easy to manage. I had a bit difficulty in getting them round but when I rolled out the dough I put a plate on top and cut the remaining dough.
I got the idea of making them with sun dried tomatoes from a packet of tortillas I bought at the supermarket to make Fajitas on Cinco di Mayo and reading the ingredients I read that they used sun dried tomatoes, paprika and red peppers so I decided to recreate them without using the peppers as I did not have enough.
Homemade whole wheat tortillas with sun dried – Recipe by Ivy
Preparation time: 15 minutes
Cooking time: 1 – 2 minutes each
Makes: 8 tortillas
Ingredients:

1

Cup

Whole wheat flour

1

Cup

All purpose flour

½

Cup

sun dried tomatoes (12)

1

Tsp

Baking powder

½

Tsp

Salt

1/2

Tsp

Sweet paprika

2

Tbsp

Olive oil

½

Cup

Water

Directions:

1.

In a food processor mash the sun dried tomatoes and add a couple tbsp water if necessary.

2.

In a large bowl add the flour, baking powder, salt, paprika and olive oil and mix. Add the tomatoes and mix well. Start adding the water gradually until the dough does not stick on your hands or on the mixer bow.

3.

Fold the dough in cling film and leave it to rest for half an hour.

4.

Divide dough in eight equal pieces and shape into small balls.

5.

Roll out each ball as thinly as possible using some extra flour to dust the dough and the surface.

6.

Heat your sauteing pan and brush it with a few drops of olive oil and cook for about 1 minute on each side. (While it is cooking keep preparing the next one).

7.

Wrap them in a kitchen napkin to keep them warm.
To make the Fajitas, I already had some leftover roasted pork from lunch, so I cut it into smaller pieces and in a skillet I sauteed 1 onion finely chopped with 1 tablespoon olive oil and then added some peppers (red, yellow, green) and for seasoning I used some garlic powder, boukovo (Greek chili flakes) cumin, hot paprika, salt and pepper and finally I added the meat.
I did not have any sour cream or queso fresco to serve it with but I served it with 1 tablespoon Katiki Domokou, a delicious Greek cream cheese and some salad.
This cheese is made with goat and ewe milk and is usually eaten as a starter, in a salad or on its own with bread, perfect as a mezes with white wine.