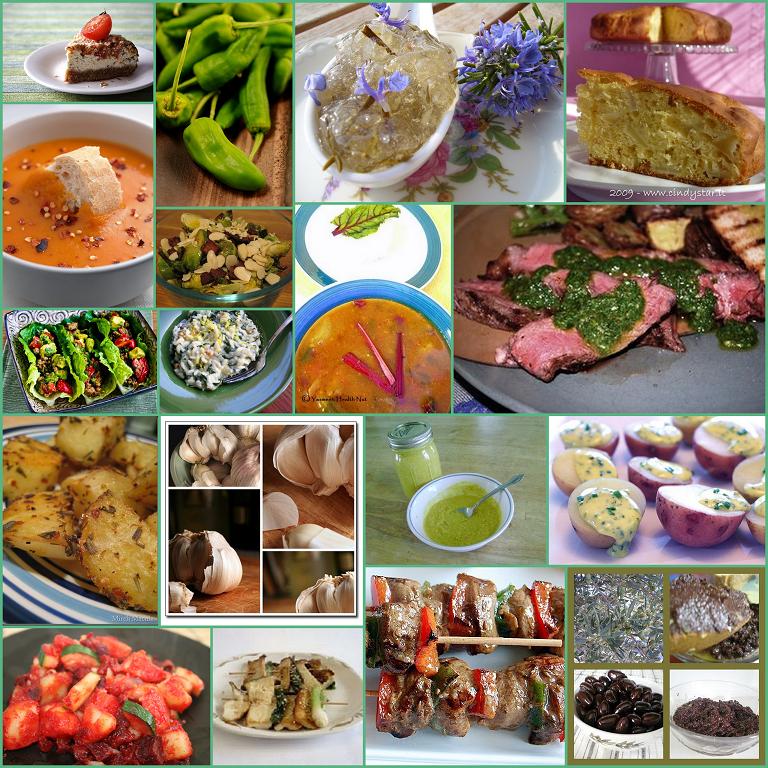 Weekend Herb Blogging is a blog event where people have a chance to showcase a favorite vegetable or herb in any dish. I love this event as we come to learn more things about herbs, vegetables, plants, edible flowers and fruit around the world. The last time, It also gave me a chance to meet new people and make new friends and I hope that I shall make some new ones this time as well.
I am very glad to be hosting the Weekend Herb Blogging for a second time. As you all know the event was originally created by Kalyn, of Kalyn's Kitchen and now managed by Haalo, of Cook (almost) Anything at least once.
Thanks to everyone who sent in recipes for sharing your delicious discoveries. Enjoy!
Fruit:
Pears or Apples:
Cinzia, of Cindystar, has made a very easy caked called Cake of 9.
Vegetables & herbs:
Parnsnip:
Scott, of Real Epicurean, has made a Curried Parnsnip and Tomato Soup.
Potatoes:
SuperChef, of Mirch Masala, has made Roasted Potatoes Herbs De Provence.
Peppers:
Nuria, of Spanish Recipes, has made some spicy Lamb Skewers with red and green peppers in between the meat.
Mustard seeds:
Rachel, of The Crispy Cook, has made her own Mustard.
Brussels sprouts:
Katie, of Eat this, has made Roasted Brussels Sprouts with Bacon and Almonds.
Potatoes and Beets:
Anna, of Anna's Cool Finds, has made Ruby Red Potatoes.
Basil:
Marija, of Palachinka, made a Basil Cheesecake.
Beet Greens:
Yasmeen, of Health Nut, has made Green Beets Sambar.
Swiss Chard:
Muneeba, of An Edible Symphony, has made Spring Risotto.
Cilantro and parsley:
Jerry, of Jerry's Thoughts, Musings and Rants, has made a Chimicurri Sauce.
Mushrooms:
KC, of Kits Chow, has made Skewered Pine Mushrooms.
Nasturtium
Lisa, of Lisa is Cooking, has made Nasturtium Jalapeno Aioli.
Garlic:
B, of My Clean Eating, has made Baked Garlic Chicken.
Padron Peppers:
Haalo, of Cook (Almost) Anything at least once, who has took over from Kalyn, has made Fried Padron Peppers, also called Russian Roulette with Padron, because 1 out of 10 is usually hot.
Cilantro (fresh coriander):
Kalyn, of Kalyn's Kitchen, who is the creator of this lovely event, has made Turkey Lettuce wrap Tacos with chiles, cumin, cilantro, lime and Tomato Avocado salsa.
Rosemary:
Brii, of Brii's Blog in English has made two wonderful recipes Rosemary Jelly and Rosemary tea.
Olives:
Finally, my entry is Pasta Elias (Olive Paste)

The next host of WHB will be Chriesi from Almond Corner, so now get your dishes prepared for next week.