I had the pleasure to host this week's Bookmarked Recipes and here's this week's round up.
Katerina, of Culinary Flavors from Greece has made a lovely Greek Dessert, called Bougatsa. She bookmarked the Recipe from a Greek Chef called Vaggelis Driskas.
Deeba, of Passionate About Baking, has made an Apple Spiced Cak. Deeba bookmarked this recipe from the Food Librarian.
Prof. Kitty, of The Cabinet of Prof. Kitty, has make a Butternut Pasta with Sage and Bacon, which she bookmarked from Cook's illustrated Jan/Feb 2009 (p. 18).
Happy Cook, of My Kitchen Treasures, mas made an Espresso Panacotta, which she bookmarked from our mutual friend Deeba, of Passionate About Baking.
Giz, of Equal Opportunity Kitchen, has made Auntie Sharon's Recession Proof Chicken. The recipe is from her friend Sharon.
Hopie, of Hopie's Kitchen has made Lemon Red Lentil Soup.: This recipe was bookmarked from Tea & Cookies, taken from Melissa Clark.
City girl, of City Girl Lifestyle, has made Nigela Lawson's Red Seasonal Salad, bookmarked from Orangette.
Val, of More than burnt toast, made Chicken, feta and tabbouleh Salad, bookmarked from Cooking Light.
Tigerfish, of Teczcape – an Escape to Food, has made Steamed Shrimps with garlic oil, bookmarked from Rasa Malaysia.
Cinzia, from Cindystar, has made a Stewed Quinoa, bookmarked from Cookaround.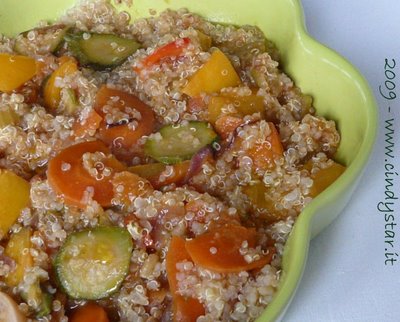 James, of The Cotswold Food Food Year, has made Beer Baked Beans, bookmarked from 101Cookbooks.
Finally, I made Honey, Peanut butter, Chocolate and Pastelli Cookies, which I bookmarked from Recipe Girl and changed the recipe to make it Vegan / Vegetarian as we do not eat milk, butter or eggs during Lent.
Thanks everyone for your submissions!!! It's always exciting to see what people have been making and recreating as well as meeting some new bloggers.
Next week's round up will be hosted by Laurie, of Mediterranean Cooking in Alaska.
That's it for this week. Remember if you want to take part here's all you have to do….
1. Pick a recipe from a book/magazine/blog/website/tv show and make it. (Note you can only submit 1 recipe per week)
2. Blog about it
– include where you got the recipe in your blog post (including a link to their website if possible)
– include a link to this post or this blog in your blog post
– include the logo (see above) for Bookmarked Recipes in your blog post
– include a photo of your recreation on your blog post
3. Email bookmarkedrecipes[AT]gmail[DOT]com with the following information:
– Your name
– The name of your blog
– The URL of your blog
– The permalink for your entry
– A photo of your entry
– A note of where you got your recipe from