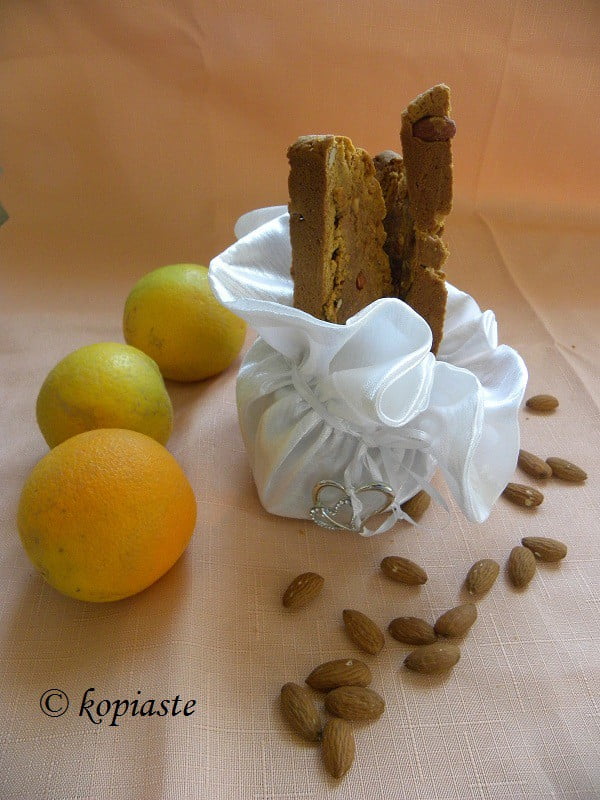 Olive oil is a base for many Greek traditional cookies. There are many kinds of these cookies starting with the famous melomakarona (honey cookies), moustokouloura (must cookies), Sousamokouloura (sesame cookies), krasokouloura (wine cookies) and Ladokouloura (meaning olive oil cookies) , each one having a unique taste according to the ingredients added.
Every Friday morning we have our Tupperware meeting and some of us bring along cookies, cakes, pies etc. Two Fridays ago we had tons of things to eat but I liked these ladokouloura (biscotti) a Cretan lady had brought with her and I asked for the recipe. I shall give you the exact recipe as it was given to me and you can make as many as you like. I made one fourth of the recipe and had quite a lot of cookies.
When baking them, I had a misfortune which in the end wasn't that bad but I was upset at the time. Just a little while after putting the tin in the oven we had power failure. They were nice and brown outside but inside they were still soft. So instead of baking them the second time for ten minutes, I cut them with the knife and spread them in the tin and they baked only with the warmth of the oven.
Nistisima Ladokouloura (Vegan Olive oil biscotti)
Preparation time: 10 minutes
Baking time: about half an hour
Ingredients:
3 kilos all purpose flour

1 ½ glasses of sugar

4 glasses of olive oil

1 tablespoon baking powder

2 glasses of fresh orange juice

1 spoonful of orange zest

1 tablespoon of baking soda

1 ½ glass of brandy or red wine or tsikoudia or ouzo

1 teaspoon of cinnamon

1 teaspoon of ground cloves
1/2 cup of roasted almonds
Directions
I forgot to ask her about instructions, so I mixed the liquid ingredients first and then added the remaining ingredients.
I divided the dough in half and form two logs. I placed them on a baking tin lined with parchment.
I baked them for about 35 minutes in a preheated oven to 180 degrees C, or until logs were light brown.
When able to handle them I cut them into 1cm slices.
I baked them again for about 10 minutes, until dry.
Baking time varies if made into smaller biscotti.
Kopiaste and Kali Orexi,