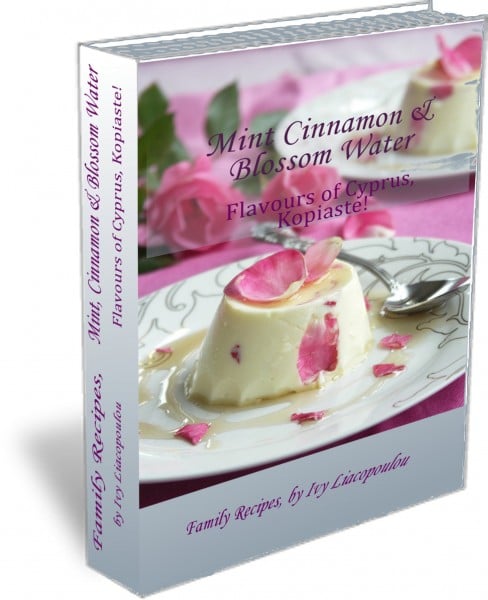 This event was about to take place a couple of weeks ago and while I was preparing a post, I got an e-mail from my publishers that there would be a small delay due to a technical problem. I am not going to get into how I felt and my frustration at the time, as this is behind me now and finally I got an e-mail today that the physical proof of the book is being sent to me by UPS. This is a typical procedure, which means that as soon as I approve it, it will be immediately on sale on Createspace e-store, hopefully within next week. I am keeping my fingers crossed because I want it to be perfect, so I will not hesitate to reject it if there is something I do not like.
For those of you that have not heard of Createspace, it is an associate of Amazon, so they are trustworthy and efficient, so it's just like shopping from Amazon. If you are thinking of writing a cookbook, go and check it out and I will do my best to help you when the time comes.
The cookbook "Mint, Cinnamon & Blossom Water, Flavours of Cyprus, Kopiaste!" is a selection of over 150 of the best traditional Greek-Cypriot recipes, fully revised and updated with a fresh, modern new look. These healthy Mediterranean Recipes (including a lot of vegan recipes) are bursting with delicious flavours and aromas of Cyprus, which is why I have given this name to the cookbook. The recipes which were already published on the blog during the past three years, had to lifted when I decided to write the cookbook but in the meantime I have also added some unpublished recipes, such as loukoumia (delights), pastelli (sesame honey candies), Loukoumia tou gamou (wedding cakes), pastitsia (almond cookies), Ttavas (a lamb dish with cumin being its main spice), souvla (lamb chuncks on a rotisserie), cheese souffle, baklavas, kalambokeftedes (fresh corn fritters), koulourouthkia me terastsomelo (pasta with carob syrup, which is a dessert), marinated dried fruit, stove top moussakas, louvanosalata (yellow split peas dip) and more.
The cookbook is 158 pages, 8 x 10 inches (20.32 x 25.4 cm), full colour Bleed, paperback, on good quality Colour Paper. Although the book is full bleed, I have only inserted 5 – 6 full bleed pictures as it is not intended to be a photo album with a full page picture on one side and a recipe on the other side. My focus was more on the recipes, so each page contains a recipe with a smaller picture, which is not really that small (10 x 7.5 cm / 4 x 3 inches). On pages, where the recipe is short, I have added another small recipe or if the space was not big enough, I have added some useful tips. The cookbook has easy and difficult recipes but where a difficult recipe is involved, I have added some step by step photos to help the novice cook, as well. The book is divided into 5 Chapters: Chapter 1, Mezedes (appetizers), Chapter 2, Side Dishes and Salads, Chapter 3, Main dishes (this includes anything from casseroles, soups, pasta, cooked, baked etc), Chapter 4, Bread, Pies & Snacks (mostly anything with dough or phyllo, with a great tutorial on how to make your own homemade phyllo) and finally Chapter 5, Desserts.
If you would like to take a peek of the book inside, I have uploaded on Createspace a small excerp with a few recipes, so you can take a look inside the book and please leave a review, if you like. This small sample is a little bit different as to how it will appear in the cookbook because it was uploaded before the final pdf was sent.
The picture above is not the actual book itself but a 3-D book I have created to use as a widget on my sidebar. In a few days I shall place a link on it which will lead to the e-store from where you can order it.
As soon as I have the book in my hands there will be some giveaways of my book but at the moment I cannot promise to send a book that has not yet been published. Instead, my giveaway is the cookbook "Falling Cloudberries" by Tessa Kyros, who is also of Cypriot origin.
Please help me make some buzz by tweeting about my cookbook and reposting it on Facebook.
Update 10/12/2010: The cookbook has been published and you can now order it from here.
Cooking from Kopiaste Cookbook Event
If you would like to participate at the event and win this lovely book, here is what you have to do:
1. Follow the link on the icon of Createspace which is at the end of the post. You don't have to sign up unless you want to become a member but, even if you do, it's free (unless you want to publish and buy one of their services to write your cookbook).
Go to GET STARTED NOW. On top you will find the menu. Go to PREVIEW GALLERY. On the left, Below Book Previous, CHOOSE See all Categories, GO TO Cooking, Food & Wine and there scroll down and you will see MINT, CINNAMON & BLOSSOM WATER, FLAVOURS OF CYPRUS, KOPIASTE! Download the PDF, where you will find the Introduction Page, a few recipes and the back cover of my cookbook. (If for any reason you cannot read the pdf please e-mail me and I shall send you the recipe by e-mail).
2. For this event I want you to make KIFYLLA. In the recipe I use 100 grams (3.5 oz) fresh yeast. In the book before this recipe there is a chapter on Bread, Pies, Snacks where a lot of information is given. In that chapter I explain a few things so that I do not have to repeat myself in every recipe, so if you can't find fresh yeast, use dried instant yeast. As I say in the book, for each 500 grams (1.10 lbs) flour you will need 1 packet 8 – 9 grams (0.30 oz) dried yeast. The recipe can easily be made vegan and I explain what you have to do.
Use this as your basic recipe but be creative. I leave it up to you to make something different, it could be a different shape or a different taste.
3. The post must be in English and please make a new post for this event and link back to this post. Only one entry per blog please. Feel free to use the logo of the event.
4. E-mail me at ivyliac AT gmail DOT com with your name, blog name and permalink to your recipe, with a photo or use the submission form, not later than the 15th December, 2010.


5. After the roundup, there will be a voting (I haven't yet figured how to do this. I guess there must be a plug-in for voting but I haven't looked into this yet, so if anyone can help please e-mail me). If I don't manage to put up a poll, you will be called to leave a message who you consider did the best recipe.
Kopiaste and Kali Orexi!!