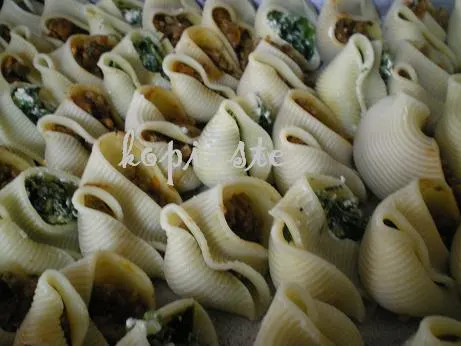 I have never made giant pasta shells before but seeing a few posts in the past I knew these would be great so when I saw them at the supermarket I could imagine all the fillings I would try them out with. I was debating what to make. Would it be stuffed with meat or stuffed with spinach and cheese? I was anxious to try both fillings so I decided to make both. I had no particular recipe in mind but I do make stuffed crepes with ground meat and spinach and cheese (which I have not yet posted) so I improvised with the ingredients I had at home. I was also debating if I would make a tomato sauce to put on top or a white sauce and the white sauce appealed to me better. If I would make a red sauce, I would have made a marinara sauce. Maybe I will try this next time. Although I made two fillings, the shells were 68 and when I finished I had about ten empy shells, so I scattered them in between the filled one and yet were delicious with the white cream cheese sauce on top.
I am submitting this recipe to Ruth, of Once Upon a Feast, who is hosting this week's Presto Pasta Nights. I will have the honour to host next week's Presto Pasta Nights, so dig out your pasta dishes which you have not posted yet or just prepare a new one. Pasta dishes are so easy to put together.
Giant Stuffed Pasta Shells (by Ivy)

Preparation time: 1 hour
Baking time: 30 minutes
Serves 6 – 8.
Meat Sauce:
450 grams of lean ground beef

4 – 5 tablespoons of olive oil

1 big onion, chopped

1 garlic clove, chopped

2 spring onions, chopped

1 can (500 grams) of whole tomatoes, blended

2 carrots grated

1 cup dry red wine

1 teaspoon dried oregano

1

teaspoon

dried basil

1/2 cup finely chopped fresh parsley

Salt and pepper to taste
Directions:
Sauté both kinds of onions and garlic in olive oil, until translucent. Add meat and sauté until browned. Add wine, salt and pepper, oregano and basil and mix. Then add carrot and tomato and simmer covered for about half an hour, stirring occasionally, until all the juices are absorbed. Mix in parsley and allow to cool before filling.
For the spinach filling I used fresh spinach but frozen may also be used. Although I made this dish last week, I managed to collect a few basil leaves although I think that was the last of it as it is now beginning to wilt.
Spinach and Cheese Filling:
Ingredients:
250 grams of xynomyzithra, or feta or anthotyro

400 grams of spinach

3 spring onions

½ cup of parsley

4 fresh basil leaves

Salt and pepper

1 tablespoon olive oil
Directions
Wash spinach and drain water. In a pan add spinach and simmer until soft, without adding any additional water. Drain excess water.
In a sautéing pan heat the oil and sauté the onions. Add spinach and sauté as well and remove from the heat until it cools. Mix in the cheese, salt and pepper, parsley and chopped basil and mix.
Sauce for topping

3 eggs, lightly beaten

1 light cream

200 grams of cream cheese

Salt and white pepper

150 grams of shredded mozzarella
Putting the dish together
Directions
Cook and drain one package of Jumbo Shells (68 shells) according to package instructions (13 minutes, in salted water). Add cold water and drain.
Fill half the shells with the minced meat and the other half with the spinach mixture, placing one with meat and one with spinach, next to each other. If in the end you get some empty ones, like I did, just fill them in the gaps.
Beat the eggs and add fresh cream and then add the cream cheese. Add salt and white pepper and mix. Place shells in single layer and spread a thin layer of sauce over the shells. Sprinkle with grated mozzarella cheese and bake in a preheated 180C degree oven for 30 minutes.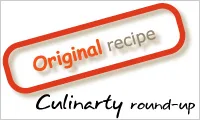 I am also submitting this recipe to Lore, of Culinarty, for her event Original Recipes.