The earth's shadow swept past the moon late last night turning a shining full moon of August into a dim red one and finally blackening it out of view.
The partial lunar eclipse occurred late in the night in Athens around 10 p.m.At about 9 p.m. my husband asked me if I wanted to go to the Acropolis to see the eclipse and without hesitation we got into the car and were there around 9.30 p.m.We had to park the car in the narrow streets of Plaka somewhere opposite Zappeio and walked our way up to the Acropolis.

The new museum of the Acropolis

The worse part began after the entrance to the ancient theatre of Herodou tou Attikou. I couldn't believe what I saw.I thought that Athens was empty due to summer holidays but the streets were packed with both locals and tourists. I distinguished British American and Australian accents, I heard people speaking Italian, Spanish, French, Russian, Arabic, Cypriot, German and some other I could not recognize.
The queue was about 100 metres x 5 metres and it took about half an hour to pass inside the Acropolis.
When we arrived the moon was still full and when descending it was half moon but although I took some pictures I did not manage to capture it.
I am sorry about the bad quality of my photos by it was the first time I took photos during night.Although I turned it to night scene I didn't know much about it and most of my pictures are dim and shaking.
Photo of Propylaea, courtesy Wikipedia
Photo of the Parthenon (Wikipedia)
The Parthenon
The eclipse has already began.
If you have not visited the Acropolis it's not easy to capture what an accomplishment this building was to build 400 years b.C. during the rule of Pericles by Iktinos and Kallicratis. The ancient Greek temple known as the Parthenon (Greek for "the virgin's place" i.e. Athena) was constructed between 447 and 432 b.C. Considered a masterpiece of Greek architecture, it was built atop the Acropolis, a hill overlooking the city of Athens. To give you a small example, each pillar is 1.9 m in diameter and 10.4 m high. If you are near the pilar you realize that three grown ups are needed to embrace it pillar.
Hope you enjoyed the tour even if the photos are blurry and now to our recipe.
Perka me marathoriza sti ladokolla
I hope the name did not scare you away. Perka is a fish of the grouper family and marathoriza is fennel bulb aka finocchio.
I chose this recipe as ancient Greeks ate a lot of fish. I prepared the fish with herbs and spices used in Greek cuisine and although it is wrapped in parchment paper, with all due respect to our ancestors, I wouldn't call it kleftiko, as I have seen it in another blog.
A few weeks ago I went to the farmers' market and bought this lovely fillet of painted comber aka grouper. When I bought the fish I did not have a recipe in mind but I combined some of the Greek herbs and vegetables I bought and wrapped the fish in parchment paper. When I finished wrapping it I saw that there was still some space left at the four corners, so I quickly unwrapped it and filled in the gaps with mushrooms.
Well there are not enough words to describe the result of this dish. I kept hearing my family saying wow, mmmm, yummy, delicious, fantastic.
I strongly recommend this dish and I am sure that even the most eclectic taste buds will be satisfied.
Perka me Marathoriza sti ladokolla (Perch with fennel bulb in Parchment Paper)
Preparation time: 15 minutes
Cooking time: 1 hour 30 minutes
Serves: 5
Ingredients:
1 ½ kilo filleted painted comber (2 fillets) or any other fillet you like
1 fennel bulb, cut into slices (next time I shall add at least 2)
2 onions cut into slices
3 cloves of garlic, cut into slices
¼ cup of parsley, finely cut
¼ cup of dill, finely cut
1 teaspoon of coarse sea salt
freshly ground black pepper
1 teaspoon of ground coriander seeds
1 teaspoon of Greek oregano
4 slices of lemon on each fillet
6 mushrooms, cut into slices
3 spoonfuls of olive oil
1 shot of ouzo
Directions:
Wash the fish and add salt, pepper, oregano and coriander.
Prepare all vegetables and cut them.
On the parchment paper layer the fennel bulb, the onions, garlic, dill and parsley. Place the fish on top and add the olive oil and ouzo. Cover with the lemon slices and between the gaps add the mushrooms, sprinkling some salt, ground pepper, oregano and coriander on top.
Fold the parchment paper and seal the baking tin with aluminum foil making sure that it is covered well so as to prevent the steam from escaping.
Bake in a preheated oven to 180 degrees centigrade for 30 minutes.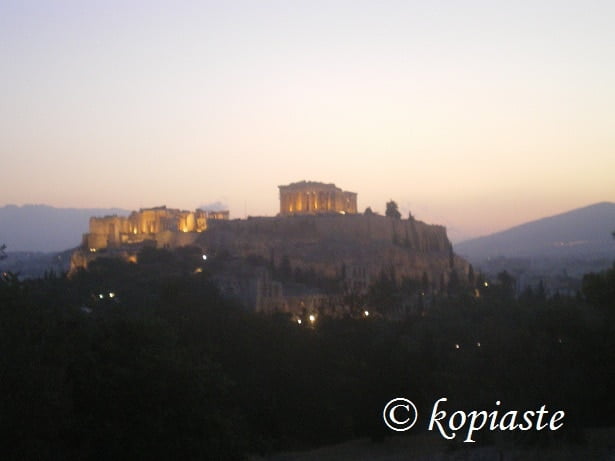 Kopiaste and Kali Orexi,