Since I discovered a little shop near my house selling Asian products, I have bought some spices and try to experiment with them, as I loved their taste from the very first time.
I tried to find a recipe at some of my Indian friends' blogs or other friends' blogs cooking Indian food but most of them seem to be Vegetarian so I didn't find anything for me to cook the chicken breasts.
As always I like to experiment and if something comes out good I post about it. I've had some failures but don't we all? That's the fun of cooking. Making your own creations and waiting for your family to try them and express their opinion. And the verdict is: THEY LOVED IT. If only you could smell it!

I prefer to buy whole chicken breasts which I fillet and then boil the skin and bones and make my own chicken broth in order to boil the rice in the broth.
This simple and flavourful grilled chicken recipe is fit for any diet. The marinade tenderizes the meat to create a juicy end result your whole family will love.
This recipe goes to the Fat Chefs or Skinny Gourmets? event hosted by Ben, of What's Cooking and myself.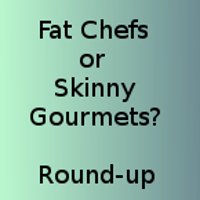 You still have lots of time to submit your recipes.

Indian Style Chicken

Preparation time: 5 minutes
Grilling time: 20 -30 minutes
Serves: 5
Ingredients:
4 chicken breasts (from 2 chickens)

1 tablespoon garam masala

½ tablespoon ground

ginger

½ tablespoon

garlic p

owder

½ tablespoon

c

umin powder

½ tablespoon

turmeric

½ tablespoon

chilli flakes

Salt

and pepper

to taste

2 spoonfuls of lime or lemon juice

1 tablespoon honey

2 tablespoons olive oil

1 tablespoon soy sauce
Directions:
Cut chicken breasts in smaller pieces and place in a bowl, together with all ingredients and let them marinate for 2 – 3 hours or even more. I prepared it early in the morning.

You can either grill, barbecue or roast until golden brown. When grilling, use the marinade to baste the chicken each time you turn it over.

Serve with basmati rice, steamed vegetables and lime wedges.

Kopiaste and Kali Orexi!