Keeping in line with typical ingredients used to make a Healthy Dog Cake, I used butternut squash, peanut butter, extra virgin olive oil and Greek yoghurt to make Dias' 4th birthday special.
To bind these ingredients together, I used Quaker oats and an egg.
As a special treat, I added some beef stick with wild game inside the cake and used some to decorate the cake as well.
We are blessed to have him in our life as he gives us so much love so we feel it is worth celebrating their time with us.
As we do not know the exact day Dias was born, we usually celebrate his birthday a couple of days after Epiphany.
Our dog is truly a member of the family and he deserves a special treat on his birthday just as any of the human members.
Dias was very pleased with the cake and devoured his part of the cake in no time. In fact, we liked it as well and let me explain:
The batter was enough to make two mini cakes.
I divided the batter in two equal parts and in Dias' cake I mixed in some tiny pieces of a treat with beef stick + wild game.
I reserved some to use as decoration on top.
When assembing the cakes, I used ours as the bottom layer and Dias was placed on the top, so that we did not get to eat any of the dog treat.
I must say that the cake was delicious!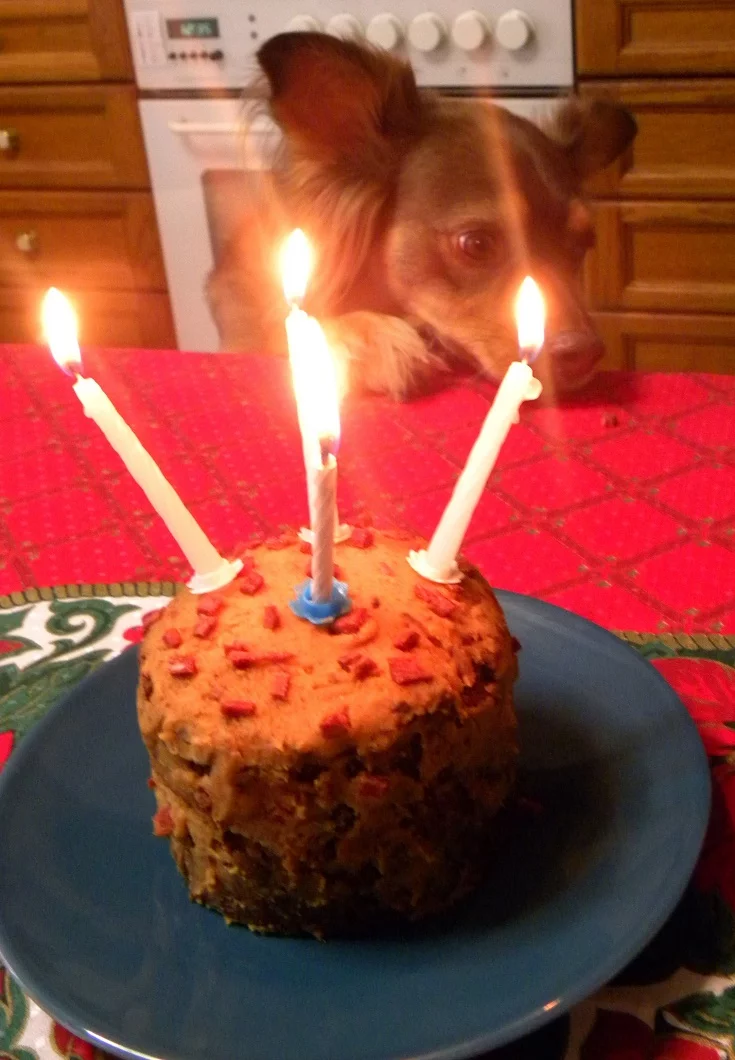 Assembing the cake
When the cake cooled, I added some of the frosting on the bottom layer and put the sping form ring around the cake again.
I then added the second cake on top and pressed it a bit to stick together, which I later removed in order to add the frosting.
Finally, I used the beef and wild game bits to decorate the cake on top and a little on the sides of the top cake.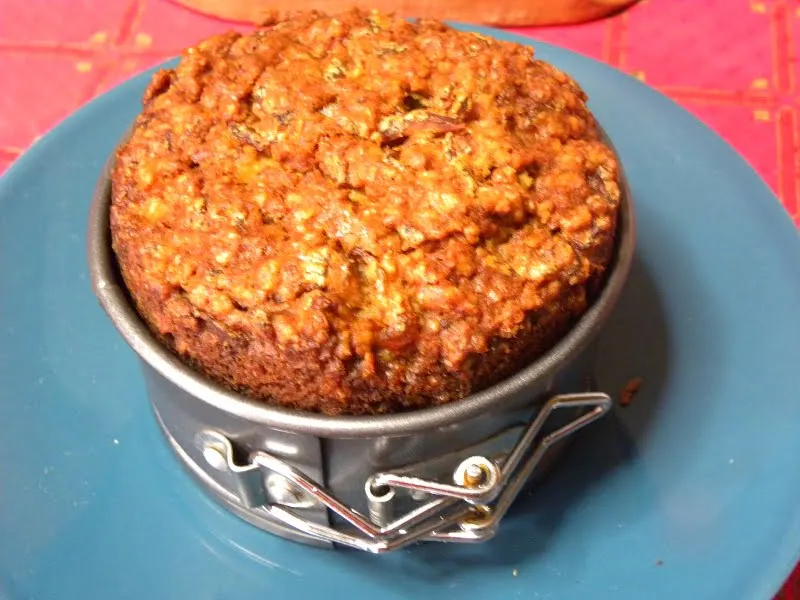 For more ideas, see what I made the three previous years.
Peanut Butter Greek Yoghurt Carrot Apple Cake
Apple and Banana Olive oil Cake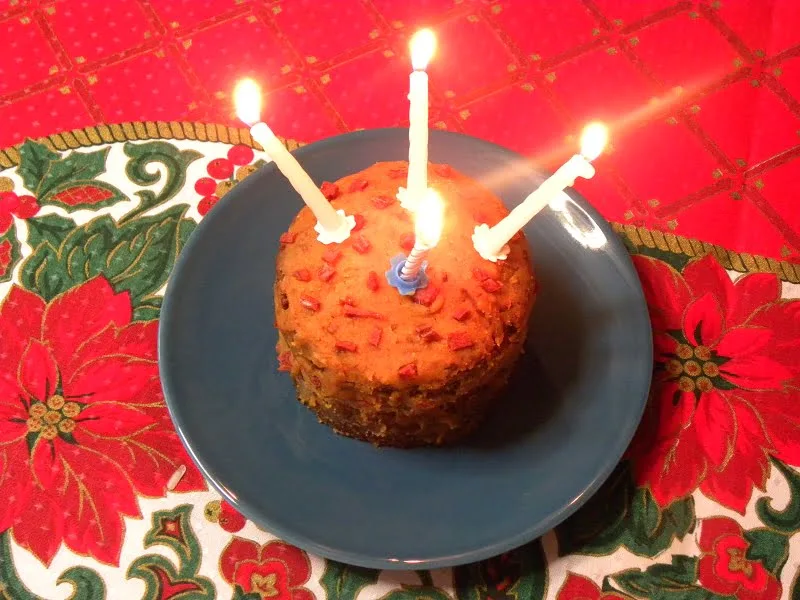 Healthy Dog Birthday Cake
To celebrate our dog's 4th birthday I made this healthy dog cake with butternut squash, peanut butter, olive oil, Greek yoghurt, honey and a special beef and game treat.
Ingredients
1 cup Quaker oats
1 tsp baking soda
1/4 cup extra virgin olive oil, divided
1 large egg
1 tsp honey
1/2 cup grated butternut squash
1/4 cup natural peanut butter
50 grams beef stick + wild game gibier selvaggina, finley chopped, divided (or used any other treat)
Frosting:
2 tbsp Greek yogurt
1/4 cup peanut butter
Instructions
Grease the two mini cake pans (10 cm diameter)

,

with about 1 tsp olive oil and preheat the oven to 180

o

C.

Put the grated butternut squash in a microwave container and cook on medium high for 3 minutes. Set aside to cool. Discard any visible water from the pumpkin.

Combine oats and baking soda.

In a large bowl, put the egg, peanut butter, honey and remaining olive oil ind whisk for a few seconds.

Add the grated butternut squash and mix.

Add the dry ingredients and stir to combine.

Divide the batter evenly into two equal parts.

Add half of the beef treat in one.

Bake cakes for about 25 - 30 minutes, or until a knife inserted in the middle comes out clean.

Let the cakes sit in the pans for 10 minutes until the cool completely. Run a knife along the edges and flipping them over.
For the icing: stir yogurt and peanut butter together until a smooth paste; decorate the cake on top and on the sides.
Top the cake with the remaining beef treat to make your dog's special day that much better!
Recommended Products
As an Amazon Associate and member of other affiliate programs, I earn from qualifying purchases.
Kopiaste and Kali Orexi!