Sugar Paste or Rolled Fondant is an icing used to cover cakes, cupcakes, cookies, cake pops and other sweet treats.
Is fondant the same as sugar paste?
Yes, they are the same thing. Sugar paste is the term most widely used in the United Kingdom for this soft icing and the term fondant when used in the United States.
There are many types of fondant but today I am making Rolled Fondant. Rolled fondant or sugar paste is like sweet dough. Glycerin, glucose gelatin and shortening are added to make the dough pliable.
Icing sugar is added to make it sweet and of course food colouring to make different colours of sugar paste.
This type of fondant is used to decorate cakes, biscuits, cookies, cupcakes etc or to make other objects to decorate the cakes.
If you do not add the gelatin, shortening and glycerin and use only icing sugar, water and glucose then you have a fondant which can be poured on top of cakes.
I have been intending to make rolled fondant since the first years of blogging but kept postponing it as I could not find all the ingredients listed.
Several years back I had bought some of the ingredients but never made it because I couldn't find shortening.
At the time I could not find edible glycerin and after discussing this with my pharmacist he ordered some for me.
Shortening is an ingredient which is not used in Greece. After discussing this with my friend Eftychia of Dream of Cakes, who is a fondant expert, I decided to experiment and use a substitute.
I made a bit of google searching to see if I could find a substitute to use in Greece and found a thread on Nigella saying that Nea Fytini (vegetable oil) can be used.
I bought some but by the time I decided to make the fondant, I used "fytini" to make some pie crust.
However, since I could use fytini, I decided to use Ariston vegetable oil which is a similar vegetable oil but with 5% butter content, which I have used in the past and liked.
Powdered gelatin was also difficult to find. Now that I have made the fondant, I can easily make the recipe with gelatin sheets as well.
I am not very fond of using food colours and I rarely use them. However, I wanted to try them to see the result.
The only food colours I found were in liquid form. Unfortunately a few drops made a very pale colour, which was not what I wanted for a recipe I have in mind, so I had to add much more.
You can find Efti's recipe and instructions here.
I am posting mine, as I weighed the ingredients I used so I am giving you the ingredients by weight and cups.
Instead of making the fondant by hand I used the stand mixer using the dough hook and it came out perfect and in no time.
The end result will be very sticky and will look as if more sugar is necessary but don't add any more.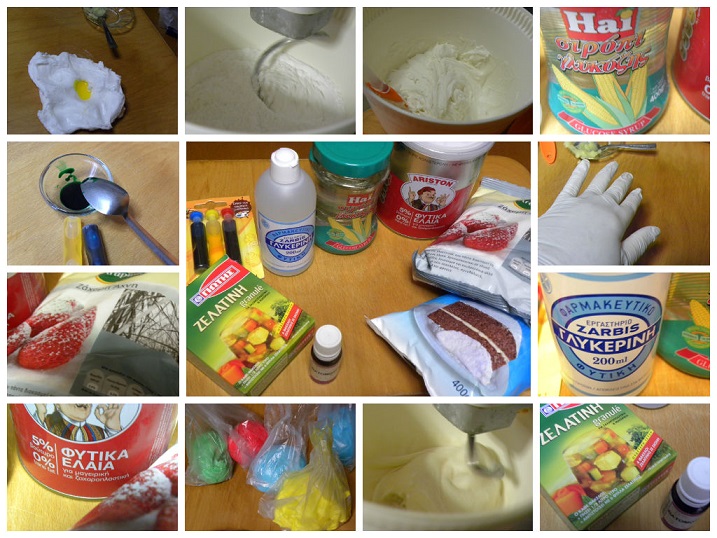 Update 27/12/2014:
The sugar paste I made was used to decorate my Christmas Cake. It is a fool proof recipe which I recommend that you give it a try.
I had made the sugar paste about a week earlier and all that was needed was to knead it in my hands a little bit to soften.
I worked on a silicone mat and covered it with cling film on top to roll out the dough. If you don't have a silicone mat, use parchment paper.
I used the same rod which I use to make phyllo and the technique of rolling it was the same.
There was no need to use icing sugar during the rolling process.
As I said during the first attempt to make sugar paste decorations, I did not have any tools. The only ones I used was a cookie cutter to cut circles and the Christmas tree cookie cutter.
To cut the leaves, I just used my imagination and a knife to shape them. To make the roses I used five circles for each one. I started by forming the first one into a cone and then I added "petals" around the cone.
The end part where I was holding it was long and when I finished each rose I just cut it off and kept only the rose.
You can find many Greek recipes in my cookbooks «More Than A Greek Salad», and«Mint, Cinnamon & Blossom Water, Flavours of Cyprus, Kopiaste!» both available on all Amazon stores. Read more here.
How to make Sugar Paste or Rolled Fondant
Homemade sugar paste or fondant is easy to make and you can use it to decorate cakes, cupcakes, cookies and may other treats.
Ingredients
¼ cup (60 ml or 4 tbsp) tap water
14 grams granulated gelatine (1 sachet is 13 grams)
180 grams (1/2 cup) glucose
15 ml (1 tbsp) edible glycerin
1 tbsp shortening (plus about 1 tbsp for kneading)
900 grams icing (confectioners') sugar, sieved
10 drops of vanilla (or other) essence
Food colouring (optional)
Instructions
Place the gelatine in a small bowl, add the water, stir and let it soak until water is absorbed.
Put a metallic bowl over a pan with water and put on the heat. Stir until the gelatine is dissolved. Add the glucose, glycerin and shortening, stirring until well blended and runny. Don not let it boil.
Put the icing sugar in your mixer bowl and attach the hook. Pour the liquid ingredients as well as vanilla and mix on low speed until all the sugar is absorbed.
If you will colour the icing, wear latex gloves.
Grease the gloves or your hands with a little bit of shortening. Take some paste and put it on a greased surface and add food colouring. Add the colouring gradually and knead until the colour you desire is achieved. Place each coloured fondant in a plastic bag. Wash the gloves and surface before starting with a new colour.
The paste can be used immediately or tightly wrapped and stored in an airtight container until required. Do not refrigerate.
When rolling out more icing sugar may be necessary.
Nutrition Information
Yield

1
Serving Size

1
Amount Per Serving
Calories

115
Total Fat

13g
Saturated Fat

5g
Trans Fat

0g
Unsaturated Fat

7g
Cholesterol

7mg
Sodium

2mg
Carbohydrates

0g
Fiber

0g
Sugar

0g
Protein

0g
Other relevant recipes:
Three Tiered Mini Wedding Cakes
Kopiaste and Kali Orexi,