While taking a break from blogging and trying to stay away from food in order to reach my goal and loose the weight I have gained over the past four years, I almost forgot that August is my four year blog anniversary.  I still can't believe all the wonderful things I've learned during these past four years and all the amazing people I've been privileged to meet and  become friends with, during these past four years.  I am forever grateful for the continued support and encouragement from all of my wonderful friends and readers.
I now find myself with four blogs.   Kopiaste started four years ago as a biligual blog in Greek and in English and then I separated the blog into an English and a Greek blog.  After the publishing of my cookbook, I decided to create a blog where I would post anything relating to the book and only Cypriot recipes and recently after our decision to relocate, I am now also writing a chronicle of this project, hoping that one day I may start a new business there.  I have added a new post a few days ago and I would appreciate your help and your feedback on some decisions I need to take.
Some of my readers asked me to post the diet recipes which I cook now that I am on a diet. I don't cook anything special for me but just follow the Mediterranean diet, with the supervision of my dietician, of course. The only thing I avoid is sugar, salty food and use less salt to cook, butter, fatty meat and cook everything with less oil. The portions have also been downsized and I eat lots of salad with every meal and drink lots and mean LOTS of water (about 2 – 3 litres) and walk almost every day.
Yesterday, I was feeling creative again and after over two months, I made a new recipe which I would like to share with you, as it was healthy, light and delicious and perfect for diet.   I have posted it in my Cypriot blog, as the recipe was based on the Cypriot version of stiffado.
Solomos Stiffado (salmon stew with onions) and 4 years blog anniversary
Ingredients
500 grams of salmon fillet
1 tbsp olive oil
1/3 cup water
For the marinade:
1 tbsp mixed spice mixture
Salt and freshly ground black pepper
1 tbsp soy sauce
1 tsp orange zest
½ cup orange juice
For stiffado:
4 onions, cut into slices
1 big clove garlic, finely cut
1 tbsp olive oil
Salt
1 tsp brown sugar
3/4 cup red dry wine
1 tbsp epsima (grape molasses) or use honey
3 tbsp red wine vinegar
1 bay leaf
Instructions
Wash the salmon and place it in a shallow bowl with all the marinade ingredients. Cover and refrigerate for about 1 hour.
Cut the fillet in smaller pieces. Heat the olive oil and sauté the salmon on both sides. Remove to a platter.
Add the other tbsp olive oil and sauté the onions until translucent. Add the garlic and sauté for a few minutes and then add the salt and sugar. Keep mixing until they begin to caramelize.
Add the wine, epsima, vinegar, leftover marinade, bay leaf and water. Bring to a boil, reduce heat, cover the casserole and simmer until the onions are cooked. Check regularly until the liquids reduce by 2/3.
Add the salmon fillets on top of the onions, gently mix with the
Limassol from the aeroplane (new port, ladies' mile, salt lake and Akrotiri military British base)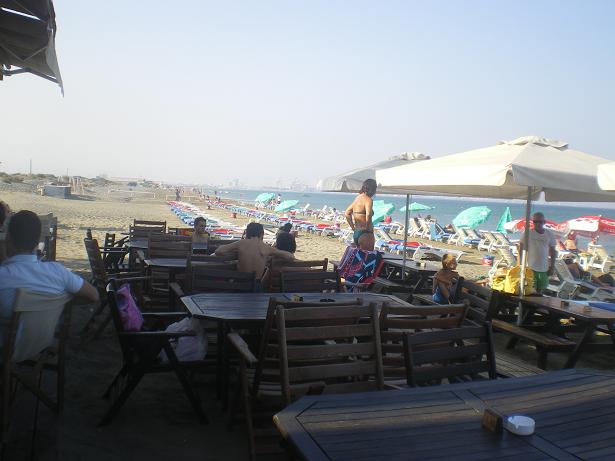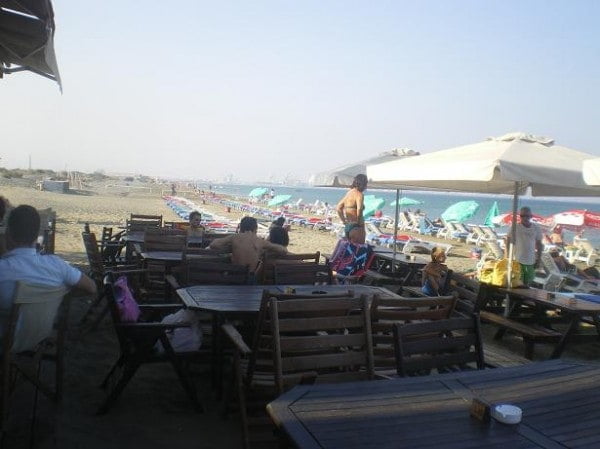 Captain's Cabin, at Limassol
Beach near old Port of Limassol
Avdimou beach (Limassol district)
I've been to Cyprus for a week and now we are enjoying the beach, here in Athens, which is almost empty.   Next week we shall be going away again for a week and I still don't know when I'll be back to regular blogging.  I hope to be adding a blog post every now and then.
Beach in Attika
All I can say is thank you again for a fantastic four years!
Kopiaste and Kali Orexi!