Whenever I visit Bobbie, of Blog Chef, I really love all his recipes and have made a few of them which were fantastic. Recently I discovered that apart from his savory recipes, Bobby makes the most amazing desserts as well.
He recently made some macaroons. These cookies should not be confused with the French macarons, which are also cookies traditionally chocolate or raspberry flavoured, which is assembled with a flavoured butter cream between two biscuits. Macaroons are somewhat rough in texture.
Inspired by his Coconut Macaroons, I made them a few times with my own twist to his original recipe. In the first recipe I added lemon juice, lemon zest and Limoncello but also made them another day with orange zest and Marnier liqueur. In the second I added more almonds, as well as real vanilla bean and I adjusted the ingredients to make them into cookies. In the third recipe I used coconut flour, which makes them gluten free and flavoured them with rosewater.
If you are wondering what to do with the leftover egg yolks, I use them to make custard cream, bechamel cream, avgolemono, creme brulee, creme caramel, ice cream and I am sure there are many other recipes using only egg yolks.
Macaroon Lemon (or Orange) Coconut cookies, recipe by Ivy

Ingredients:
11/2 cups of coconut
1 cup of sugar
6 tablespoons of flour
1 teaspoon lemon (or orange) rind
1 teaspoon lemon juice
1 teaspoon Limoncello (or Grand Marnier) Liqueur
3 egg whites
1 cup of blanched almonds, powdered
Directions:
Beat the egg whites together with lemon juice, into a thick meringue and mix in all other ingredients.
Preheat oven to 180 degrees C and bake for 20 minutes.
Leave in the oven until they cool down.
Note: I leave them in the oven as I like them to be crunchy but if you prefer soft and chewy cookies remove them immediately to a rack to cool.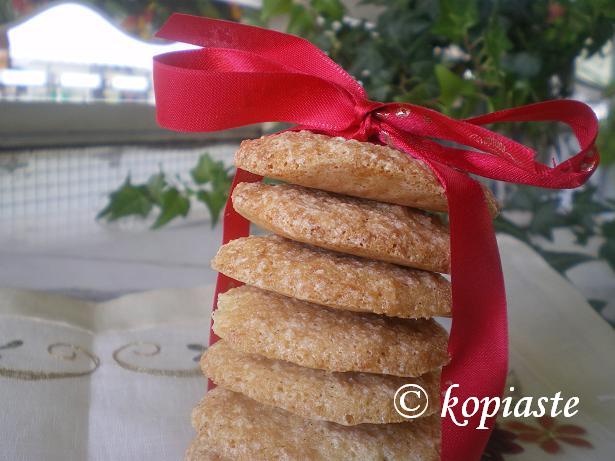 Coconut and Almond Macaroon Cookies, recipe by Ivy

Preparation time: 15 minutes
Baking time: 20 minutes
Makes: 20 cookies
Ingredients:
1 cup of coconut
1 cup of sugar
6 tablespoons of flour
1 vanilla bean
3 egg whites
1 cup of blanched almonds
Extra blanched almonds (optional)
Directions:
Preheat oven at 180 degrees Centigrade.
Line a baking tin with parchment paper.
Beat the egg whites until stiff peaks are formed. Meantime blanch and grind the almonds in a food processor and scrape the vanilla bean.
Gently fold in all the other ingredients into the meringue.
With a spoon take a spoonful of mixture and place on the parchment paper leaving space between them as they will spread. (Add an almond in the middle).
Bake for 20 minutes.
Note: For a crunchy and chewy cookie leave them in the oven until they cool down. (I prefer them that way). If you want them to be soft remove immediately from the oven and cool on a wire rack.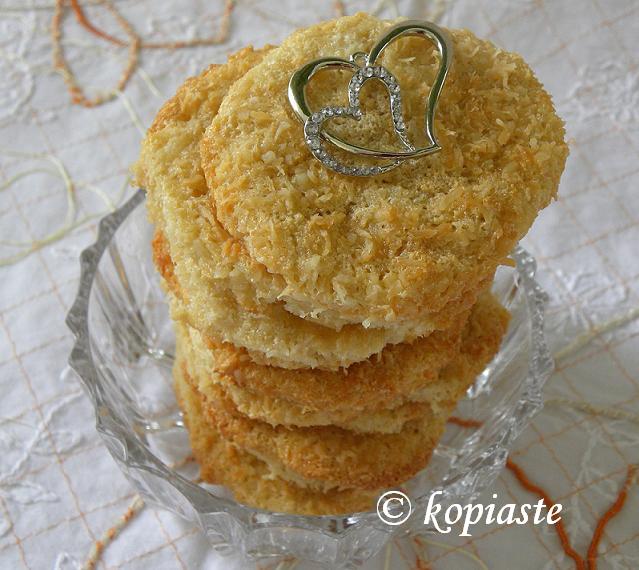 Gluten Free Coconut Rosewater Cookies, recipe by Ivy

Preparation time: 30 minutes
Baking time: 10 – 12 minutes
Makes: about 35
Ingredients:
4 egg whites
1 tbsp lemon juice
1 cup brown sugar
75 grams butter
2 tbsp rose water
1 cup desiccated coconut
100 grams coconut cream powder
2 – 3 cups extra desiccated coconut
Directions:
Whisk the egg whites with the lemon juice until stiff and set aside.
Using the mixer, beat the sugar with butter on full spead until creamy. Add the rosewater and continue beating for a minute. Lower the speed and add the coconut flour and desiccated coconut and mix to combine.
Turn off the mixer and add about ¼ of the egg whites and mix. Add the remaining egg whites and gently fold until well combined.
Taking a small amount (about 1 heaped teaspoon) put it in the remaining desiccated coconut and with your hands, while forming it into a ball, cover it with coconut.
Place into a baking tin lined with parchment paper, spaced apart.
Bake in a preheated oven at 170o C / 338oF for 10 – 12 minutes or until lightly browned.
I am really hooked with anything containing almonds and coconut. I highly recommend you to try these cookies because they are not only tasty but you must read about the properties of coconut and almonds and see for yourself what great ingredients they are and I am sure you will be convinced to be making them over and over again.
I am submitting this recipe to Susan, of Food Blogga, who is hosting the event Eat Christmas Cookies.
I am also sending these over to Sangeeth, of Art of cooking Indian, who is hosting the event Eat Healthy – During Pregnancy.