The WFD (World Food Day) was celebrated on the 16th October and we here is the lovely roundup with lots of entries from a lot of talented food bloggers.
I am sorry I haven't been around the past few days but I am sure that you will understand after reading the post.
We told you in the announcement of the World Food Day Event that we wanted to do more than just raise awareness about hunger.
As promised, we did:
I was busy creating a Social Network called BloggerAid.
There you will find a Forum connected to feeding the hungry. We shall be very glad if you join us. On the right hand side of my site there is a badge and you can join from there and feel free to add it on your blog as well.

And Now to the Roundup.
I wish to thank you all again for lining up your dishes and opening up your hearts and telling us why you are thankful. We are so fortunate to have so much when others have so little.
Dishes lined up, from Greece, to France and from Belgium to the United Kingdom, passed the Ocean to Canada, then to New Zealand and to Australia, to The Philippines, to Singapore and to India and formed the conga line spreading the word worldwide.
Here are all the entries, in the sequence I received them:
PUMPKIN CREME BRULEE, by Val, of More than Burnt Toast: from British Columbia, Canada.
Val says:
"No matter what part of the world we live in we have many things to be thankful for. Each and every one of these dishes is a great inspiration to us all and brings to the forefront the plight of 862 million undernourished people around the globe including those even in our own area of the world. In a city the size of mine with a population of 110,000 people…30,000 residents, including 10,000 children, receive hampers from the Food Bank. Hunger is not necessarily just a Third World concern, but is a prevalent problem in our own cities and streets. The number of both working poor and working homeless is increasing. Think about those less fortunate this holiday season and the world will be a better place."
PUMPKIN PIE CHIFFON CAKE, by Cakebrain, of Cake on the Brain: from Vancouver, B.C., Canada.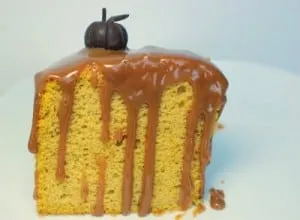 Cakebrain says:
This Pumpkin Chiffon Cake has the flavours of a pumpkin pie but instead of being dense, spicy and cloying, it is light, fragrant of fall aromas, and moist.
I have much to be thankful for: A healthy family, great friends and a food blogging community that is both inspirational and supportive!
APPLE PEAR PIE, by Hopie, of Hopie's Kitchen, from Paris, France

Hopie says:
Pies are a traditional and yummy part of Thanksgiving, whether pumpkin, pecan or apple. I like apple-pear pie because it is both seasonal, and festive, plus it's simple and inexpensive to prepare. I love how Thanksgiving brings together family and good food with seasonal ingredients: good for the soul, the body and the Earth. I am extremely thankful for my family, both immediate and extended. I couldn't ask to be part of a better, more supportive, wonderful group of weirdos.
PG says:
I made this recipe on the occasion of an Indian festival Deepawali or Diwali, which means as much as the festival of lights. It has many different stories attached to it. In short: It signifies the victory of the good over evil, which I think is signified by the lights we light up in the evenings all over the house. This is also the day where the goddess Laxmi is worshiped in North India.
I'm thankful to god for giving me a wonderful family – my two wonderful men : my son and my husband. And for all that we have – our health – physical and mental, and happiness. We all have a busy life, but every now and then, there are small things which happen, small things which make me realise and remind me that God is up there taking care of us. I thank him for that!
PIZZELLE COOKIES, by Susan of Food Blogga, from U.S.A.
Susan says,
When I was growing up, every family get-together featured my grandmother's pizzelle cookies — Italian waffle-like cookies flavored with anise and vanilla. Now my dad is carrying on her tradition and is our family's official pizzelle maker. The last time he visited me, we made a batch of pizzelles together with a special new pizzelle iron. That's a memory for which I'll always be thankful.
Deeba says:
Thank you foodies & bloggers for making the world such an interesting place, worthwhile day after day, sharing your space with others. It's changed my world, added new meaning, dimensions & passion to my 'everyday'….THANK YOU!!
SPICED CREAMY COFFEE JELLIES, by Happy Cook, of My Kitchen Treasures, from Belgium

.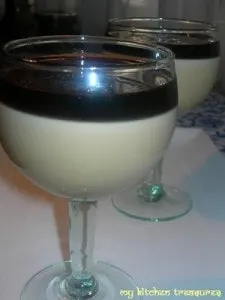 Happy Cook Says:
I am thankful for what I have now in my life. Which is my family
COFFEE PANNACOTTA WITH CHOCOLATE CHIPS, by Priya, of Priya's Easy N Tasty Recipes, from France

Priya says:
Who will say no t coffee?? i love anything with coffee, i made this coffee pannacotta within few minutes n the tasted divine.. Thankful to my family for being a backbone for all my efforts.
EGGLESS OATS CHOCOLATE CHIPS SCONES, by Priya, of Priya's Easy N Tasty Recipes, from France
Priya says:
Easy, Healthy n Quick Breakfast for a long day…Thankful to my parents for giving me such a lovely married life, coz mine is arranged marriage…
EGGLESS BANANA CHOCOLATE CHIPS CAKE, by Priya, of Priya's Easy N Tasty Recipes, from France
Priya says:
Falvoursome Cake, kids will love them for the sure coz of chocolate chips.. Thankful to my friends for supporting me n my blog..
GULAB JAMUN by Priya, of Priya's Easy N Tasty Recipes, from France
Priya says:
Authentic Indian sweets…Thankful to God for what I have in my life..
PUMPKIN, SWEET POTATO & SMOKED CHILLI SOUP & RUSTIC BACON & CHEDDAR BREAD, by Rosie, of Rosie Bakes a "Peace" of Cake, from the United Kingdom
Rosie says:
My reason for choosing these two items of food are; they don't cost an excessive amount of money to make; soup and bread and this type of food are given out by volunteers to homeless people living on the streets who struggle for warmth and food in the U.K. with every passing day!
BOORELU, ALMOND HALWA AND CHOCOLATE BURFIS, by Sharmi, of Neivedyam, from India
Sharmi says:
I am thankful to God for all that he has given me in life. A loving husband, two adorable kids and very loving parents.
MEXICAN WEDDING COOKIES, by Zhulaiha, of Epicurean Escapism, from Singapore
Zhulaiha says:
I am thankful for every day that He has given me; each a renewed opportunity for me to appreciate the littlest things in life and to cherish the love and beauty that surrounds me, for as cliched as it sounds, today is a gift, that is why it is called the present.
BLACK-EYED PEA PATTIES WITH CHILI SAUCE, by Lisa, of Lisa's Vegetarian Kitchen, from Canada

Lisa says:


I'm thankful that I have access to good food, have acquired the means to transform it into something not only nourishing but delicious and most of all, I am thankful that I have loved ones to share with.
VERMICELLI SOUP WITH MINCED PORK, by Jin Hooi, of Smell & Taste are my memory, from Melbourne, Australia

Jin Hooi says:

I am particularly thankful for having such a good mum, she is the most beautiful mum who was always there for the good and the bad times, always believing in me and constantly encouraging me to be the best I can. Besides this, I am thankful for marrying Steve, being able to share my life with him is the greatest thing in the world. Just writing that puts a smile on my face. He is my dear friend and loving companion who listens to me as I share the small triumphs or struggles of the day.
PERSIMMON WALNUT CAKE IN ORANGE SCENTED SYRUP, by Maria, of Kali Orexi, from U.S.A.
Maria says:
I am thankful for the amazingly beautiful, large and loving family I have. We are lucky enough to enjoy warm meals every day of the week and I only wish I could say as much for everyone in the world.
WILD RICE SALAD WITH CASHEWS AND LEMON-MINT DRESSING, by Anudivya, of …and a little bit more…, from U.S.A.
Anudivya says:
Rice is a staple food in India, and we do have a harvest festival called "Pongal" (named differently in different states in India) which is similar to "Thanksgiving Day" here in the US. It is a celebration of the prosperity associated with the harvest by thanking the rain, sun, the farmer and the farm animals that have helped in the harvest. The celebrations last 4 days. And this dish says it all, rice… nourishing… offering thanks… and celebration.
RICH FRUIT CAKE, by Cakelaw, of Laws of the Kitchen, from Melbourne, Australia
Cakelaw says:
A rich, traditional fruit cake packed with booze and fruit, making me thankful by conjuring up images of Christmas with family and friends.
COUSCOUS STUFFED BELL PEPPERS, by Divya of Dil Se.. from Los Angeles, U.S.A.
Divya says:
This dish is made of couscous and bell peppers, and I am thankful to God for all the wonderful things he has blessed me with.
SPICY FISH KEBABS, by Shibani, of Anyone can cook, from China

Shibani says:
These kebabs are succulent , spicy and blended with aromatic spices. These are ideal for party starters . I am very lucky to have traveled and sampled varieties of cuisine. I am thankful to god for giving me this opportunity
HONEY ROASTED GOLDEN SQUASH AND FRUIT COUSCOUS, by Chris, of Mele Cotte, from U.S.A.
Chris says:
Couscous stuffed roasted squash, this is a perfect side to any autumn meal. Reflections on being thankful? I am employed and am making a difference in middle schoolers lives (I hope). The kids we serve are "at risk" and I am humbled that many trust me, not a typical emotion when it comes to administrators.
Soma says:
I remember the time when back in India many moons back we used to live in a joint family. My grandparents, uncles, aunts & cousins all lived in a big house, ate all together in one long dining table. Sunday afternoon lunches were always beautiful times when everyone was home, relaxed & talking for hours over food. ..
Everytime the aroma of the dish fills the air…it is reminder to me to be thankful for everything, my family & friends, and every memory I cherish…not just for a day but everyday.
Nick says:
This dish was created because of my love for sweet potatoes and desire to combine them with peanut butter. It worked out better than I thought and I wound up eating twice as much of it as I had planned.
I am thankful for too many things, but I think it can be summed up by the collective actions involved in blogging about food: driving a car to a store, where you can choose from every kind of food imaginable, cooking in a warm, well lit house over heat, serving on clean plates, having leftovers, storing them in a refrigerator and finally, being able to tell other people from around the world about the meal.
MOM'S RED POTATO SALAD, by Rachel, from the Crispy Cook, from U.S.A
Rachel says:
As a food blogger, I am certainly thankful that I and my family and friends are not hungry and that we have such a bounty of food from our markets and gardens. I am also thankful for my Mom, Carol, who has
always supported me throughout my life and given advice, comfort, and wisdom whenever I have needed it. Mom's the reason why I love to putter around in the garden and has passed on her love of nature, art, books and animals on to me.
CABBAGE SALAD WITH NUTS AND RAISINS, by the Host of Event, yours truuly
I have a lot to be thankful for. I have a wonderful and loving husband and children. We are all healthy and have as much as we need to live well. Finally, I am also thankful that I have such wonderful friends all over the world.
Hope you enjoyed the round-up.
Kopiaste and Kali Orexi!