Thank you all my friends for submitting such a beautiful array of Sweet Pies. I am sorry I did not publish the round-up yesterday, as promised but I had some problems with the site, which fortunately I think I have solved.
Pies are the perfect dessert and some of them are really quick and easy. You all did a great job, not only preparing them but also using all your skills to make a pretty presentation.
As I promised, I have a Tupperware's Chef Knife which, unfortunately only one of you will win.
I shall e-mail each one of you with a number, of course not in the order you see the recipes here in the round-up. Only you and I will know this number.
I want a volunteer from anyone reading the round-up and who has not submitted an entry to contact me by e-mail and I shall tell him/her to pick a number and when to announce the number in the comments section.
So, Good Luck to all of you!!
Now to your entries:
1. Lori, of Lori's Lipsmacking Goodness, says: The pie is Concord Grape Pie. I live near the Finger Lakes in NY. There are a number of vineyards there and quite a few wineries. Each year in the town of Naples they hold a Grape Festival. The grape pies are so delicious. I had one, one year and have made one every Fall since then.
2. Jin Hooi, of Smell & Taste are my Memory, made an Apple pie. Her husband Steve loves apples so Jin pleased her husband making her first apple pie from Scratch.
3. Chocolate Tamale Cherry Pie, by Ben, of What's Cooking. Ben says: "This pie was inspired by the chocolate tamales I used to eat in Mexico City with my family".
"Is there anything…ANYTHING at all that is so universally well known as Canadian as the Butter Tart???????????? The country is divided about what a butter tart should be. Is it gooey or custardy???? This recipe is not a traditional butter tart recipe due to fact that it uses maple syrup..but it is more in the "custardy" camp than "gooey". I love both types…it does not matter to me as long as it has nuts and raisins….I am there!!!!!!!!!!!!"
5. Priya, of Priya's Easy N Tasty Recipes, celebrated her 10.000 hits with a Strawberry Cream Tart.
6. Judy, of No Fear Entertaining, had some leftover cream cheese mixture and chocolate chips after making some cup cakes, she remembered having some puff pastry and made these amazing Cream Cheese and Bittersweet Chocolate Chip Turnovers.
7. Mansi, of Fun and Food Cafe, has made a recipe for Traditional Pumpkin Pie flavored with cinnamon, ginger & nutmeg. With freshly roasted pumpkin puree, a homemade pie-shell, and an eggless version too, this is perfect for your Thanksgiving dinner party! Doesn't the pie look exactly like the logo of the event!!
8. Eliza from Notes from my Food diary says: I made thess chocolate lava pies, intended to be pies with chocolate flowing especially when it's cut while it's still warm. Unfortunately my timing was not right, so here I had chocolate filled pies instead.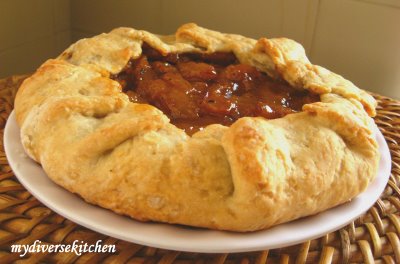 9. A delicious rustic pie whose crust is made with oil (rather than butter) and filled with a sweet pear filling that is spiced with cinnamon, ginger, nutmeg, star anise and black pepper is the Pear Galette, prepared by Aparna, of My Diverse Kitchen.
10. Apple Crisp, by Deeba, of Passionate about Baking. A wonderfully sweet pie full of comfort & flavour. Deeba says : "Got the recipe from Helene's blog @La Cuisine de Helene's. Tastes wonderful with a scoop of vanilla. If you like you can toss some chopped walnuts into the topping, &/or some raisins into the filling. This pie was yummy all the way".
11. Nuria, from Spanish Recipes has made her first Pie. She says: My first pie is a walnut one, easy, and tasty, although the texture can be improved we are enjoying it 😀
12. Courtney, of Coco Cooks, has made an Asian Apple Pie, which she entered into an Apple Pie Competition. Coco says: "The reason its called Asian Apple is because I made a syrup reduction. with Asian spices like Star Anise, Cinnamon, etc. I also decorated with a Chinese figure symbolizing Long Life , prosperity".
Amongst 92 contestants Courtney made it to the 27 semi-finalists. That's great Courtney! Good luck for next year!
13. Yasmeen, of Health Nut, has made An egg less chocolate, pumpkin pie, which is a low calorie pie made with real pumpkins and fresh home made crust.
14. P.G., of My Kitchen stories, has made An Apple Cheese Pie to celebrate her sister's birthday but also had to make it with lactose free quark as her son is on a lactose free diet.
15. Lore, of Culinarty, made Sweet and Savory Pies. She explains why: "My husband's sweet tooth and love for fried food inspired to make this pie. Coconut is one of his favourite flavours but I also used it to cut down the sweetness of the quince marmalade. A filling that is seasonal, exotic & easy to make, wrapped in a versatile dough that can be used for both sweet and savoury fillings".
16. Sunita, of Sunita's World, has made a Tofu-chocolate-orange tart. Sunita says: "This a very fuss free (needs very little hands on time) and no-bake recipe and is even very light on the waist. The oats crust adds a nice bite to the relatively softer filling. And the filling leaves a hint of a subtle orangey flavour".
17. Mike, of Mike's Table, has made a Caramelized Apple and Cinnamon Cream Tart. Mike says: its kind of like apple pie meets ice cream meets cheesecake, all in a rosemary graham cracker crust. A delicious change from the usual apple pie.
18. Arfi, of HomemadeS, has made a Mixed Berries & Lemon Pie. Arfi says: it is a diabetes-friendly pastry case and the filling is mixed berries (blueberries, blackberries, loganberries, raspberries and strawberries) cooked in their own syrup with additional of sugar and lemon plus lemon zest.
19. Cakelaw, of Laws of the Kitchen, has made A sweet apple pie. Cakelaw explains: "This apple pie is not like my Mom used to make, because it uses lard in the pastry. This sounds rather gross, but I am willing to give things a go, and it tasted OK. Lard is not commonly used in Australian pastries, although old cookbooks suggest that it may once have been, and lard is certainly not easy to buy".
20. Mira, of Dapur si Ipoek, made a Chilled White Pie and she describes it as "A simple chilled pie, made from white chocolate, and sparkled with dark chocolate. You can enjoy it with your favorite ice cream".
21. M., of Baking History, has made the all-American Pumpkin Pie, i.e. a traditional dessert enjoyed in the Fall and always part of the Thanksgiving feast. M, says:
"The recipe I feature here is very simple, minimally spiced with cinnamon, and sweetened with very little sugar. If the pumpkin is very tasty to begin with there is no need to be heavy handed with spices, and sweeteners like molasses might be too strong and overpower the delicate flavor of the main ingredient itself".
Here are also a few of the sweet pies I made for the event: