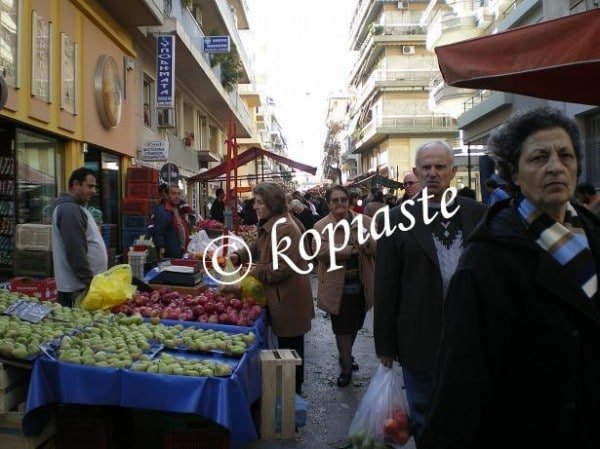 Tuesday is the day we have our farmers' market where I live, in Athens.   However today after the snowfall of Sunday only a few farmers managed to make it there.
Although it was a nice and sunny day, the snow was still visible and early in the morning it was very difficult to go about as the streets were very slippery.
Gay, from A Scientist in the Kitchen asked as to write about our farmers market and I was fortunate enough to take the photos fifteen days ago, or else I would have had nothing to show you.
In Athens, but also in most of the parts of Greece, once a week, every neighborhood has its own street market, which is called "laiki agora" meaning peoples' markets.
The region of Attica, is mainly provided with fruit and vegetables from nearby areas such as from Marathon where many vegetables and flowers are produced, as well come from Evia island, we get many vegetables, mushrooms and fish from their piscicultures.  Grapes, raisins but also citrus come from Corinth but also from the region of Argolida which  also produces lots of citrus as well as many vegetables, especially artichokes (about 90% of the total production of Greece comes from Iria, Nafplio), from Tripoli, Arcadia we get potatoes, garlic, apples, etc.  and from Amaliada watermelons, strawberries, etc., from Laconia citrus, olives, tomatoes, etc.  This doesn't mean that the other regions do not produce some of the fruit and vegetables mentioned above.
From more distant areas such as Crete we get most of the tomatoes, cucumbers, stamnaggathi, potatoes from Nevrokopi but also from the islands, from Pilion we get apples and from Northern Greece peaches, apricots, cherries and lots of other fruit and vegetables.
Pleurotus (oyster) and Button Mushrooms, from Chalkida, Evia Island
Stamnaggathi (wild greens) from Crete
Citrus fruit, usually from Argolida or Sparta
Apples, from Pilion
Broccoli, cauliflower, cabbage, beetroots, from Marathonas or Nafplion or Chalkida
Piperies Florinis (red sweet peppers from Florina)
All kinds of Greek Olives from Lakonia or Messinia
Look at the variety of all these beautiful olives.  I love olives and usually want to buy them all.
Salted cod, salted sardines and local dried legumes, flour and chilopites (pasta)
Spices, herbs, local rice and dried legumes
The vendors are either producers who come from various parts of Greece to sell there produce of fruit or vegetables or merchants who buy wholesale from the central market and sell the products they buy.  
There you can find freshly cut, ripened-to-perfection fruits, vegetables, produce, herbs, fish, flowers, plants, clothes and household items. Usually the marketplace occupies four or five roads and the stalls are put together at the crack of dawn and start disassembling them after 2 p.m.., once they have sold out.
My husband and I, we usually go together,  and I (as well as everybody else) always take with me this little cart which always comes back so full that I have to tie some bags on the outer part or hang a few from a hook it has on the rear part, which is used to fold the basket when you put it away.  I try and buy enough to feed our family of five for a week, so that's a lot of stuff!!
I stopped at every stall with nicely arranged products and took a few shots always taking a look to make sure that we wouldn't loose each other and many times I could see that my husband wasn't feeling very comfortable with that and he was moving ahead pretending we were not together 🙂
The best hours to visit the "laiki" is up to 1 o'clock when it is not crowded.  Between 1 p.m. and until closing time which is about 2:30 – 3 p.m., it 's impossible to move about.The producers want to dispose of their products so they lower the prices and start shouting out loud:"Ola tsampa, tora, ta charizoume" translated into "Now everything is free, we are giving them away" or "to afentiko trellathike kai ta harizei"meaning "the producer is crazy and giving everything away".

That's the hour to find really cheap things but sometimes when you have planned something you are not sure you will find best quality. That's the time when most of the people, and especially the pensioners, go to buy cheap things.
While I was stopping to take some photos some of the vendors were calling me to take pictures of them and others were very suspicious, may be they were thinking that I was one of those reporters who always complain how expensive things are at laiki agora.