Although no animal products, including fish, are not allowed to be eaten during Lent, except for Palm Sunday and Auunciation day, all cephalopods are allowed, as they do not contain blood.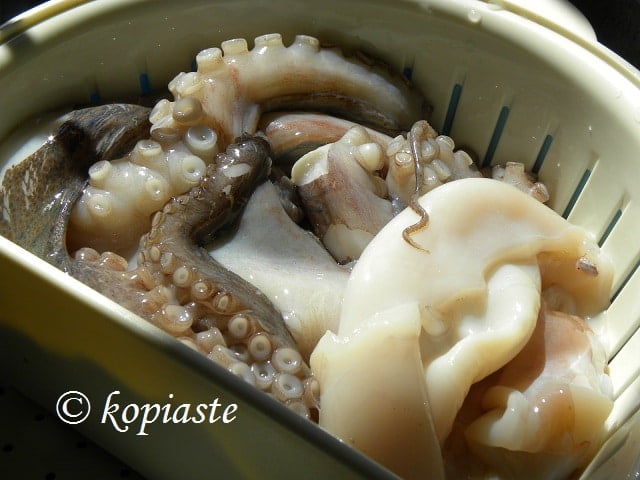 The octopus was quite large.  I prepared the first step with the whole octopus and part of it was marinated in vinegar  and olive oil, which is preserved for many days and can be served with some oregano, as part of our meze dishes.
Note:  This is an older recipe and was not made during Lent. Hilopites contain eggs so it' s not a Lenten dish but can easily be substituted with spaghetti.
Octopus with mushrooms and Hilopites, recipe by Ivy
Preparation time:  10 minutes
Cooking time:  15 + 45 minutes
Serves:  3 – 4
Ingredients:
1300 grams fresh octopus cooked with its juices and nothing else (I used 1/3 and the remaining was pickled in vinegar and olive oil)

¼ cup extra virgin olive oil

1 onion, finely chopped

1 tbsp spice micxture

1 tsp roasted garlic

10 – 15 small button mushrooms

2 bay leaves

½ cup red dry wine

1 can of tomatoes with juice or 3-4 ripe fresh tomatoes

300 grams  hilopites (or spaghetti)

1 cup water

Salt (optional)

Finely chopped parsleyand freshly ground black pepper to serve
Directions:
See step by step instructions on how to clean octopus

here

.

Put the saucepan on the heat until it is hot and add the octopus.  Mix until it sweats out a pinkish liquid.  Keep an eye on it mixing every now and then and cook it in its juices until that liquid has evaporated.

Remove the octopus and cut it into smaller pieces.

Add olive oil to the pot and sauté the onion until translucent.  Add the spice mixture, roasted garlic and mushrooms and sauté for a couple of minutes.

Add the octopus and then add the wine and stir for 2 -3 minutes until the alcohol evaporates.

Add the bay leaves and the tomatoes.  Bring to a boil, lower heat and cook for about 15 minutes, until the onion becomes soft.  Remove the bay leaves.

Add 1 cup of water and bring to a boil.  Add the salt and pasta and lower heat.  Cover and simmer for twenty minutes (if you are using store bought, according to the package instructions), stirring it regularly so as not to stick to the pot.

Serve with finely chopped parsley and cracked pepper on top.
Other relevant recipes:
Htapodi or Moschious in tomato sauce with pasta
Κοπιάστε και Καλή Όρεξη!