As I told you in my previous post, we visited an exhibition on Lakonian products.   The first part was all about olives and Greek olive oil.
I have taken many photos but as it is impossible to show all the exhibition, I have made a few collages so that you may see and  find out about some of the local products.
Hilopites is a pasta made with eggs, Kritharaki is again a pasta shaped like rise and trahanas is dried cracked wheat mixed with milk and dried in the sun to be used in the winter to make  soups or pites.   Paximadia are rusks.  You can get them in whole wheat, regular, anise flavoured, village type etc.
Ostrich products such as sausages and eggs.  Herbs like dried oregano and thyme from Taygettus.
Honey and and other bee products such as pollen or wax.  There were so many kinds of honey you did not know which to choose first.  Honey from flowers, from coniferous trees, from herbs and best of all Thyme honey.  Greek honey is undoubtedly the best honey in the world, characterized by its special aroma, rich flavour and density.
One other unique product is bee pollen.  I had never tried it but as I was told it is a great source of vitamins, minerals, amino acids and more.  You can eat it as it is or use it in recipes.
Lakonia is full of orange groves and there are a couple of factories making orange juices and orangades.  Tsipouro is  a distilled alcoholic drink made from the must-residue of the winepress.  In other parts of Greece, it is called tsikoudia or raki.
Traditional folklore art:  Hand woven carpets and other products like hand made carved wood, icons, candles etc.
Traditional sweets such as diples, melomacarona, kourabiedes, samousades and pastelli, which is made from honey, sesame seeds and sugar or honey and nuts caramelized together.
In the recipe that follows, I have included pastelli in it.
So, what is Pastelli?
Pastelli is a sesame and honey sweet. When adding sugar to pastelli, it is hard and crunchy and pastelli with only honey is softer and has a chewy texture.  In Cyprus they also make pastelli with haroupomelo (carob syrup).
Any kinds of nuts may be added to the honey and sugar pastelli and although it is a Lenten sweet (nistisimo), it is not vegan as honey is an animal product
A custom dating back to Byzantine times is to serve pastelli on bitter orange citrus leaves.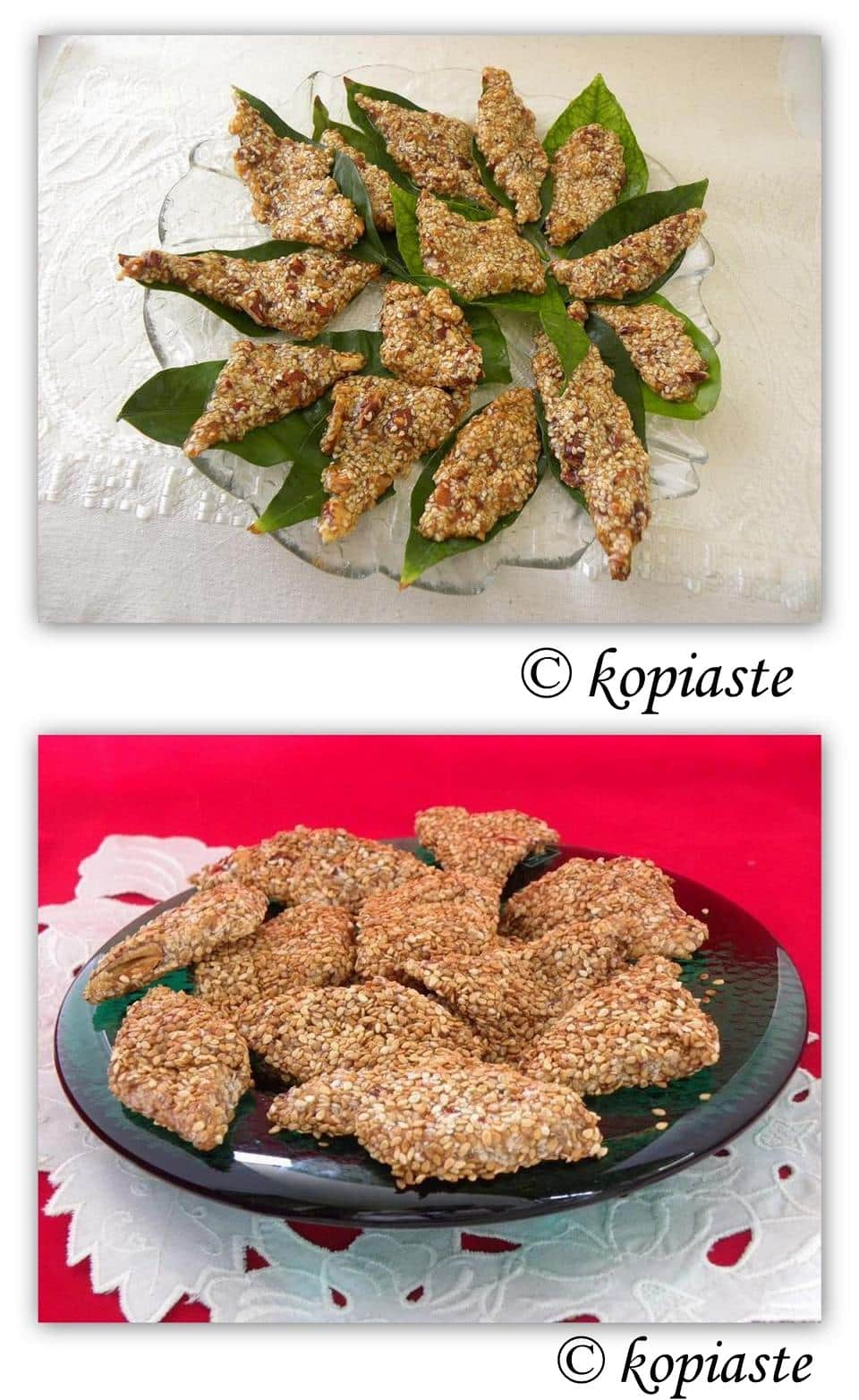 The recipe is included in my cookbook Mint, Cinnamon & Blossom Water, Flavours of Cyprus, Kopiaste!
I wanted to buy everything but I couldn't.  We bought as many as we could carry back home as it is impossible to go to the city centre and park your car, so we used the metro.  Among other things, I bought thyme honey, bee pollen, pastelli and combined them in my next recipe.  Bee pollen is, of course, optional but if you do find some use it as it has many beneficial properties.
I recently bookmarked a Peanut Butter Chocolate Cookies recipe from Recipe Girl.   However, as we do not eat butter and eggs  during fasting, I could not wait until after Easter to make it, so I made some changes.  I divided the dough in three parts and added chocolate in one, sesame pastelli in the other and pistachio pastelli in the third.  I baked the chocolate cookies first but they came out quite big so the next batch I made them quite smaller.   The bigger ones were baked about 17 minutes and the smaller around 14.  When baked they are still soft but after cooling they become hard.
All three kinds of cookies tasted great, especially where you could get a crunchy bite of the salt with chocolate and pasteli.  Some of my friends who tasted them could not believe that they did not have butter or eggs.
Although I have tagged these cookies as vegan, I am not 100% sure if they are.  Do vegans eat honey and pollen?
Honey, Peanut butter, Chocolate & Pastelli Cookies (Nistisima) – Recipe by Ivy
Preparation time: 1 hour
Cooking time: 14 – 17 minutes each batch
Serves: 12 big ones with chocolate – 20 with sesame pastelli, 20 with pistachio pastelli
Ingredients:

1

Cup

Dark brown sugar (170 gr.)

1

Cup

Sunflower oil (200 gr.)

100

Grams

Peanut butter

1/4

Cup

Thyme honey

4

Tbsp

Lemon juice (1 small lemon)

1

Tbsp

Cider vinegar

1

Tbsp

Rind of 1 lemon

1/2

tsp

Coarse sea salt

1

tsp

Baking powder

1

tsp

Baking Soda

360

Grams

Self rising flour

40

Grams

Quaker Oats

3/5

Couverture

Chocolate (80 grams)

1

tsp

Pollen (optional)


1

Sesame

Pastelli (70 grams)

1

Pistachio

Pastelli (60 grams)
Directions

1.

Preheat oven at 180 degrees C.

2.

In the mixer bowl whisk together the oil, peanut butter, vinegar, honey, lemon juice and dark sugar.

3.

In a separate bowl combine the lemon rind, flour, Quaker oats, baking powder, baking soda and salt.

4.

Add dry ingredients to the mixer bowl and mix well with a spatula. The mixture should not be sticky. If it is add more flour.

5.

Divide the mixture into three parts.

6.

Cut the chocolate into small pieces and mix in the 1/3 of the mixture.

7.

Do the same for the other two pastelli.

8.

Line a baking tin with parchment paper and bake each kind separately.

9.

Bake between 14 – 17 minutes depending on the size of the cookies. The cookies should be still soft.

10.

Allow to cool before removing from the baking tin and as they cool they become harder.
This is my entry for Bookmarked Recipes, hosted by me this week and  created by Ruth, of Ruth's Kitchen Experiments.