Tyropita (τυρóπιτα) meaning tyri (cheese) + pita = pie is a Greek pastry made with different cheese fillings.   A classic tyropita is made with layers of phyllo, prefereably hand made but store bought is an easy but also delicious solution, which is layered and buttered or oiled.  Buttered phyllo is richer in taste but if you prefer a  healthier approach, try it with olive oil and it still makes a fantastic tyropita.   The filling can be made with any of the following Greek Cheese separately or a combination of one or more cheese: feta, anthotyro, myzithra, xinomyzithra, halloumi, graviera, kefalograviera, kaseri etc.
We Greeks love cheese and and we are considered to be the on the top of the list between European cheese consumers, amounting to 23 kilos per person per year and second come the French with 22 kilos, the Germans with 8 -10 kilos.
Unlike other Europeans we do not eat cheese as a dessert or as a meal supplement but for us it is a meal by itself.  We eat it all the time, as it is, fried or grilled and cooked, in a variety of meals.
One of the delicacies we make is tyropita and I have made so many the past few months but have not posted them, so I am putting them all in one post.  The smaller ones are caled "Tyropitakia" (small cheese pies).
Tyropita can  be made in a large pan (ταψί [tap'si]) and cut into individual portions after baking or rolled in a spiral shape.  There are so many kinds of phyllo we use to make tyropita the best being hand make phyllo or hand made kourou phyllo, sometimes we also use store bought phyllo kroustas (which is the one used for baklavas), choriatiko (village type) phyllo, kourou phyllo, puff pastry phyllo, or even kataifi, which is a shredded phyllo.
Here are a few  variants some baked in a pan and others as individual tyropitas or appetizer-sized portions.
Enjpoy!!
Tyropita with kataifi, feta and four other cheeses
Kataifi is a pastry made with a special form of shredded phyllo dough which looks like angel hair pasta but it is soft and can be handled and it does not crumble. Kataifi is usually used for making sweets which are filled with nuts and cinnamon and then bathed in a syrup. There are however a few savory recipes using kataifi and tyropita is one of them.
Ingredients:
1 packet (250 grams) of kataifi
200 grams feta cheese
200 grams of a variety of four cheeses that melt such as kasseri, halloumi, graviera, edam, cheddar, kerrygold, milner, gouda, regato etc.
4 eggs
1 fresh cream (light)
1 glass of milk
75 gr. butter
White pepper
Directions

Crumble feta and mix with other grated cheese.Nothing else is added in this filling.
Kataifi resembles a mass and must gently be separated by pulling it with your fingers until it becomes light and fluffy.
Lay it on your working surface and put one tablespoonful of filling on one end, then roll the kataifi pastry into a cylinder.
Take care to fold the pastry a little tight at first so that the filling is securely enclosed. When you make it the size you like just pull and cut the strands.
Put it in a buttered baking dish. Melt the butter and cover every piece with one teaspoon of butter.
Whisk the eggs, add cream, milk and pepper (and salt, optional) and pour on the kataifi with a spoon making sure that all the pieces are wet.
Leave for at least one hour to absorb the milk.

Preheat oven t0 180 degrees C / 350 F and bake for about 45 minutes or until a nice golden colour is achieved.
When it is baked it is served hot cutting pieces with a spoon.
Tyropita with xynomyzithra made with Puff Pastry

Ingredients:
1 store bought puff pastry (2 sheets)

1350 grams of xynomyzithra

6 eggs

1 tablespoon sesame seeds

4 – 5 tablespoons olive oil

Pepper (optional)

1 tablespoon dried mint (optional)
Directions:
Oil a baking tin 27 x 30 cm and place one sheet of puff pastry.  Mix cheese with eggs.  If you like you can add a tablespoon of dried mint for flavour and some black pepper.  Spread the cheese and place next phyllo and brush with olive oil.  Sprinkle sesame seeds on top.
Bake at a preheated oven at 180 degrees Celsius, until golden brown.
Note:The amount of cheese and eggs I used was too much as my friends from Crete brought more xynomyzithra and I had no space in my deep freezer to store it.However, half the amount of cheese (and eggs) will make a normal tyropita. Instead of xynomyzithra you can also use feta.
Here is a similar tyropita made with a mixture of two cheese and Puff Pastry:
Tyropita
Makes 16
Ingredients
2 sheets of puff pastry
250 grams of xynomyzithra
100 grams of anthotyro
3 eggs
salt, pepper, mint (optional)
sesame seeds
Directions
Divide each phyllo into eight pieces and add 1 spoonful of filling.   Shape either square or triangle and brush with egg.  Sprinkle sesame seeds on top.
Bake in a preheated oven at 180 degrees celcius until golden brown.
Note:  Here again we can use feta and anthotyro but do not add salt as feta is salty.
Tyropita with Feta and phyllo kroustas
This tyropita is made with the phyllo we make baklava and which is called phyllo kroustas.  The amount of feta to be used depends on how high you want this tyropita to be.  For a one inch high tyropita baked in a 27 x 30 cm. pan you will need:
Ingredients:
500 grams of feta
3 eggs
1 tablespoon mint
About 1 cup of olive oil.
Directions:
Start with oiling the pan and add as many phyllos as you want which should cover the sides of the pan.  Each phyllo should be oiled.  Seven or eight phyllos are enough for the first layer, add filling and then continue adding phyllos, this time the size of the pan.  Each time you add a phyllo, fold in one of the phyllos which are outside the pan.

Finish adding a phyllo which try and tuck in the edges inside the pan.  Brush with olive oil and bake in a preheated oven at 180 C / 350 F,  until golden brown.
I am sending my recipes to Srilekha, of Me and My Kitchen, is hosting the event EFM SAVORIES.
Finally, here's the simplest form of Tyropita you can make.  Your guests will think that you slaved in the kitchen, but the truth it doesn't take more than 10 – 15 minutes to prepare.  All you need to do is brush the phyllo sheets and crumble the cheese!  Make sure that you have good quality Greek feta and anthotyro and Greek Extra virgin olive oil, to get the best flavour.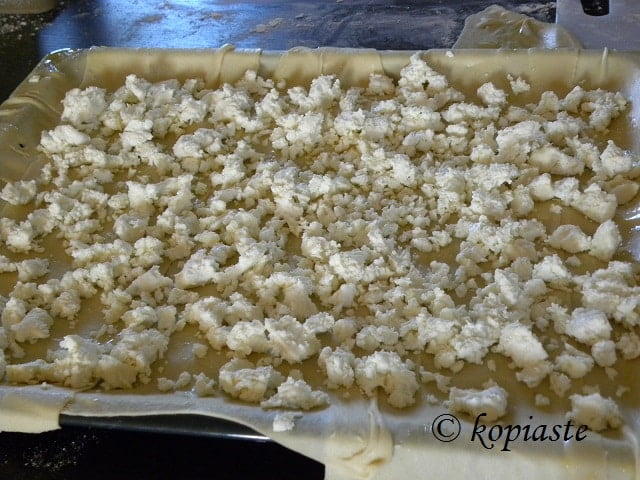 You can make it with only feta if you like, but feta is always salty, so if you want your tyropita not to be salty, you can mix in some anthotyro, which has no salt at all and bring it up to your personal preference. 
If you are serving it as part of a buffet, you can get at least 24 pieces.  Served as a main dish with salad you can get 8 – 10 pieces.
If you think it's too much for you, just fold in aluminum foil and deep freeze whatever is leftover.  Thaw and reheat and it is just as good as the freshly baked one!
Greek tyropita, recipe by Ivy
Preparation time:  15 minutes
Baking time:  25 – 30 minutes
Serves:  24
Ingredients:
1 packet horiatiko (village type) phyllo, which is thicker than normal phyllo and contains 6 sheets
500 grams Greek feta
200 grams anthotyro (low fat whey soft cheese)
Pepper (at will)
1/2 cup olive oil
Directions:
Brush a baking tin (

Dimensions 30 x 40 cm / 12 x 16 inches),

 with olive oil.  

Add a sheet of phyllo horizontally and brush it with olive oil.  Add the second piece vertically and brush it with olive oil.  Add the third one switching each time directions as each sheet is rectangular, in order to cover all the sides of the baking tin.
Crumble feta and anthotyro to cover the surface.  Sprinkle freshly grated black pepper.
Continue adding the remaining three phyllos, brushing each one with olive oil.  Using your brush tuck the sides of the phyllo in the baking tin. (If you like it to have a better border you can brush and fold all six sheets together).   Brush the top with olive oil.  Wet your hands with water and sprinkle on top.  Score into portions, preferably before baking.
Preheat oven to 180C / 350F and bake until golden, for about 25 – 30 minutes, depending on your oven.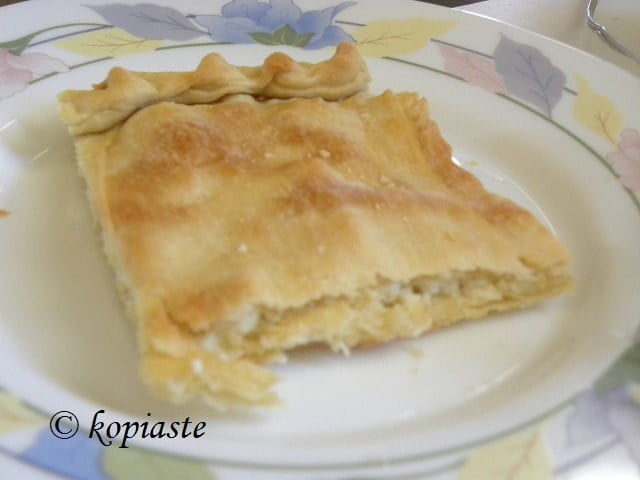 You can find many Greek recipes in my cookbook "More Than A Greek Salad", and "Mint, Cinnamon & Blossom Water, Flavours of Cyprus, Kopiaste!" both available on all Amazon stores.
Other relevant recipes:
Patsavouropita, the easiest Greek Tyropita
Tyropita me Maratho and Watermelon Halloumi Salad
Kopiaste and Kali Orexi,